Meet TUPD's 8 new officers
On March 17 the Philadelphia Police Academy graduated eight new Temple University police officers, several of whom are recent Temple alumni.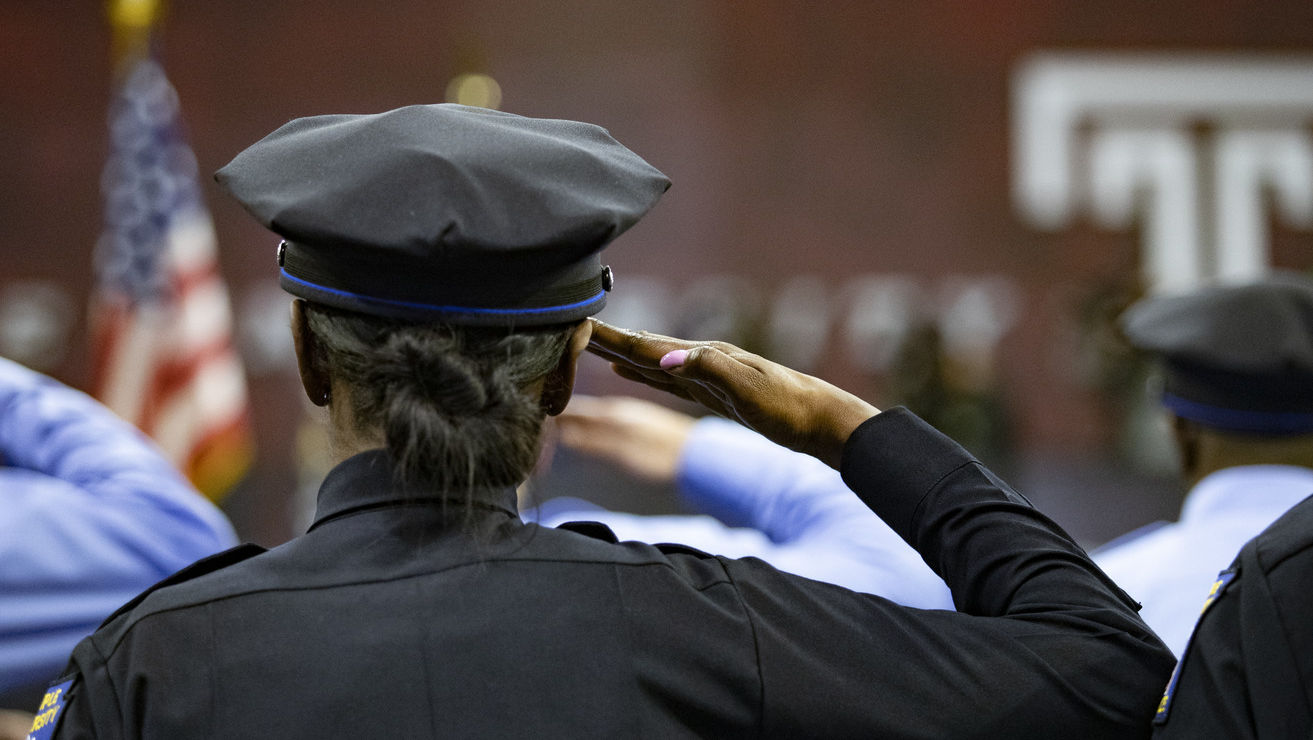 Temple University welcomed eight new officers to its university police department on March 17, bringing the department's sworn force to 104, plus 35 security officers, 23 communications center dispatchers and 10 administrative professionals. These new officers, many of whom are Temple alumni, have a diverse range of skill sets and backgrounds and are eager to give back to Temple and the North Philadelphia community. 
Learn about Temple University Police Department's (TUPD) eight new officers and what inspired them to serve our community.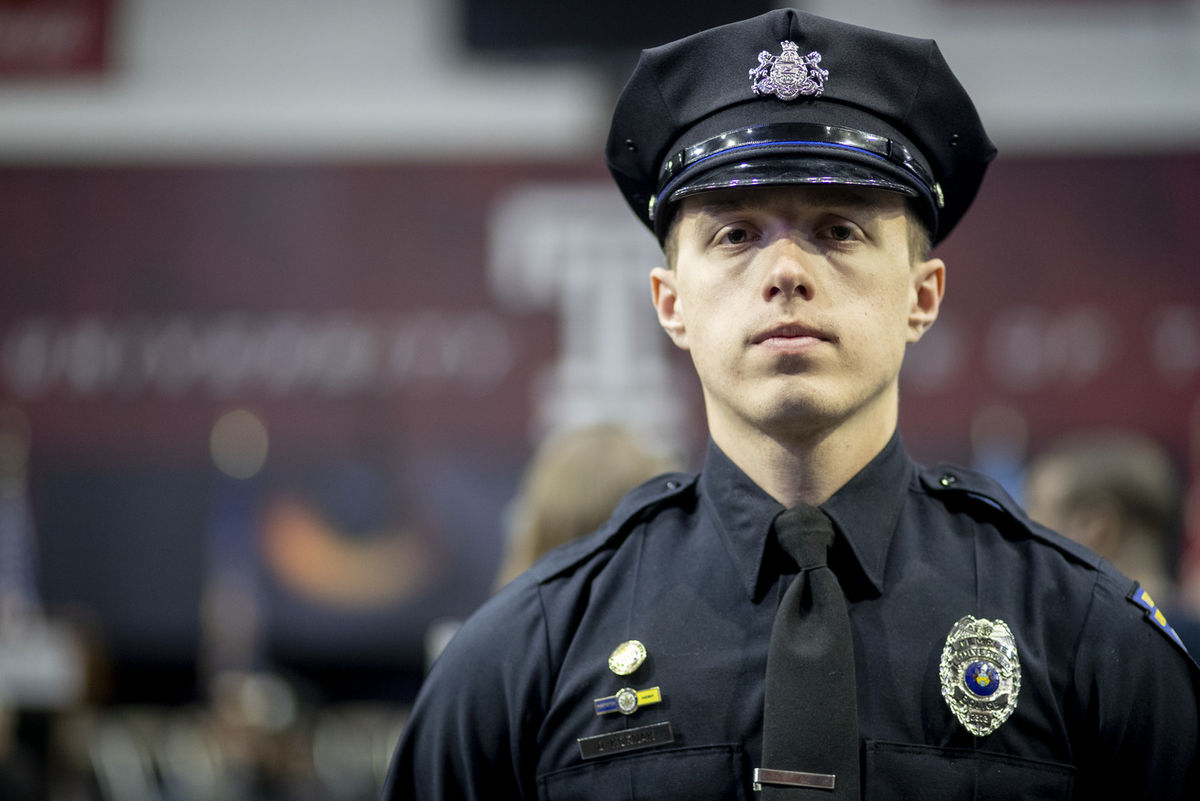 Officer Daniel Kornak, CLA '20 
Hometown: Cherry Hill, New Jersey 
When he attended Temple for his undergraduate degree, Daniel Kornak was an active member of Temple's community. He played tenor saxophone in Temple's Diamond Marching Band, was part of Phi Mu Alpha fraternity and eagerly participated in campus life. As a result, he says he had many opportunities to interact with Temple's police officers who were always kind and supportive of him. These frequent and positive interactions with TUPD planted a seed in Kornak's mind of one day becoming a police officer himself. Now that he's received his badge, he wants to provide the same support to current students that officers once showed him.  
"It's my job now to be there for students when things are tough. When I was younger, those police officers made me feel safe. Now, it's my turn to give back and do the same for my Temple family." 
Officer Demetrius McCain 
Hometown: Philadelphia 
North Philadelphia has been Demetrius McCain's home since he was born. He knows the neighborhood intimately and counts many of the community members as family and friends. When he heard that Temple University was looking for more police officers, he saw it as a calling.  McCain also felt that, due to his relationship with the community, he was uniquely positioned to bring the Temple and North Philadelphia communities closer together. Though he may be a newly minted police officer, he brings a wealth of law enforcement experience with him. Prior to joining the Philadelphia Police Academy, he spent 11 years working as a probation parole officer.  
"I know the country has a negative view of law enforcement and I wanted to help change that narrative."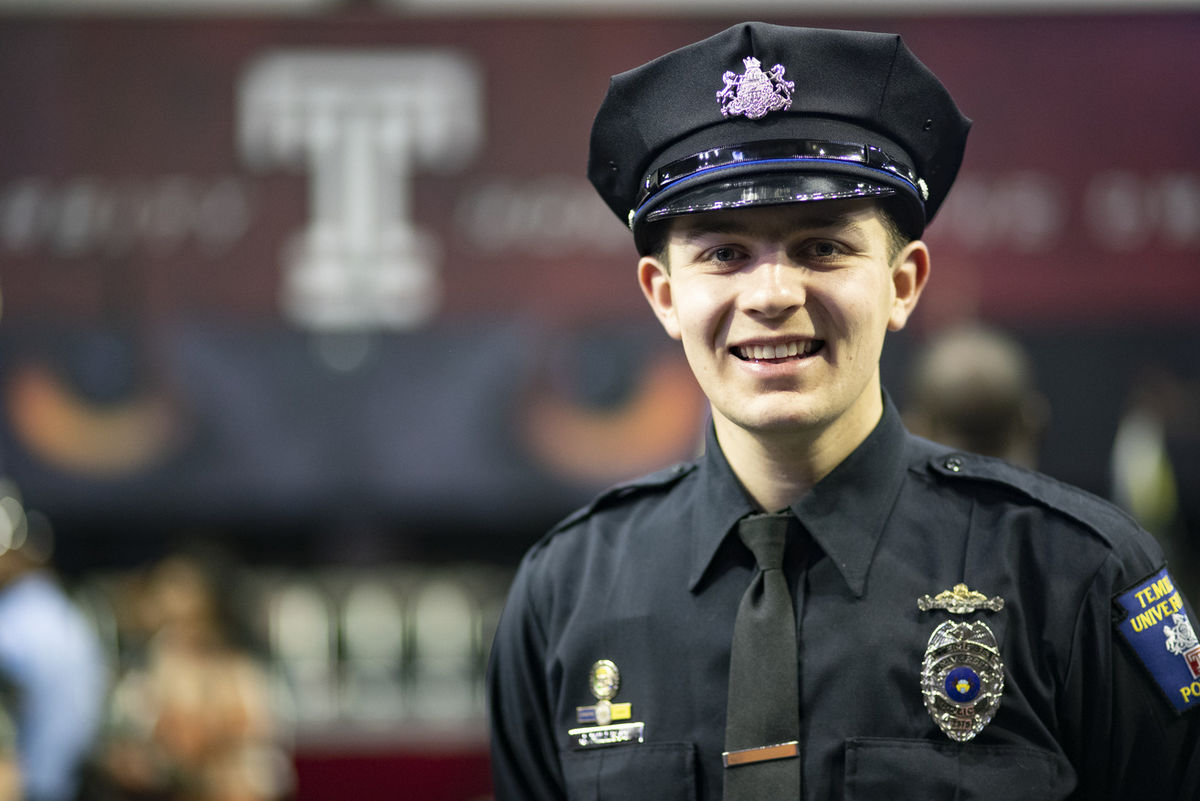 Officer Jacob Millevoi, CLA '21 
Hometown: North Wales, Pennsylvania 
Jacob Millevoi feels he was "Temple Made" to become a police officer. As an undergraduate Temple student, he always admired the TUPD officers he saw around campus. Wherever the officers went, they seemed to bring with them a reassuring sense of calm and safety, which was a skill that Millevoi was always in awe of. But the idea to become a police officer didn't come to him until he met TUPD's K9 Officer Natalie Sherman and her whip-smart dog, Chandler, at a Temple career fair. Millevoi entered the academy soon after and now he's excited to be back on campus once more.  
"I had the good fortune to be welcomed into the Temple family before becoming an officer here. I am most excited about growing my involvement in the community and the university."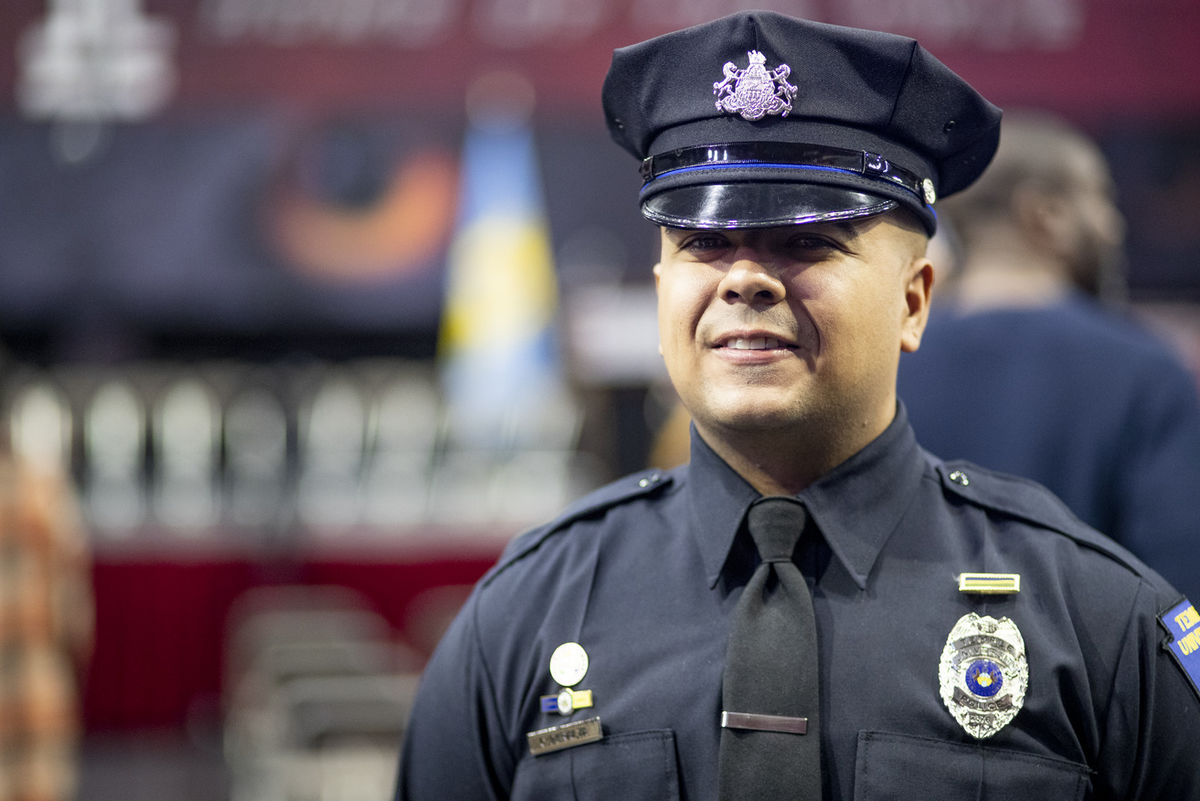 Officer Christopher Peralta 
Hometown: Philadelphia 
To be of service to his community and his country is in Christopher Peralta's blood. He was in the Army Reserves before joining the police academy and saw becoming a police officer as a natural next step. But he credits TUPD Captain Enoch McCoy, his next-door neighbor, with giving him the inspiration to envision himself as a police officer. For years, Peralta would listen to McCoy recount what it was like to work within TUPD and the great sense of family the department had. Now that Peralta is on campus as a new officer, he is eager to get to know the community because he feels it will help him serve them better. One way he's going to do this is by pursuing a degree in criminal justice as a part-time student. He believes that learning inside the institution he's serving will provide him with authentic and in-depth insight into the community. In addition, he feels that a degree in criminal justice will allow him to become a better police officer. 
"I want to always try to understand the students in particular. I want to know what makes them feel safe and what makes them feel uneasy. I also want to have empathy with them, and I can do that even better if I'm interacting with them in class. I plan to walk around campus with open eyes."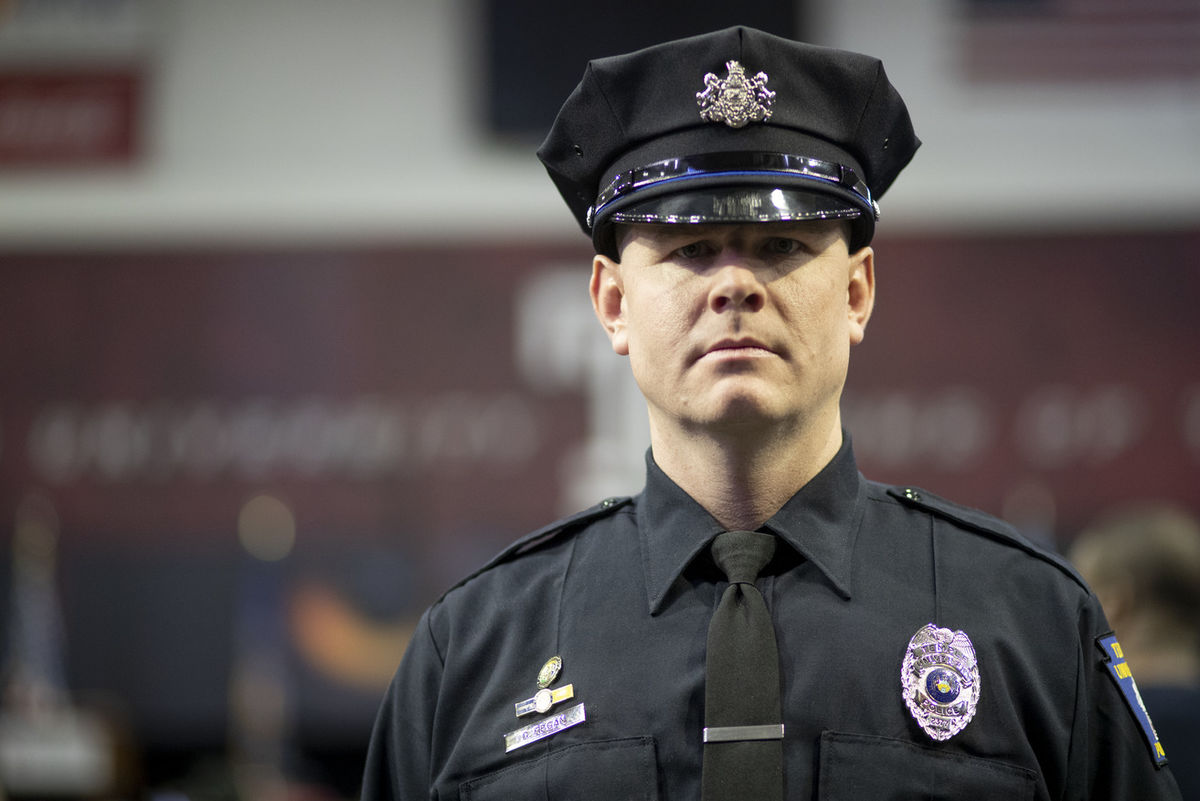 Officer Daniel Regan 
Hometown: Philadelphia 
With his new badge in hand, Daniel Regan became the 16th member of his family to become a police officer. Being raised by a family of cops meant that Regan was taught to have a deep commitment to service. He was drawn to joining TUPD because he sees a ripple effect to serving the Temple community as a police officer. By helping students feel safe, he feels he is playing a small role in supporting the students to become change makers in the world.  
"I am excited to serve Temple and be surrounded by young people working to earn their degrees. I will do my very best to ensure they always feel safe and supported."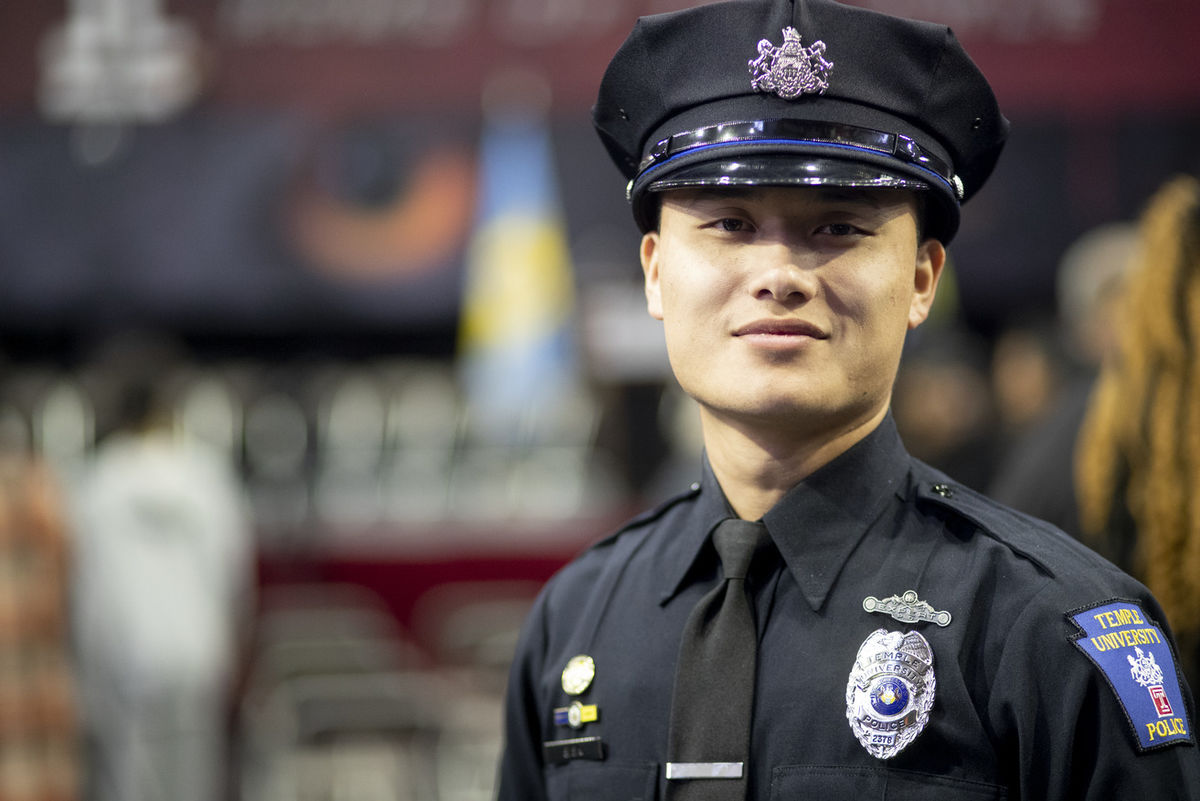 Officer Brandon Sin 
Hometown: Philadelphia 
Brandon Sin remembers being deeply bothered as a child when kids at his school were bullied. Having a police officer as a father meant that Sin was acutely aware of his responsibility to help the people around him who couldn't help themselves. As a child, this meant protecting those who were bullied. As an adult, it meant becoming a police officer. Stepping out of the academy and into the TUPD force, Sin says he's most looking forward to becoming part of the Temple family.  
"I've heard a lot about Temple's tight-knit community and the idea of becoming part of that is what excites me most. I've also seen how diverse the campus is and I'm looking forward to getting to meet students, faculty and staff from all walks of life."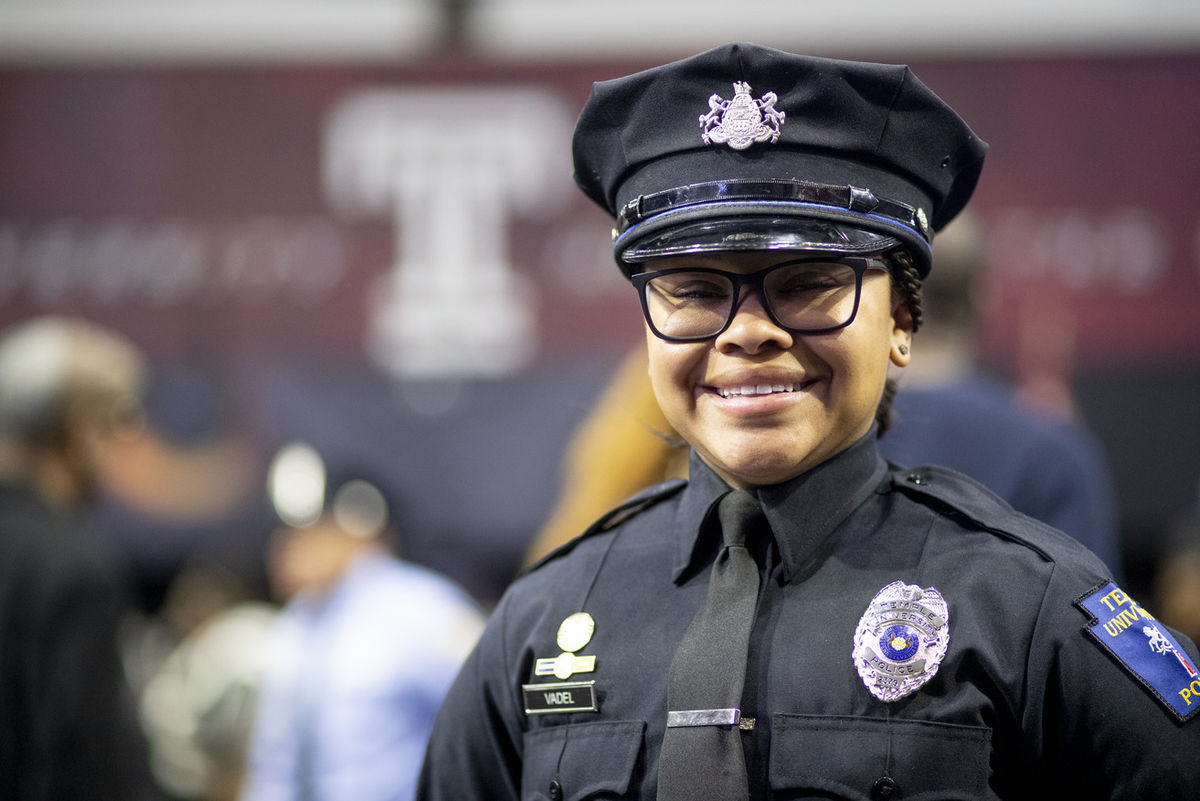 Officer Mariah Vadel, CLA '18 
Hometown: Delran, New Jersey 
Mariah Vadel is the type of person who takes action to address a problem rather than complain about it. So, when Vadel kept seeing similar news stories about the challenges American police departments were facing, it propelled her into the Philadelphia Police Academy after receiving her bachelor's degree from Temple. The decision to join TUPD after the academy was equally straightforward. Not only did Vadel and both of Vadel's parents attend Temple, but she was also raised with a frequently told and heartwarming story about her grandmother learning to speak English by taking classes at Temple. Stepping into the role of a Temple police officer not only gives Vadel the chance to give back to a community that she feels has given her family so much, but it also gives her the opportunity to do her part in changing the narrative about American policing. 
"Temple has always been a second home to me and my family."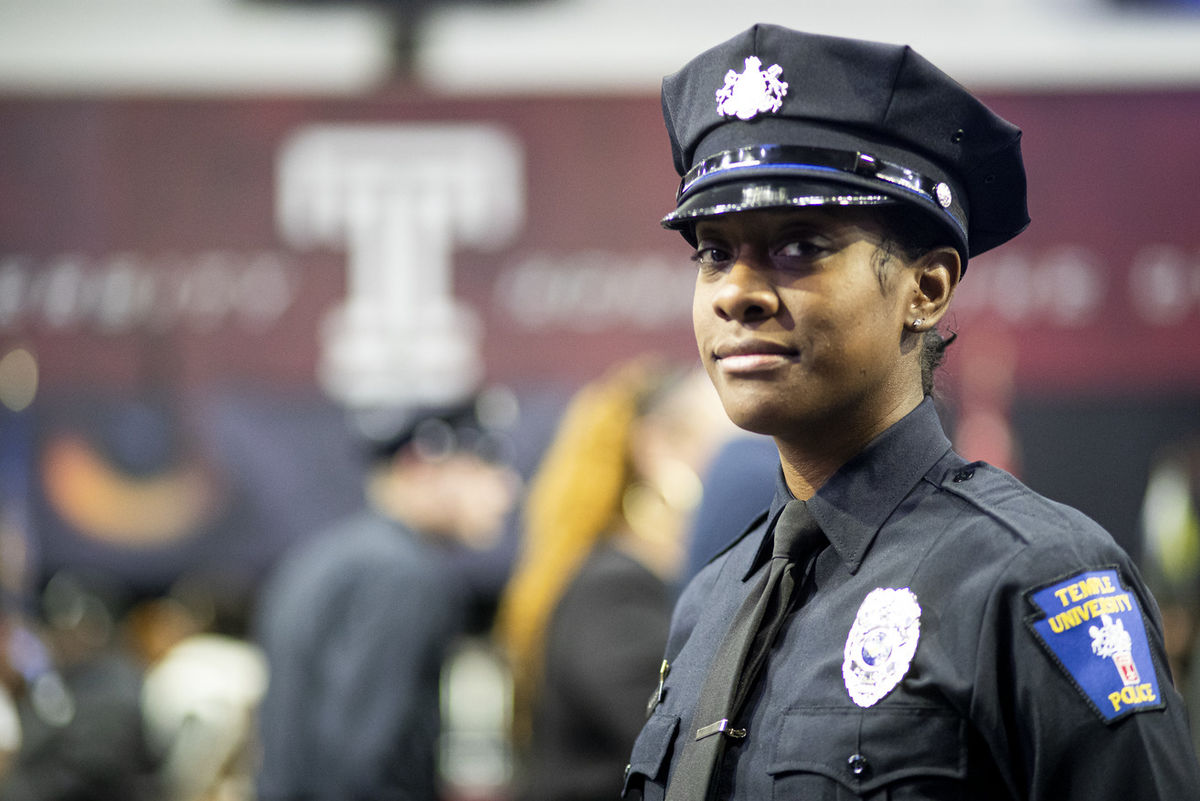 Officer Brianna Witherspoon 
Hometown: Newark, Delaware 
Brianna Witherspoon was born to become a Temple University police officer. Witherspoon's father, Officer Steve Witherspoon, worked as a TUPD officer throughout her childhood, and their close relationship meant that she set her sights on following in his footsteps at a young age. In 2020, she started working for TUPD as a dispatcher to help acquaint herself with the department and its staff. Then, when she felt ready, she joined the academy to step into the uniform she'd dreamed about wearing since she was a child.  Now that she finally has her badge, she's taking her oath seriously. "I want to do my part in helping this community stay safe and look forward to growing in the department like my father did," Witherspoon said. 
"Temple has been a part of my life from day one and I wouldn't want to be anything other than a Temple officer."