What to read, watch, see and do for Juneteenth
At Temple, Juneteenth is an occasion to celebrate, learn and grow.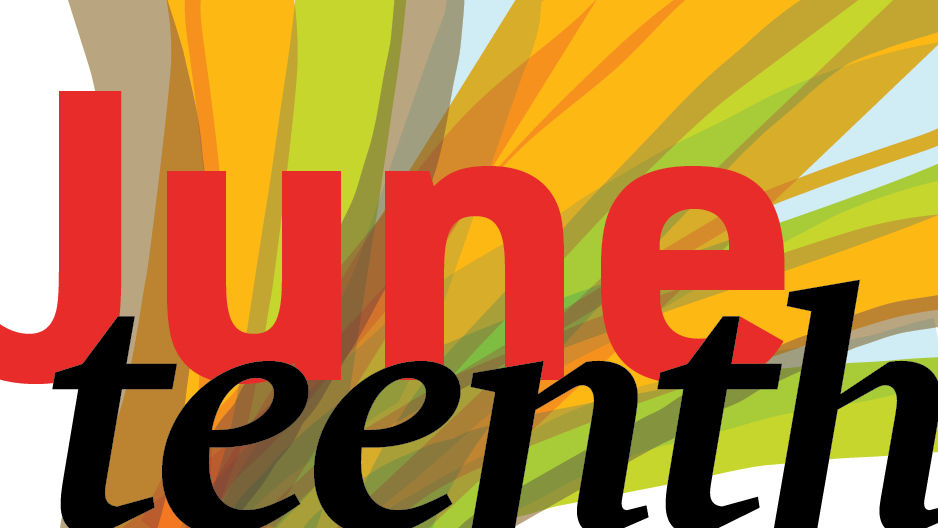 Each June, faculty and staff from across Temple University commemorate Black history and achievement in celebration of Juneteenth. The holiday is a chance to educate the community about the struggles and progress of African Americans in this country, support Black-owned businesses and organizations, reflect on Philadelphia's racist past, and attend community celebrations.
Here are a few of their suggestions for celebrating Juneteenth this year.  
Support Black-owned businesses and organizations through the Juneteenth Challenge 
For the past three years, David Brown, assistant dean of community and communication from the Klein College of Media and Communication, has organized the Juneteenth Challenge to promote Black-owned businesses every day for 30 days leading up to Juneteenth.  
"We start on May 19, Malcolm X's birthday, and showcase a different business every day up to June 19," Brown said. "The idea is to make these connections, but to also encourage folks to provide their support year-round." 
The challenge highlights a wide range of Black-owned businesses and organizations, from bookshops and newspapers, to wineries, breweries and flower shops. Visit First Church Media's website to view the full list and learn more about the Juneteenth Challenge. 
Reflect on Philadelphia's history of celebrating freedom, as well as the racist backlash against those celebrations 
"Long before Juneteenth became a national holiday in 2021, African Americans in Philadelphia held events recognizing the importance of freedom," said Linn Washington, professor of journalism from Klein College. 
In 1948, the federal government approved National Freedom Day as a holiday commemorating the ending of slavery through the 13th Amendment. The holiday was initiated by Major R.R. Wright, a former college president who was born a slave and later became co-founder of the most successful Black-owned bank in Philadelphia, Washington said.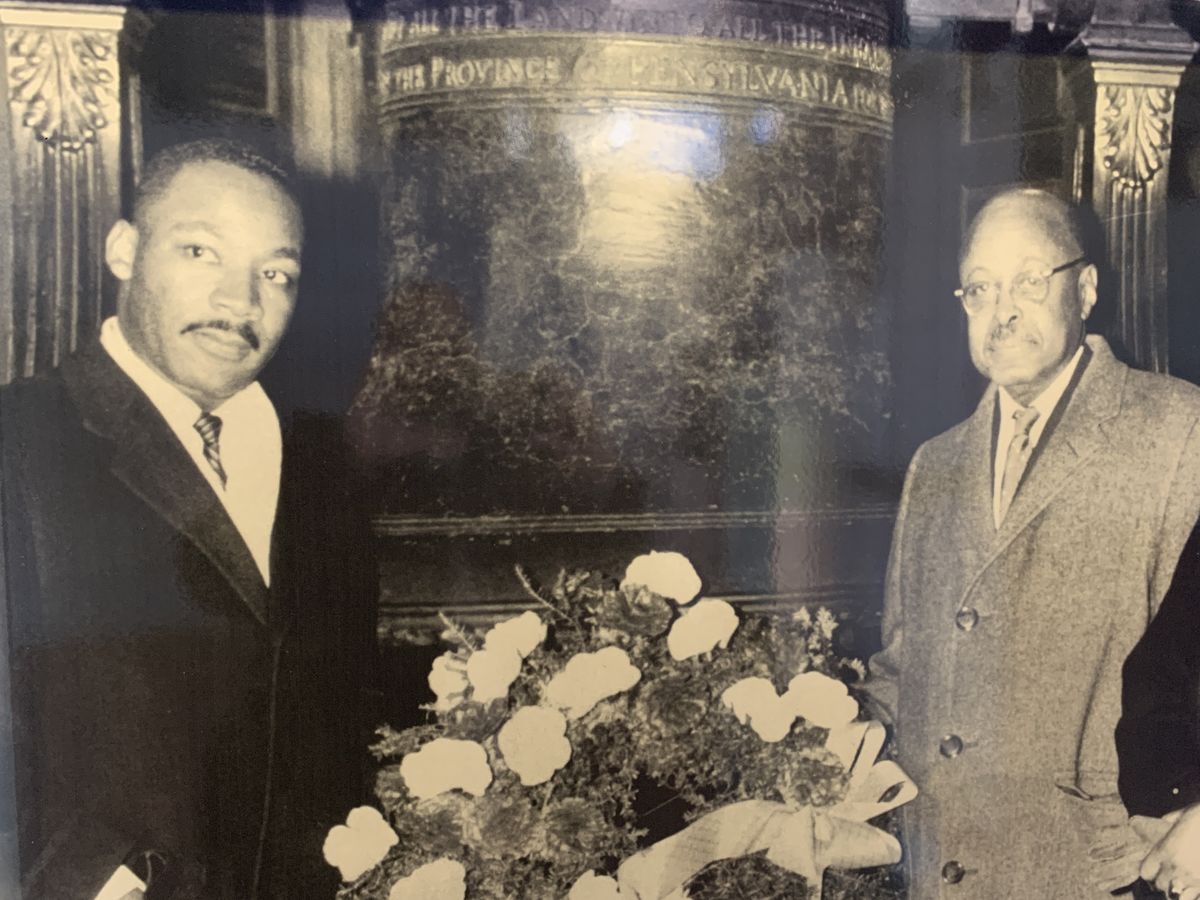 Photo from 1959 of Dr. Martin Luther King Jr. and Dr. Emmanuel Wright at the Liberty Bell on National Freedom Day. Wright's father initiated National Freedom Day commemorating the adoption of the 13th Amendment that ended slavery. This photo is from an exhibit in the Liberty Bell Pavillion at Independence Mall in Center City Philadelphia. (Photography courtesy of LBWPhoto)
"Over a century before the approval of National Freedom Day, a then-celebration commemorating the end of slavery in the West Indies, known as Jamaican Emancipation Day, was subject to a vicious assault by whites against Blacks in Philadelphia," Washington continued. 
The 1842 attack became known as the Lombard Street riot. Today, a Historical Society of Pennsylvania street marker can be found at the corner of Lombard and 6th streets in recognition of the riot.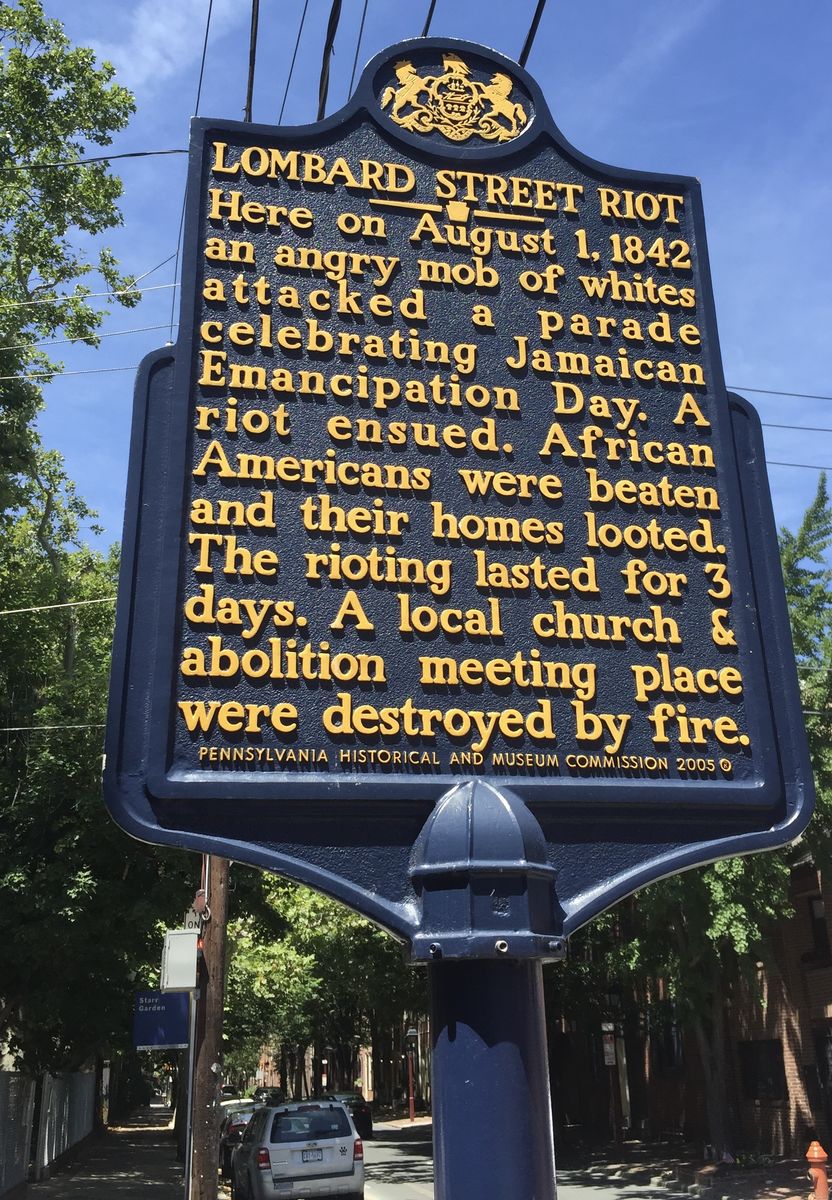 Photo of the Historical Society of Pennsylvania street marker recognizing the 1842 Lombard Street riot, where whites rampaged against Black Philadelphians, in part for Blacks celebrating the end of slavery in the British West Indies. (Photography courtesy of LBWPhoto)
Attend the Center for Anti-Racism's Juneteenth celebration 
Juneteenth 2023 will be a momentous occasion at Temple, as the Center for Anti-Racism continues to celebrate its inaugural year.  
The center is hosting a Juneteenth celebration on Monday, June 19, from 10 a.m. to 2 p.m., which will feature an interactive, youth-centered educational experience about Juneteenth, as well as a panel of scholars and artists who will share their views on preserving the freedom that Juneteenth commemorates. The event will feature dialogue and performances from faculty members Molefi Kete Asante and Kimmika Williams-Witherspoon and artist Seraiah Nicole.
Attend the Blockson Collection's Juneteenth Jubilee Street Festival  
Temple University Libraries' Charles L. Blockson Afro-American Collection has partnered with the Elmwood Park Zoo and the Center Theater Gallery to organize a Juneteenth street festival in Norristown. The festival will take place Monday, June 19, from noon to 6 p.m. at the Center Theater Gallery located at 208 Main St., Norristown, PA 19401. The event will feature a joyful celebration of heritage and community through an eclectic mix of local vendors, entertainment, music and food.
The community is also encouraged to visit the Blockson Collection, located on the first floor of Sullivan Hall, 1330 W. Polett Walk on Main Campus. 
The Blockson Collection is renowned as one of the nation's leading research facilities for the study of the history and culture of people of African descent. The collection contains more than 700,000 materials, including books, sheet music, journals, newspapers and photography, each of which help tell the story of the global Black experience. 
The collection is open on weekdays from 9 a.m. to 5 p.m. An appointment is required to visit the collection during the summer. Appointments can be arranged by calling 215-204-4723.