Temple ACES program empowers young adults using communication for nonspeakers
This two-week residential program hosted by TechOWL at the Institute on Disabilities brings together young adults using communication for nonspeakers to teach new skills and strengthen their abilities.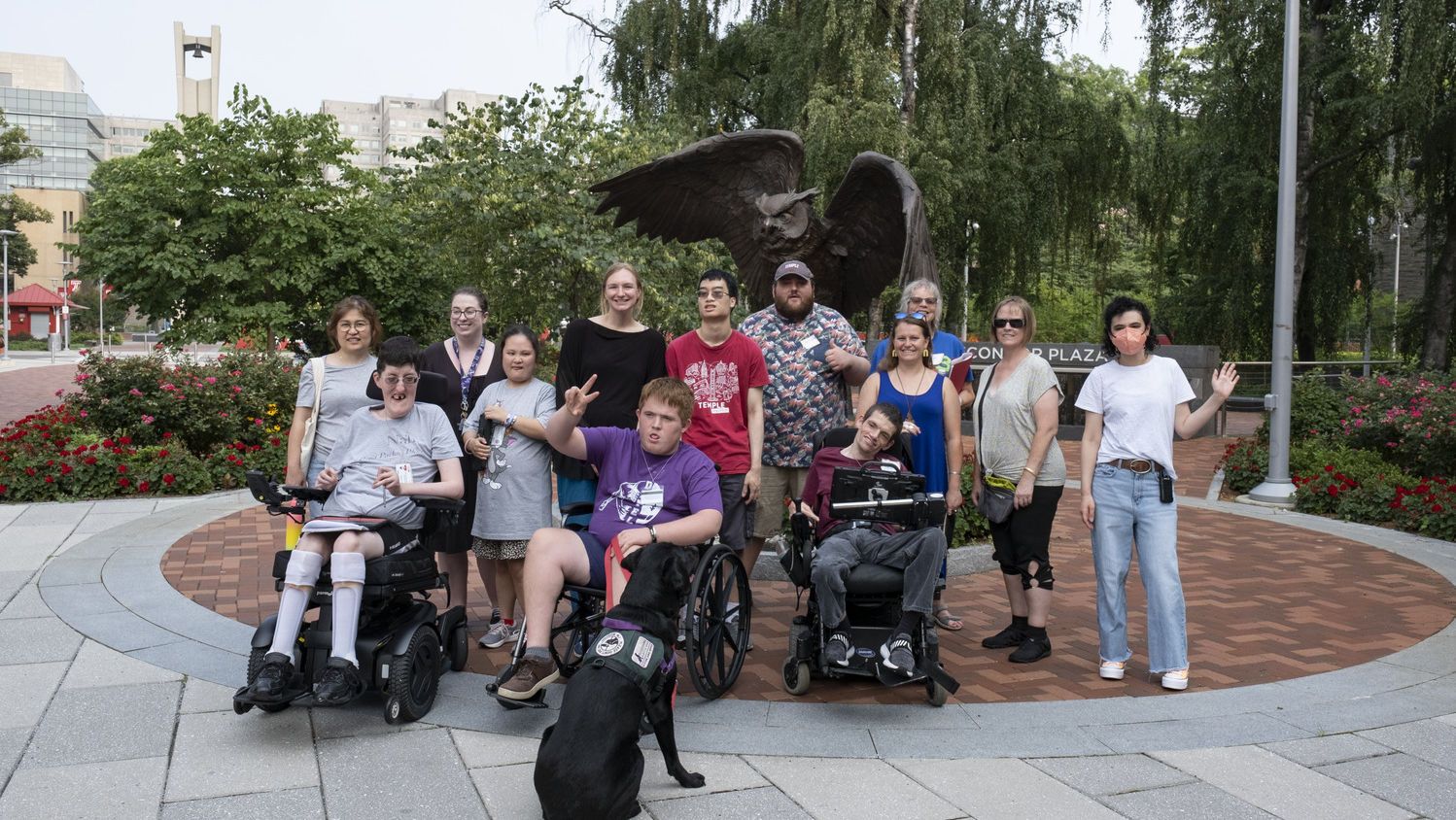 Temple University has a long-standing history of providing a variety of programs, events and initiatives to support and uplift our North Philadelphia neighborhood. This story is one example of many that illustrates the work we do in our community.
In mid-July, Ritter Hall hummed with activity as young adults strummed on guitars and pounded on drums. This jam session was one of many activities amid a bustling two weeks of immersive experiences designed for people with disabilities. 
For the first time since the start of the COVID-19 pandemic, Temple's TechOWL (Technology for Our Whole Lives) at the Institute on Disabilities welcomed participants to its Augmentative Communication Empowerment and Supports (ACES) program. This initiative allows young adult users of augmentative and alternative communication (AAC) from around the world to learn new skills and strengthen their abilities through both individual and group activities. AAC entails nonspeaking modes of communication such as speech-generating devices, gestures and facial expressions, drawing, and writing, in addition to other forms.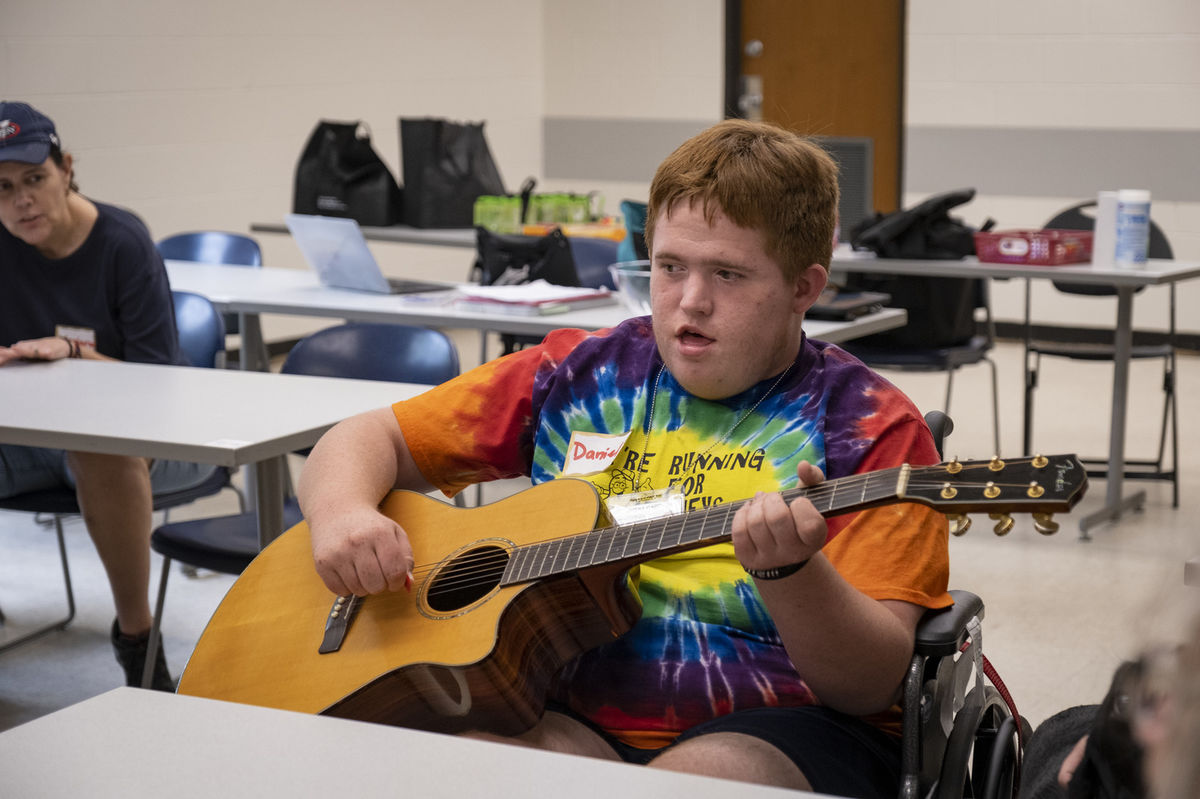 Music therapy was one of the activities during ACES 2023. (Photography by Joseph V. Labolito)
These adults and their caregivers attended sessions in Ritter Hall and stayed in Morgan Hall dorms. The schedule included a speaker series featuring other AAC users; adapted gaming, cooking and yoga; music therapy; movie nights; and Phillies games, among other activities. The program concluded with a celebration highlighting what these young adults have achieved.
As Pennsylvania's designated Assistive Technology Act Program, TechOWL receives state and federal aid to help Pennsylvanians of any age and disability get the technology and tools they need. Its central goals are to support individuals with disabilities and to promote the use of assistive technology. The program is part of the larger Institute on Disabilities in Temple's College of Education and Human Development.
A hallmark of TechOWL's ACES program is communication classes individually tailored to participants' needs and interests, which speaks to the program's unique approach.
"Many other programs use an expert-therapy model, but our program uses a more social model in which the participants are the experts," said Kim Singleton, senior director of assistive technology at the Institute on Disabilities. "We don't want therapists telling them what they need and want, but we do want experts available if the participants have an idea about something they want to try so that we can provide that for them."
Participants took communication classes based on their individual needs as part of the ACES program. (Photography by Joseph V. Labolito)
For example, speech pathologists and speech-language pathology graduate students from Temple's College of Public Health worked with participants. An occupational therapist at the Institute on Disabilities and a physical therapy consultant assisted this year as well. 
The ACES program has evolved over its 33-year history. This latest iteration marked the first time that the Institute on Disabilities sought the insight and leadership of AAC user consultants from around the country to shape the program. 
According to Sally Gould-Taylor, executive director of the Institute on Disabilities, ACES is not only cutting-edge technologically, but it also has an impact on participants, their families and other people with disabilities. "Since its inception, ACES forwarded the institute's mission of creating a society where all people have the knowledge, opportunity and power to improve their lives and the lives of others," said Gould-Taylor. "This year's ACES has continued that tradition, and we look forward to working with more AAC users throughout the year."
Participants are able to access various technology and communication systems during this two-week program. Past individual goals and projects have included a user joining the Instagram platform, which changed how they interacted with the world, and another creating a video resume, which increased job prospects. Singleton also recalls ACES helping a young man who had limited ability to communicate through touch and eye gaze—controlling a computer or tablet with your eyes. "The program has been life-changing for some people," said Singleton. "Every once in a while, magic happens, and that's an example of ACES magic."
Check out TechOWL on TikTok, which highlights its assistive technology services and tools. 
Interested in learning more about the work Temple University does in the North Philadelphia community? Here's a list of our recent community engagement stories!