Posted
September 21, 2023
More than 1,000 attend vigil honoring President JoAnne A. Epps
Members of the Temple family gathered at the Bell Tower to commemorate the contributions of a remarkable leader.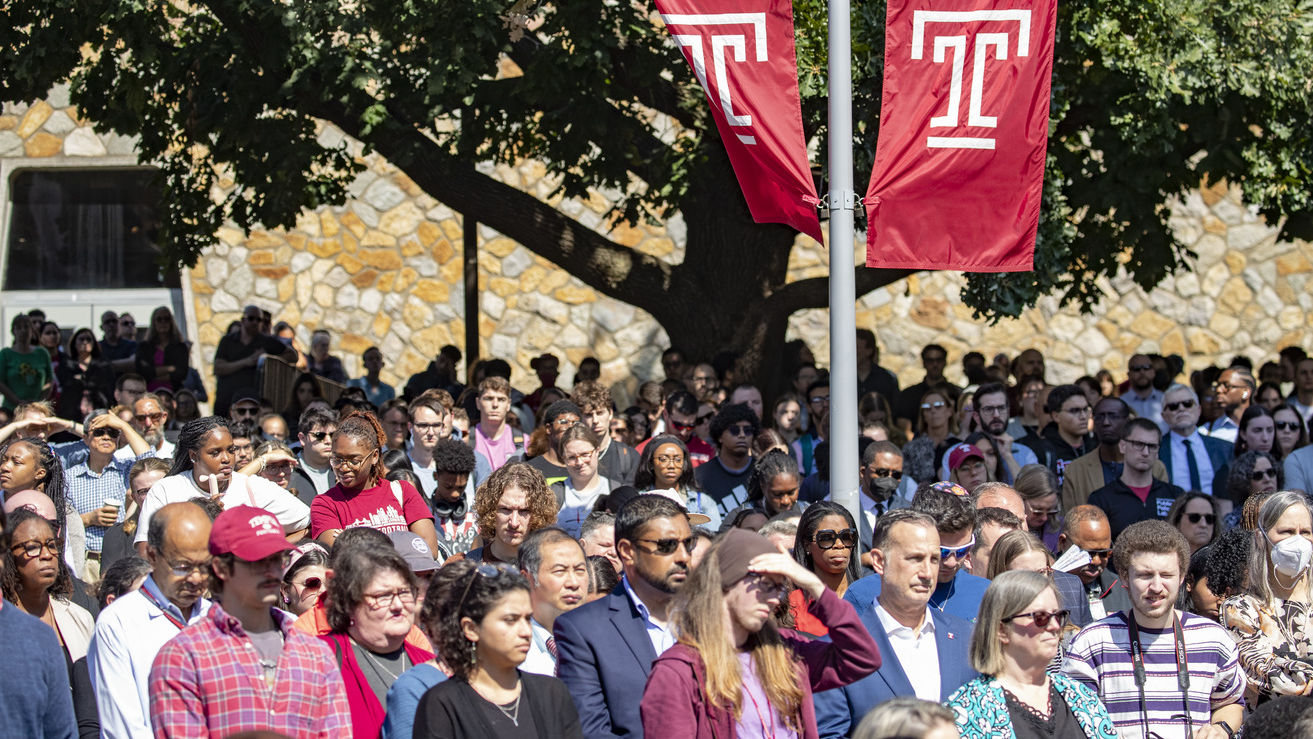 At a heartfelt gathering bathed in sunlight, members of Temple University's tight-knit community —including family, friends and elected officials—gathered at the iconic Bell Tower on Wednesday afternoon to pay tribute to President JoAnne A. Epps.

Epps, who died suddenly on Sept. 19, is being remembered as a beloved leader who truly cared for others. Appointed acting president in April, she held a number of positions at Temple during her nearly 40-year tenure.

"As we commemorate this day, we are grateful for the sun that is shining in our faces. We are thankful for the life and the legacy of JoAnne Epps," David Brown, assistant dean at the Klein College of Media and Communication, said as he provided opening remarks.

"We are grateful that her life will inspire, enlighten and activate us going forward. We are grateful for having touched her life—having had our paths cross with hers."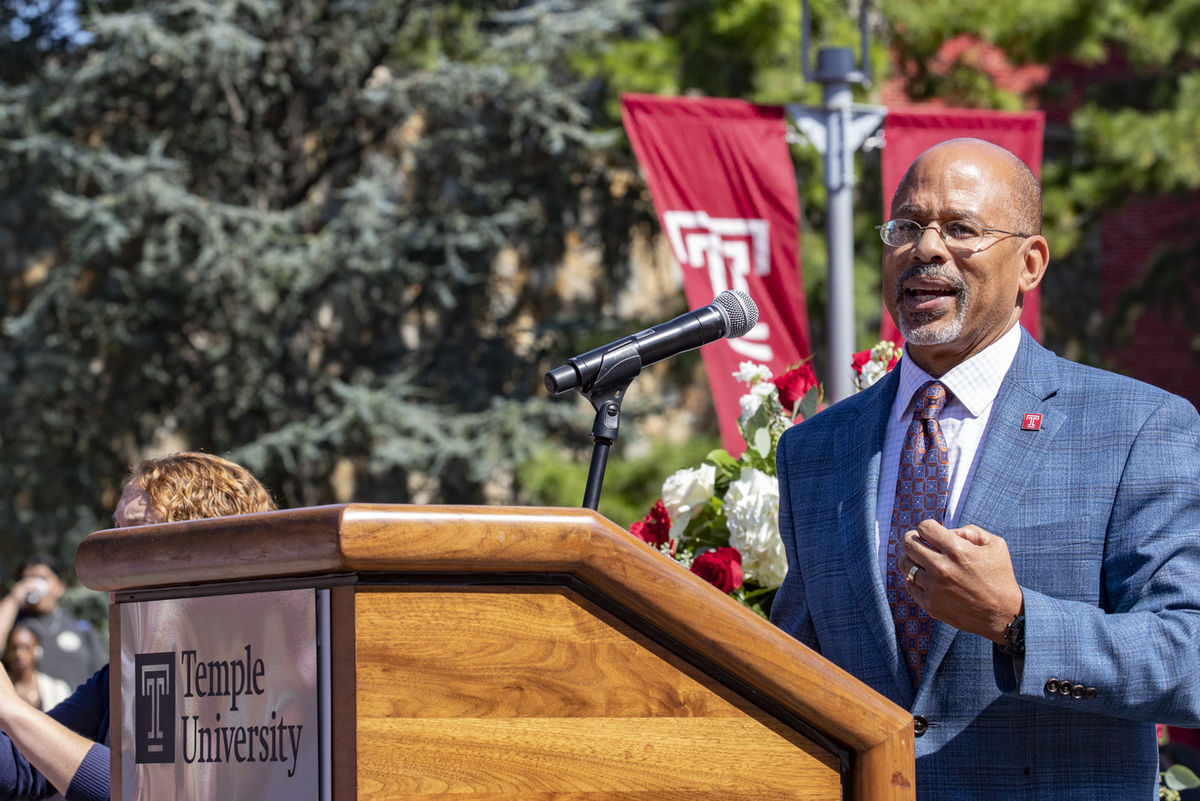 David Brown, assistant dean at the Klein College of Media and Communication, gives heartfelt remarks about President Epps. (Photo by Ryan S. Brandenburg)

During the vigil, Temple officials reflected on Epps' vibrant personality and her impact on the institution.

"All of us were drawn to her because of her warmth and because she truly cared for people and their well-being," Temple Chancellor Richard Englert said.

"We have all admired how she cared about the dignity of every human being. We loved her passion for social justice for everyone. We were attracted to her humility and her brilliance—a combination few people have. Her compassion for the most vulnerable persons in our society is legendary and she had the knack of being able to inspire all of us to higher levels."

"JoAnne would not want us to simply grieve," Englert continued. "She would want us to carry on, to push Temple to new heights."

Gregory N. Mandel, senior vice president and provost, talked about Epps' love for Temple.

"JoAnne often spoke about how people would come to Temple not necessarily expecting to stay for a long time but that this community has a way of working its way into our souls—just as it did for her," he said.

"As I reflect on it, I think many of us here stayed in part because of JoAnne and because of her everlasting ability to seek goodness in everyone."

Mandel said Epps had an innate capability to connect with students, faculty, alumni and staff.

"She always made you feel seen and empowered and appreciated in her presence," he said. "She was devoted to making sure that everyone got the opportunity to realize their own extraordinary potential," Mandel said. "JoAnne really represented the best parts of Temple University—our commitment, our perseverance (and) our grit." 

During her years at Temple, Epps served as dean of the Beasley School of Law, executive vice president and provost, and Temple's chief academic officer.

Throughout that time, she worked closely with Marylouise C. Esten, vice president and chief of staff.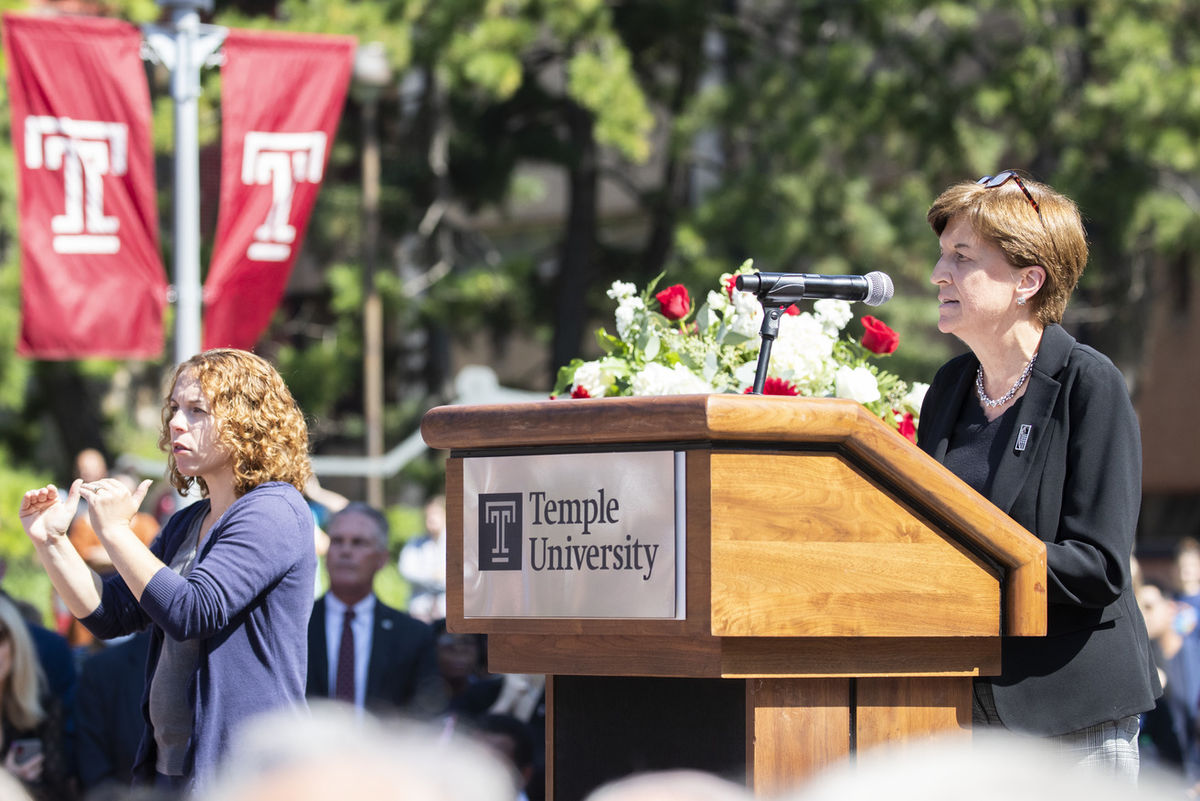 Chief of staff Marylouise Esten remembers President Epps' legacy at her Bell Tower vigil. (Photo by Ryan S. Brandenburg)

"Like this special university that loved and shaped her, JoAnne Epps defies description," Esten said. "She was a woman with intellect, integrity, good instincts and good judgment. She was also a person of great humility. She knew her strengths and recognized her limitations. She trusted and inspired those who worked with her to live up to her example."

Esten noted that Epps thrived on mentoring law students, young lawyers and newly minted academic administrators.

"Like this university, JoAnne Epps changed lives," Esten continued. "That's what she asked us to do. That is her legacy. We are her legacy."