Temple's Deirdre Childress Hopkins inducted into public relations hall of fame
Hopkins became the first African American woman to join the Philadelphia Public Relations Association's Hall of Fame, which was created in 1972.
As Temple University's senior director of communications, Deirdre Childress Hopkins, KLN '23, is a gifted storyteller, a skilled strategist and an all-around expert in crisis communications. 
She can now add a new title to her list of accolades: hall of famer. 
Hopkins was inducted into the Philadelphia Public Relations Association's (PPRA) Hall of Fame during a special luncheon ceremony held Wednesday, Oct. 11. Hopkins became the first African American woman to join the PPRA Hall of Fame, which was created in 1972. Previous recipients represent a virtual "who's who" of Philadelphia public relations professionals. A complete list of Hall of Fame members can be found here. 
"I am deeply honored to be welcomed into a distinguished group of Hall of Fame honorees, whom I admire, respect and love," Hopkins said. "I want to express my heartfelt gratitude to everyone who supported me on this journey, including people who mentored me, people who set great examples for my work and my teammates across Philadelphia, including The Philadelphia Inquirer, the Pennsylvania Convention Center and Temple University. I am deeply thankful to my parents, who gave me a combination of skills that allowed great communication to be my life's work." 
More than 100 fellow public relations practitioners and Philadelphia business leaders attended the ceremony held at the African American Museum in Philadelphia. The keynote speaker for the luncheon was esteemed 6ABC news anchor Tamala Edwards. John J. McNichol, president and CEO of the Pennsylvania Convention Center, also recalled Hopkins' career.
"Anything for Deirdre," Edwards said when she recalled her response upon being asked to emcee the Hall of Fame luncheon. "I love Deirdre. She is a wonderful person and a trailblazer in both journalism and public relations." 
Hopkins' appointment to the Hall of Fame comes during a stellar public relations career. Since joining Temple in November 2021, Hopkins has helped guide the university and its Department of Strategic Marketing and Communications through a number of challenges and opportunities.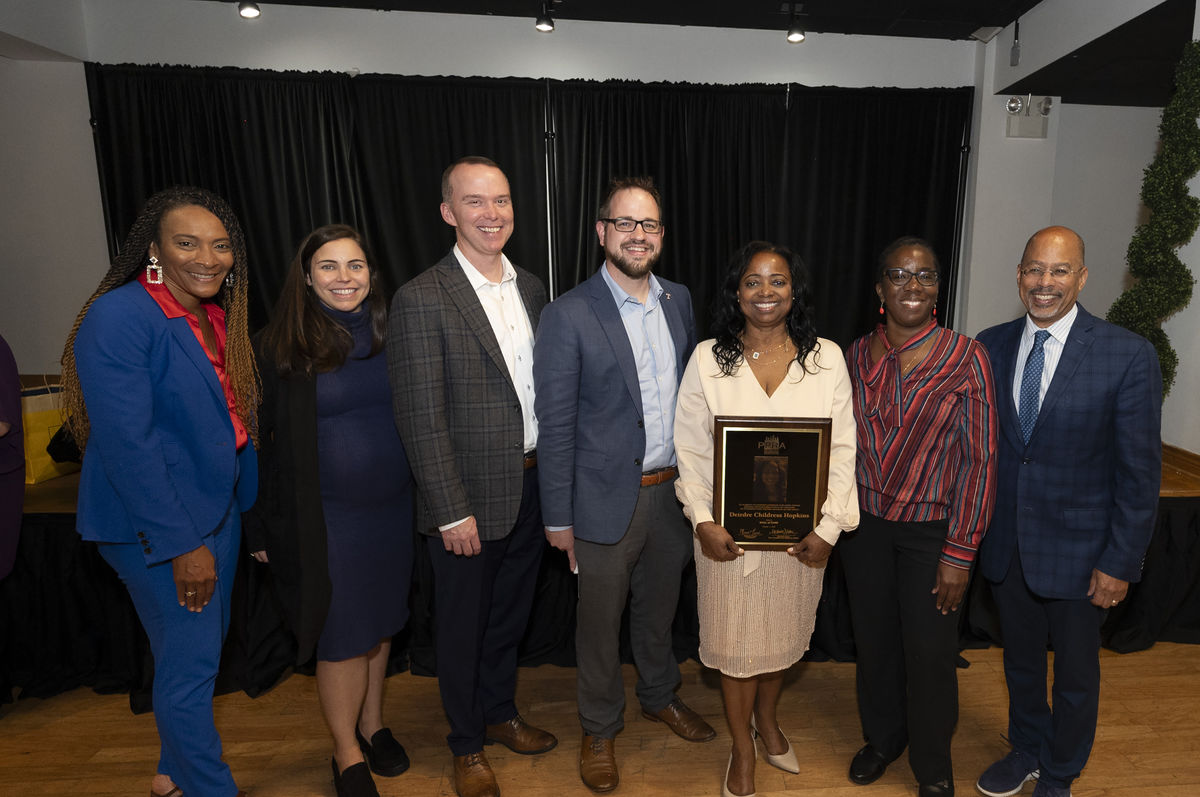 Hopkins is pictured with her Temple University colleagues during the Philadelphia Public Relations Association's Hall of Fame luncheon on Wednesday, Oct. 11. (Photography by Edward Savaria Jr.)
Prior to that, she worked as director of public relations at Visit Philadelphia, and she got her start in the public relations profession in 2012 when she joined the Pennsylvania Convention Center as its strategic communications manager. She also served as PPRA's president in 2019 and was the first African American president in the organization's then 75-year history. 
"As the only other living African American inducted into the PPRA Hall of Fame, it is a tremendous honor to support Deirdre with this well-deserved recognition," said 2007 inductee David Brown, assistant dean for community and communications at Klein College of Media and Communication and co-chair of Hopkins' Hall of Fame committee. "Her commitment to excellence in the profession and her lifelong passion to helping others will inspire others to follow her example." 
Hopkins' innate ability to identify thought-provoking stories and lead effective communication strategies can also be attributed to her first career of journalism, which she thrived in for more than 20 years. She has worked for prominent news outlets that include The Washington Post, Syracuse Post-Standard, United Press International, the Los Angeles Daily News and the Los Angeles Times. She also spent 16 years as a city/film/weekend editor for Philadelphia's newspaper of record, The Philadelphia Inquirer. 
She earned an undergraduate degree in English and fine arts from Colgate University, and she received a master's of science degree in communications management from Klein College just this past May. 
As Wednesday's ceremony came to a close, Philadelphia City Representative Sheila Hess presented Hopkins with resolutions on behalf of City Council President Darrell L. Clarke, state Rep. Malcolm Kenyatta and Mayor Jim Kenney. The resolutions thank Hopkins for her contributions to the field of public relations and also recognize the historical significance of her ascension to the PPRA Hall of Fame. 
"This award is a testament to a career dedicated to shaping narratives, fostering connections and creating lasting impact," Hopkins said. "In the world of PR, we are the storytellers, the bridge-builders and the reputation guardians. This honor reminds us that every word we choose, and every strategy we implement, can shape the course of history. I'm deeply honored and I will continue to champion diversity across media platforms through the art of effective communication."