Ambler marks 100 years with new book and artifacts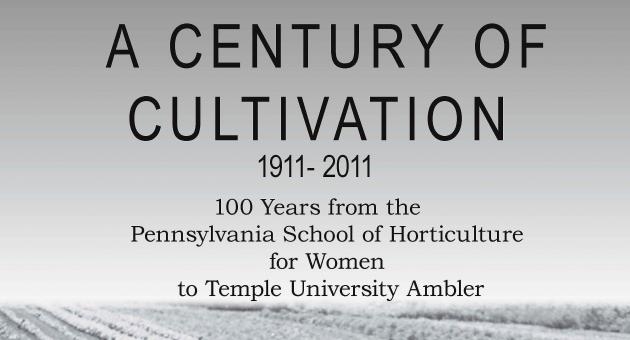 At nearly 93 years young, Mary Reiter has a special relationship with the Temple University Ambler Campus. An alumna who attended classes from 1937 to 1939, she clearly recalls when the campus was the Pennsylvania School of Horticulture for Women, the predecessor to today's Temple University Ambler. Clear away the Learning Center, Dixon Hall and most of the other buildings and add back the original dormitory and greenhouse and a cheery cacophony of horses, pigs, chickens and award-winning cows and you get a clearer picture of the Ambler Campus seen in Reiter's mind's eye.
"I still remember my first day and the beauty of the gardens — it looked like heaven to me and I knew it was the right place for me even on that first day," said Reiter. "The school held special promise for everyone that attended. Horticulture, landscape design — women simply weren't doing much of that at the time, but this school showed women that we could do just as well as men."
Reiter kept a small memento of her time at the school, which she is happily sharing with fellow alums, current students, and visitors to campus: a small silver pin in the shape of a trowel. The keepsake has become part of Temple University Ambler's new Hilda Justice Artifacts Collection, a rich overview of the campus' history displayed through yearbooks, photos, tools, medallions, documents and other memorabilia donated or loaned to the campus to celebrate Ambler's 100th year.
The overarching theme of the collection, which is on on display in the Hilda Justice Building, is "Rooted in the Past, Growing the Future," said Jenny Rose Carey, director of Ambler Arboretum, who worked with 1958 graduate and 100-Year Club member Mary Anne Fry, Director of Development Linda Lowe and Suburban Campus Libraries Head Sandi Thompson to develop the collection. The archive is accompanied by a commemorative book, A Century of Cultivation 1911 to 2011: 100 Years from the Pennsylvania School of Horticulture for Women to Temple University Ambler, which offers a visual treasure trove of the history of the campus from its earliest beginnings to today's graduates who went on to become leaders in their respective fields and communities.
"In researching the campus history for the book, I discovered so many outstanding graduates, so many amazing ladies who started this campus," said Fry. "The campus is 100 years old and I've been connected to it for 55 of those years — the campus is a part of me and now I feel that its graduates are a part of me as well."
On Thursday, Dec. 8, Carey, Fry, and many of the other volunteers who made the book possible will be on hand for an official A Century of Cultivation book launch at noon and 6:30 p.m. in Bright Hall Lounge. Carey and Fry will talk about the history of the campus, lead a tour of the Hilda Justice Artifacts Collection and host a book signing. Books will be available for sale at the launch. Refreshments also will be served.
"While the collection and the book are a celebration of our history, it is history that we can learn from and build from to create a bright future," said Carey. "It is an extremely important part of who we are as a campus. The school throughout the decades has had a significant impact on local and national history — the practical training that our alums received gave them an excellent launching point into the world and allowed them to do wonderful things within their communities. It's wonderful to be able to show people our history while also telling them about it."
For more information about A Century of Cultivation, the Hilda Justice Artifacts Collection, the Dec. 8 event or to schedule a tour of the gardens and the collection, call 267-468-8001.