Violinist starts youth music program to soothe shaken nerves in Peru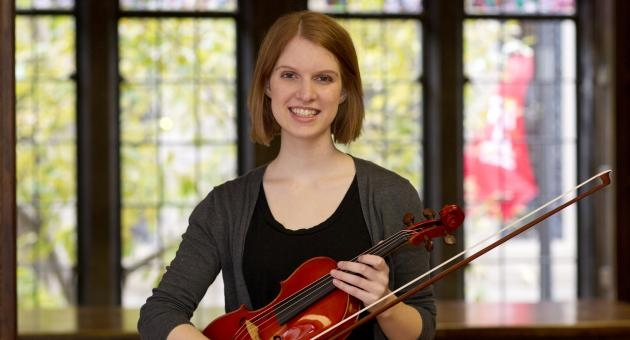 In 2008, Temple senior Elizabeth Moulthrop joined a volunteer group on a trip to Pisco, Peru, where she helped rebuild homes and schools after an earthquake devastated 80 percent of the small city's infrastructure.
When she returned the following year to continue her volunteer work, she found a society that was beginning to put itself back together. Still, she noticed something missing from the everyday experiences of the city's youngest inhabitants.
"It takes more than bricks and mortar to rebuild a city," said Moulthrop, a music education major in the Boyer College of Music and Dance. "It was evident that in addition to the need for physical reconstruction and development, there was a great need for social programs — especially for children."
In an effort to address the city's lack of social resources, Moulthrop began the Pisco Music Program, an after-school music enrichment class tailored to the needs of Peruvian children.
"I cannot change the nature of their material poverty, but I can only hope to use the skills that I have in order to provide a meaningful experience for the children and their community, the very people who have given me transformational life experiences," she said.
With funding from a Temple Creative Arts, Research and Scholarship (CARAS) Award from the Office of the Senior Vice Provost for Undergraduate Study, the four-week program offered lessons on the recorder and handmade percussion.
The project was the first undertaken by Notes for Change, a nonprofit group Moulthrop founded to develop music programs for underprivileged youth. The organization aims to create a positive environment for young people by training local music teachers, providing instruments and initial training, and designing a custom curriculum for each community it serves.
"Initially I requested that only middle school-aged children sign up for the program," Moulthrop said. "But on the first day we had students from 6 to 16 years-old sign up. We ended up getting far more interest than I expected. But we didn't want to turn anyone away. It's important that students have a creative outlet."
Moulthrop knows first hand how early exposure to music can help build self-esteem and autonomy.
The South Orange, N.J. native began playing violin at the urging of her music teacher in the fourth grade. She credits her music education for helping her to build a sense of accomplishment.
"I had a very strong connection to music, it helped me develop into who I am, and it was public school teachers who encouraged me to try music. I hope that I have the same effect on my students," she said.
Although there were language and cultural barriers to overcome, Moulthrop is satisfied with the outcome of the program and plans to return to Peru during the summer of 2012.
"The project seemed a meaningful experience for children in Peru," said Alison M. Reynolds, Temple associate professor of music education. "She has applied the intelligent, musical, kind, purposeful and diligent energy she demonstrates as an undergraduate music education major to the Pisco Music Project."