Center for Asian Health celebrates 10 years of community-based research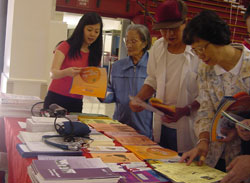 Kelly and Massa Photography
Academic research has the power to change lives.
Nowhere is that maxim more evident than at Temple's Center for Asian Health, where members of the community are both participants in and beneficiaries of research that has improved the health of thousands of Asian-Americans along the East Coast.
Now celebrating its 10th year, the center is a national leader dedicated to reducing cancer and health disparities among Asian Americans. Its expertise has been amassed largely through the study of the community it serves.
That technique, known as community-based participatory research, has recently experienced a surge in the research field. But the Center for Asian Health has been practicing it since its inception, partnering with more than 250 Asian community organizations and health providers to reach more than 200,000 Asian Americans through community health outreach programs. Community members have received in-person health education, intervention and free health screenings.
"The Center's mission is to raise the physical, mental and social health of Asian Americans to the highest possible level through community-based participatory outreach, health education, research, training and culturally and linguistically appropriate comprehensive health services," said Grace Ma, the center's founder and director, and a professor of Public Health in the College of Health Professions and Social Work.
Through an innovative program that connects patients with providers, the center helps bridge the gap in access to care for a population that often faces cultural and language barriers when seeking medical care.
"The Patient Navigation Program is a great model that can help patients navigate through the complex maze of the health care delivery system, to help them find the right place for care," said Philip Siu, the associate medical director of Greater Philadelphia Health Action and the clinical director for Chinatown Medical Services.

The dynamic partnership between Ma's research team and Asian community leadership has led to more than 50 NIH-funded community-based participatory research projects. The latest grant will fund a nationally comprehensive study on cancer disparities. The funding also has helped train more than 100 junior researchers nationally and 200 community health workers throughout the region to focus on culturally relevant programs for health education.
Diana Wu, president of the American Ethnic Small Business Council Inc., has worked with the center for many years to educate and treat her organizations' members on a variety of health issues. She says a lack of culturally relevant information about prevalent health concerns can cause early stage illnesses to rapidly become serious health problems.
"With the health education in Asian languages and free or low cost health services offered by the Center for Asian Health in partnership with other health care facilities, these people finally have a chance to learn about health issues, and have access to some health services without incurring high costs," she said.
The Center for Asian Health is part of Temple's College of Health Professions and Social Work.