Center City park rededication honors late Temple professor John F. Collins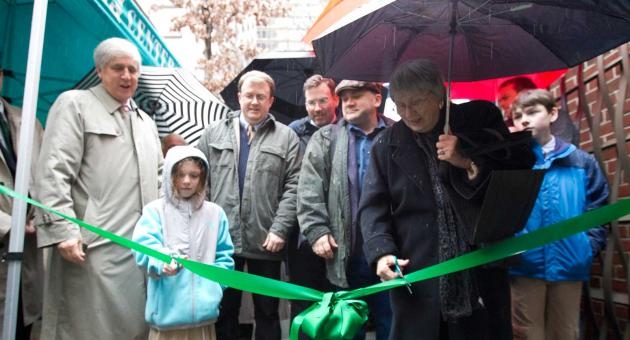 Schuylkill River Park. Three Bears Park. Society Hill's Greenways. Chestnut Park.
If you've taken advantage of the green oases that these parks provide among the city's canyons of steel, glass and concrete, you've experienced the rare talents of John F. Collins firsthand.
An internationally recognized landscape architect and the founding chairman of Temple's Department of Landscape Architecture and Horticulture, Collins spent decades designing and significantly adding to Philadelphia's greenways and well beyond.  
Collins passed away in August 2011 after many years of courageously battling Parkinson's disease. While Temple has lost an important piece of its living history, Collin's legacy will live on not only in the generations of landscape architects and community planners that he has taught and inspired but in the name of one of the parks that he created.
On January 17, the Center City District formally renamed Chestnut Park (1707 Chestnut Street) — which Collins designed in 1978 to celebrate "the region's natural landscape and native people" — as John F. Collins Park.  
"John F. Collins was dedicated to using design to humanize urban spaces. He created green spaces and livable landscapes from native materials and indigenous horticulture and enhanced the city experience with his transformative vision," said Paul R. Levy, president and CEO of the Center City District, which oversaw a full renovation of the park in the summer of 2011. "The Center City District is grateful to the William Penn Foundation for its generous support and honored to rededicate this park in honor of John F. Collins."
In additional to new lighting and a restoration of the iron gates at the park's entrances, John F. Collins Park will also include informative displays about Collins' life and work. 
The rededication of the park is "a wonderful way to honor John and his contributions to the city," said Joseph McLaughlin, director of Temple's Institute for Public Affairs and assistant dean of the College of Liberal Arts, who was a longtime friend and colleague of Collins. 
McLaughlin attended the January 17 rededication ceremony with William Parshall, executive director of Temple University Ambler and Temple University Center City; Linda Lowe, Ambler's director of development and alumni affairs; and Pauline Hurley-Kurtz, associate professor of landscape architecture and horticulture.
"John really had no ego when it came to his career. He loved urban design and working with trees and plants; that's where his satisfaction came from," McLaughlin said. "But I think if he werehere with us, he'd be pleased that this [rededication] happened and would be especially pleased by the park refurbishment and revitalization undertaken by the Center City District, which very tastefully respects the original design while adding a few aspects to it."
Collins came to Temple in 1988, chairing the Department of Landscape Architecture and Horticulture through its first decade at the Ambler Campus, during which time he established the four-year bachelor of science degree programs in Landscape Architecture and in Horticulture.
As faculty members in the early years of the four-year programs, "we were all impressed by John's conviction that our professions could improve the environment and effect positive social change," said Hurley-Kurtz.
"He challenged us to take on large urban projects so our students would appreciate the importance of vibrant cities and neighborhoods and he set professional standards of excellence in the quality of the work," she said.
Collins park, McLaughlin said, "was always meant to be a place where you could take some time away from city life, a retreat from the hustle and bustle of the city. That's what John wanted it to be and fortunately that's exactly what it's become."