Bird collisions are focus of Temple graphic design exhibit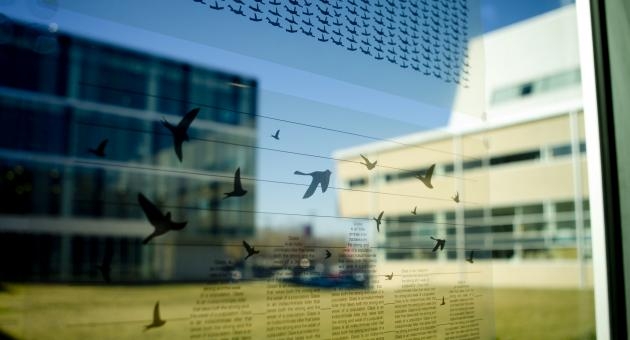 While visiting main campus, before the new building for Tyler School of Art was complete, graphic design professor Alice Drueding noticed something unusual about the birds flying overhead.
"I kept catching glimpses of species I'd never seen before," said Drueding, an avid bird watcher. "Beautiful birds in several different colors and sizes. I was amazed. These were not the birds that I was used to seeing in my backyard."
Each year, Temple, which sits in the middle of a migratory path, attracts droves of birds flying south for the winter. Unfortunately many of them don't make it to their final destination. Nearly 1,000 die after colliding with glass facades that cover many of the buildings on campus.
In an effort to bring awareness to the issue of bird deaths, Tyler School of Art, the Audubon Society and Temple's Office of Sustainability is hosting Bird's Eye View, a juried exhibition of designs for protective window films.
The issue isn't unique to Temple, said Keith Russell, outreach coordinator for the Pennsylvania Audubon Society.
"One of the greatest dangers to birds is the widespread use of glass in urban structures. Nearly a billion birds die each year when they fly into both reflective and non-reflective glass surfaces," said Russell. "We're hoping that the exhibit both raises awareness and provides examples that can be tested for future production."
For the exhibit, which is currently on display at Tyler School of Art, Graphic and Interactive Design students were asked to create decorative film panels for windows that would enable birds to recognize windows as an obstruction.
Although some companies create window decals that prevent bird collisions, Tyler students are the first to create decorative window film, said Drueding.
"We're speaking to two audiences. Patterns that are visible to birds may not be aesthetically pleasing to humans, so the students had to be creative and come up with patterns that communicate to both people and birds."
Winners will be announced in late February.