Film edited by Temple grad student earns Oscar nomination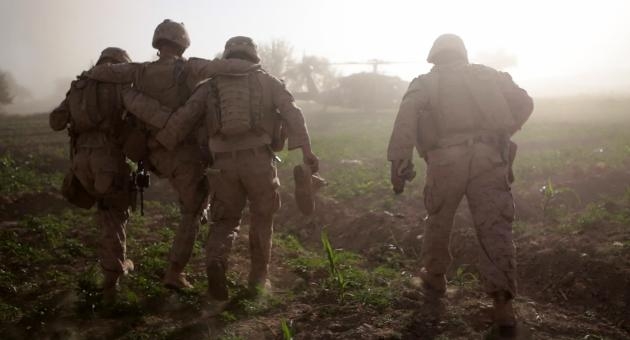 Students in the School of Communications and Theater were on the edge of their seats Monday, in anticipation of the announcement that placed Hell and Back Again, a film edited by film and media arts graduate student Fiona Otway, on the list of Oscar nominees.
"That's amazing," said Sofie Yavorsky, a junior theater major. "It's such an honor to know you attended the same school as someone who's made it to the top of their profession. It really gives me hope that anything is possible."
Hell and Back Again follows 25-year-old Sgt. Nathan Harris as he tries to makes the difficult transition back into everyday life after experiencing the brutality of war. The film made last year's short list of Oscar nominations and caused a buzz in the industry for its striking imagery and intense story line.
Directed by Danfung Dennis, a photojournalist who discovered Harris while embedded with the U.S. Marines Echo Company, the film was described as a "full-circle portrait of rare psychological immediacy and even rarer aesthetic command," by the Los Angeles Times and has garnered a high level of support in independent media circles.
As the film's editor, Otway was responsible for crafting the story from 100 hours of raw footage.
"We often hear that people forget that it's a documentary," Otway said. "We really use that to our advantage in telling the story… to create a visceral, emotional experience that really sucks you in. When you remember that it's real, hopefully it has all the more impact in that moment."
Otway spent 10 years in the film-making industry before accepting a fellowship to Temple. Trading in her full-time career for books and study time gave her an opportunity to focus on her work, she said.
While her Temple classmates and students were at home awaiting the Oscar announcement, Otway was en route to Philadelphia from Park City, Utah, were she screened Kiss the Paper, her most recent documentary on the art of letterpress printmaking.
The excitement of being honored for a national award is nothing new for Otway, who was awarded the first-ever prize for Best Documentary Editing at Sundance Film Festival for Hell and Back Again. Two of her other editing projects were previously nominated for an Academy Award.
Her work is strongly influenced by a background in cultural anthropology, critical social theory and experimental film making and often explores themes related to globalization, community-based social change and cultural identity
"We live in a world of fascinating complexity, and stories that express nuance not only help us understand ourselves better, but also help us reflect on our relationships with each other," said Otway. "Ultimately, I hope that my work contributes to making the world a better place."