How to break into show business
Young entertainers get an inside scoop on surviving in the entertainment industry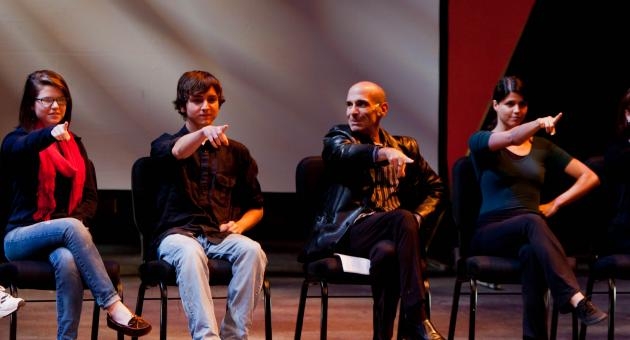 What does it take to start and maintain a successful career in the entertainment industry? That was the question on the minds of students who filled Tomlinson Theater to get the inside scoop on how to break into and remain relevant in show business.
The first George and Joy Abbott Center for Musical Theater seminar, a collaborative colloquium between the Boyer College of Music and Dance and the School of Communications and Theater, brought together some of the biggest names in the business for an in-depth session on choreography, make up and more.
During the seminar, selected theater, dance and music majors presented recent projects to be critiqued by professionals in their field of study.
Hugh Panaro '85 was among a panel of industry professionals who gave feedback and fielded questions on everything from diction to finding your own voice.
"It's very tempting to mimic your role model," said Panaro. "When I first moved to New York I unconsciously went into every audition as Mandy Patinkin."
He stuck with his Patinkin imitation until he came across an honest pianist who offered him some important advice.
"He told me 'you do a really good Mandy, but if you want to get hired, figure out who you are and what you can bring to the table.' That's when it clicked for me, that's when I decided to be the most authentic version of myself," said Panaro.
Currently playing the lead in a Broadway production of Phantom of the Opera, Panaro was nominated for an Outer Critics Circle Award for his performance in the title role of Elton John's Lestat, based on Anne Rice's Vampire Chronicles. He made his Broadway debut as Marius in the original production of Les Misérables and created the roles of Buddy in Side Show and Julian Craster in Jule Styne's The Red Shoes.
He received Philadelphia's Barrymore Award for his performance as Jean Valjean in Les Misérables at the Walnut Street Theatre and was recently nominated for his performance as Fagin in Oliver.
Other participants in the seminar included Clifford Schwartz, SCT '80, Angelina Avallone, Thomas Kail, and Jonathan Stuart Cerullo 
In 2008, Joy Abbott bequeathed her ownership share of rights and future royalties earned by theater productions authored by her late husband George — which include famous titles such as The Pajama Game, Damn Yankees, On Your Toes and The Boys From Syracuse — as well as other selected memorabilia to the Boyer College of Music and Dance.
The bequest, which is currently valued at a minimum of $6 million, served as the lead gift in establishing the new "George and Joy Abbott Center for Musical Theater" at Temple University.