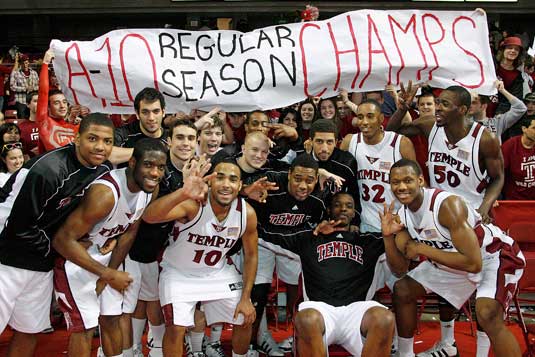 Joseph V. Labolito / Temple University
March is here, and Temple's men's and women's basketball teams are back where they belong — in the national spotlight. The fun starts today at noon when the Owls take the court in Atlantic City to defend their Atlantic 10 title and continues on Sunday and Monday evenings, March 14 and 15, when Temple Athletics will host free NCAA selection show parties for both the men's and women's teams in the Liacouras Center.
Coach Fran Dunphy — recently announced as a finalist for the Jim Phelan National Coach of the Year Award — and the 17th-ranked men's team begin their quest for a third consecutive A10 championship when the regular season champions take on eighth-seeded St. Bonaventure in Atlantic City's Boardwalk Hall today at noon. If the Owls win, they'll advance to a semifinal game in Boardwalk Hall on Saturday afternoon, March 13 at 1 p.m. The conference championship game will take place on Sunday, March 14, at 1 p.m., also in Boardwalk Hall. The championship game will be televised live on CBS for the first time in A10 history.
All-session and single-session ticket packages for the A10 men's tournament may be purchased at the Boardwalk Hall box office or via TicketMaster (800-736-1420 or www.ticketmaster.com). Special student ticket prices are available, but only at the Boardwalk Hall Box Office.
Two hours before each Temple game in the tournament, Temple Athletics will host a pre-game party in the Garden Room on the 6th floor of Bally's Atlantic City (Park Place and Boardwalk), the official Temple fan hotel this weekend. Discounted rooms at Bally's are sold out; fans should contact their sister property, Harrah's (located just down the Boardwalk), for discounted rates.
For comprehensive information about the A10 tournament, click on the "2010 Atlantic 10 Men's Basketball Championship: Bally's Atlantic City" banner at www.owlsports.com
On Sunday evening at 6 p.m., the Temple men's team will get the news about their NCAA tournament selection and seeding. Fans can join the men's team, the spirit squad and the pep band at a free NCAA selection show party in the Fox-Gittis Room in the Liacouras Center lobby. Temple Athletics will host a free NCAA selection show party for the women's team, fresh off a second-place finish in the A10 women's tournament, on Monday, March 15, in the Fox-Gittis Room in the Liacouras Center at 7 p.m. (doors open at 6 p.m.). Sunday's selection show will be televised by CBS; Monday's will be on ESPN.
A limited number of tickets for the men's and women's NCAA tournaments will be available for purchase shortly after selection and seedings are announced. More information will be posted at www.owlstix.com.