New committee keeps the dream alive with additional MLK events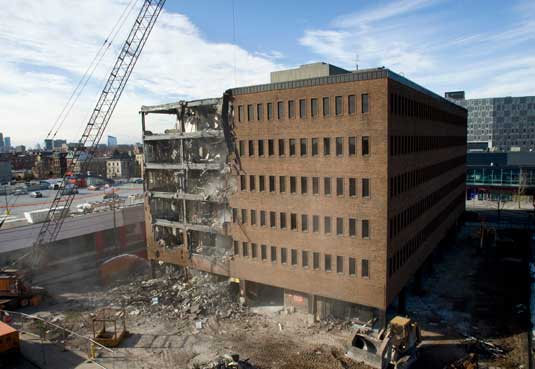 The beginning of the New Year brought with it the first visible sign of Temple 20/20, the university's framework plan for campus development that seeks to transform and enrich the academic environment.
That sign can be spotted at the corner of Broad and Oxford Streets, where the 1970's era University Services Building is being leveled to make way for a new multi-use structure that will feature student housing, dining services, retail, green space and parking.
Running throughout Temple 20/20 are calls for more green space, improved campus and community edges and a better overall pedestrian experience. Key components include a transformed North Broad Street corridor, more student housing, a flagship library, a science research building and improved student recreation space all within Temple's existing campus boundaries.
"At its heart, Temple 20/20 is designed to build Main Campus as a residential community of student scholars by strengthening research, fostering creativity and marshalling knowledge, as well as enhancing the quality of life for the North Philadelphia community," said President Ann Weaver Hart. "Every aspect of the plan supports our core mission to provide access to superior education for committed and capable students of all backgrounds."
"Temple 20/20 provides a flexible framework for developing our urban university environment," said Patrick J. O'Connor, chair of Temple's Board of Trustees. "It gives us the ability to implement projects in phases as funding is available."
Crews began the USB demolition over the holiday break starting from the inside with the sorting and recycling of all building materials from the steel and masonry down to the wiring and floor tiles. From there the work progressed outward and as staff return to work this week, about half the building will have been taken down. The project is expected to be completed by the end of January.

Officials are now exploring possible designs for the site which, like all Temple 20/20 projects, will be subject to approval by the university's Board of Trustees. Construction is tentatively set to begin in late summer and finish in approximately 22 months.
The next visible sign of Temple 20/20 progress will be the renovation of the McGonigle-Pearson complex scheduled to begin in March. This will entail demolishing the Student Pavilion, adjacent to McGonigle on the north side, and rebuilding it in two floors on top of Pearson Hall. The significantly improved and expanded student recreation and intramural athletic facilities will house basketball courts, including two division 1 basketball practice facilities, and a new rock climbing wall, all of which will be visible to passersby thanks to a new glass front for the buildings.
The demolition of the Student Pavilion will make way for the building of Temple 20/20's signature structure: a university and community shared library. The library is one of several portions of the 20/20 plan that are tentative, needing approval from the trustees and a funding source.
Officials estimate that the cost of Temple 20/20 will be approximately $1.2 billion and come through debt financing, private fund-raising, university reserves and state funding.