New program expands STEM education throughout Pa.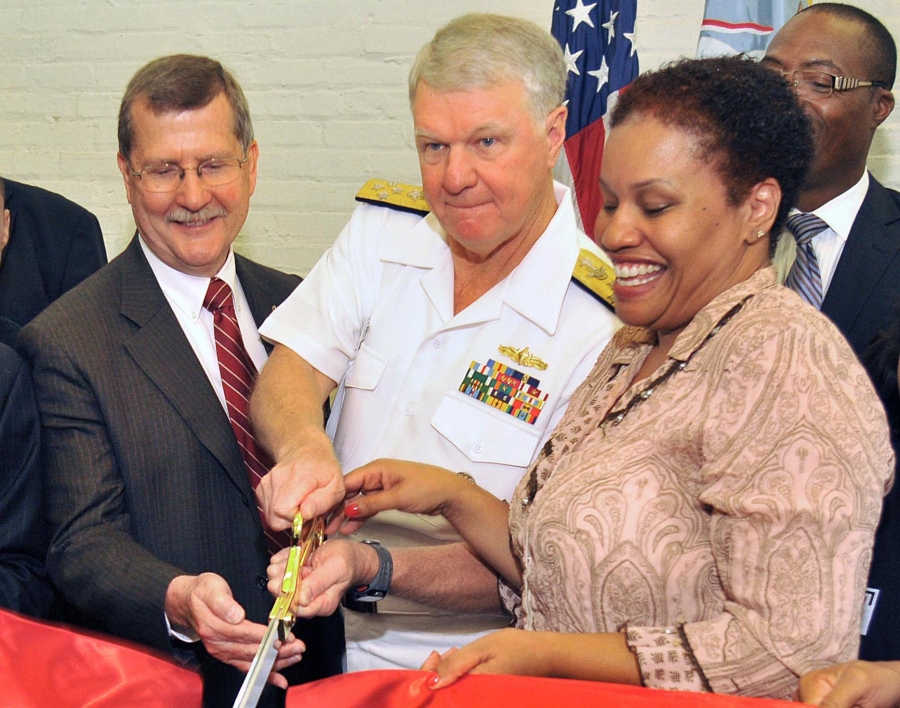 Kelly & Massa Photography
Further broadening its outreach in science, technology, engineering and math (STEM) education, Temple launched the Pennsylvania Math Engineering Science Achievement (MESA) initiative during a ceremony at the Philadelphia Navy Yard on August 27.
Sixty middle and high school students from the Philadelphia School District, along with their parents, joined university leaders, top Navy commanders — including U.S. Chief of Naval Operations Adm. Gary Roughead — and Philadelphia Mayor Michael Nutter in the ribbon cutting, which celebrated Temple receiving the license to bring the national award-winning MESA program to Pennsylvania.
"The launch of the MESA Pennsylvania, and our investment in youth you see here today is just the beginning of a carefully-crafted movement to partner with families, school districts, elected officials, community leaders and companies to build a solid STEM workforce that we will need to compete economically in a global environment," said Temple Provost and Senior Vice President for Academic Affairs Richard Englert. "Temple has been a key leader in supporting community efforts to bring high-quality STEM education to the students of Philadelphia and the surrounding region."
The MESA initiative is designed to increase the number of scientists, technologists, engineers and related professionals who are able to graduate from a two- or four-year institution; and to diversify American students who achieve advanced degrees leading to research and development to create new products and to support the nation's defense. Over the past 40 years, nearly 70 percent of MESA students — many of them minorities and women — have entered STEM fields.
Founded and headquartered at the University of California, MESA is operated at institutions around the country, including Johns Hopkins, the University of Washington and UC-Berkley. With the Temple license, Pennsylvania becomes the ninth state program in the MESA system, joining such states as California, Washington, Maryland, and Arizona.
As the lead MESA institution in Pennsylvania, Temple will develop public/private partnerships with industry, other academic institutions and government agencies to implement the goals of MESA and Temple's commitment to helping every student reach their full potential, regardless of background, gender or economic status, by partnering with families, districts, elected and community leaders and companies to build a solid STEM workforce necessary to compete economically in a global environment.
Temple's College of Engineering is leading the Pennsylvania MESA initiative through financial and administrative support, with Jamie Bracey, director of STEM education, outreach and research in the College of Engineering, coordinating Temple's MESA efforts.
This summer, Temple launched three MESA summer academies in partnership with the U.S. Navy, through funding from Office of Naval Research and support from engineers from the Naval Ship Systems Engineering Station, the Urban Youth Racing School, and the Mayor's Office of Community Services. The students engaged in engineering, technology and health and medicine at Temple's College of Engineering, School of Medicine and the Philadelphia Navy Yard.  Following the ribbon cutting, the students showcased their summer academy projects.
"These students are examples of young folks focused on the right things in life," said Nutter. The Mayor told the students that whether or not they became scientists, engineers or doctors, the important thing was that they were focused on their education and that the skills they were learning could be transferred to other aspects of their life in the future.
In addition to Roughead, Vice Adm. Kevin McCoy, commander of the Naval Sea Systems Command and Rear Adm. Nevin Carr, Jr., chief of Naval Research, also attended the ceremony, along with Oscar Porter, president of MESA USA and MESA California.
"We were pleased that the U.S. Navy was represented at this event by such high-ranking officials, since the Navy has been a truly great partner in STEM programs provided to Philadelphia students by Temple," said Keya Sadeghipour, dean of Temple's College of Engineering.