New Temple-supported show aims to recast perceptions of community youth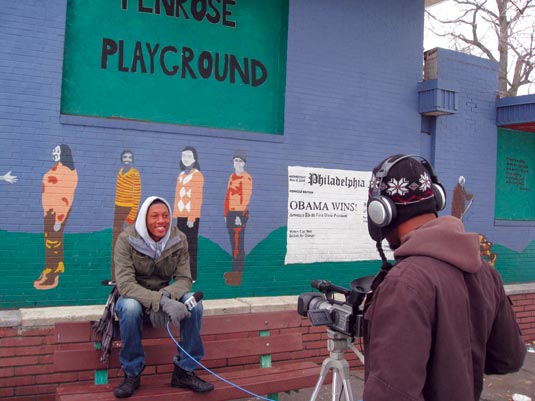 Courtesy UCCP
A new youth-driven news show supported by Temple's University-Community Collaborative of Philadelphia (UCCP) program aims to do more than just tell stories about youth. Instead, the show's producers hope to start a conversation about issues that are "POPPYN."



The show's name is an acronym that stands for Presenting Our Perspective on Philly Youth News, a play on the colloquialism "What's poppin'" (which means, "What's happening?").
POPPYN segments address subjects such as the recession's effect on youth; zero tolerance policies in schools; volunteer work at the MLK day of service; and analysis of network coverage of student walkouts in Philadelphia schools.
New episodes premiere every two months on the PhillyCAM public access channel and can be viewed on Thursdays at 4:30 p.m. All of the short segments from the episode are available on POPPYN's blog: whatspoppyn.blogspot.com.


Currently, POPPYN is produced by a small crew of youth and young adults from Philadelphia, most of whom have participated in VOICES — a leadership, civic engagement and media production program for high school students started by UCCP in 2001.
UCCP prepares and supports youth and young adults to become confident, effective leaders and collaborates with organizations to create cultures that value and integrate the contributions of youth, thereby building stronger communities.
Several POPPYN crew members are Temple students. Criminal justice major Earla Joseph conducts many of the on-camera interviews, and Lynsey Graeff leads media literacy segments called "Breakin' It Down." Graeff is working as a UCCP intern as part of a six-credit class called "Urban Politics and Problems." The class is taught by UCCP director Barbara Ferman, a Temple political science professor.
POPPYN was launched in the Fall semester of 2010 with the support of a small grant from the Corporation for National and Community Service and the Philadelphia Higher Education Network for Neighborhood Development.
"We are hoping to grow, to reach more youth and adults who care about youth issues, and to change the common perception (and expectation) of youth as criminals to one of civic agents and community leaders," said Natalia Smirnov, UCCP's media productions and communications coordinator. "POPPYN encourages local media and audiences to see young people not as part of the problem, but as positive agents of social change."