Photojournalism student earns award for focus on homelessness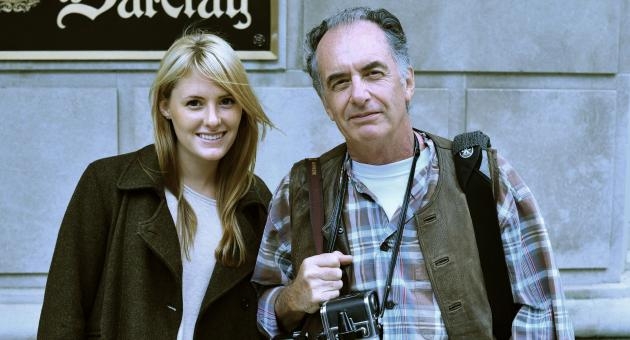 When senior photojournalism major Jessie Fox was assigned to create a photo essay, she wasn't sure where to point her lens. She traveled around the city, searching for the perfect subject, but never found one that interested her.
Then, while visiting the Free Library, she came across Jason, a law school graduate and father who calls the streets of Philadelphia home. The encounter would lead Fox to focus her essay on a side of Philadelphia that many ignore.
"Homelessness is a major issue," said Fox, a Scranton, Pa. native. "Living in a city like Philadelphia, it's not uncommon to come across a homeless person everyday. Most people just look the other way."
Fox shadowed Jason for weeks, recording their conversations and capturing candid shots of his life, offering a raw look at the many hardships of homelessness.
"Maybe I haven't fulfilled the potential I could've economically, given that I went to decent schools and all that," said Jason. "Hopefully (my children) will begin to understand the kind of society we live in and why I have been so deeply alienated from some of what has occurred. I hope I can communicate that to them someday — that would be a beautiful thing."
One of the photographs from Fox's series won first place in the "Picture Your City" photography contest sponsored by Focal Press. She was awarded a day-long photography shoot with Michael Freeman, a lead photographer for Smithsonian Magazine and author of more than 120 photo books and 50 books on photography. The two canvassed the city on a bright Saturday afternoon, taking shots of everything from Rittenhouse Square to the Philadelphia Museum of Art.
"We ran into Jason while we were out on our shoot," said Fox. "We had a really interesting day. Freeman definitely got a chance to see all of Philadelphia from the beautiful to the not so beautiful."
Based in the United Kingdom, Freeman spends much of his year on assignments in Asia. The "Picture Your City" contest was designed to connect Freeman with other photographers during his rare visit to the States.
"When I was a new photographer, I really enjoyed learning from seasoned professionals," said Freeman. "It was a pleasure to give back to new a photographer — and seeing Philadelphia through her eyes."