Sculptor's Marcellus Shale cups bring fracking debate to a personal level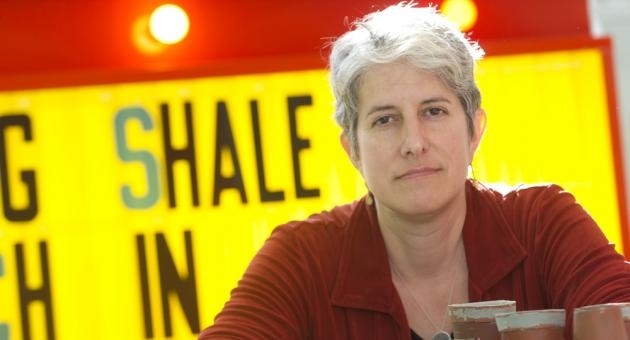 Ryan S. Brandenberg/Temple University
For her latest project, Jennie Shanker, a sculptor and adjunct instructor in the Tyler School of Art, traded in traditional modes to work with a material that was more challenging — and decidedly more controversial.
On Friday, Nov. 4, Shanker joined a group of scientists at the Big Shale Teach-In held in Temple Gallery to discuss her new work made of clay produced from Marcellus Shale, the Appalachian rock formation at the center of controversy over the extraction of its vast reserves of natural gas.
Shanker first considered the material while working on another project in Sullivan County, N.Y., where the rock is abundant.
"It wasn't until I started working on a project in the Catskills that the practice of fracking became a common topic," she said. "There's a lot of shale up there, and I started to wonder if I could work with it. Was it safe? What makes Marcellus so different from other rock formations?"
Those questions spurred Shanker to begin an ongoing investigation into the use of shale as a sculpting material. She collected silt stone from roadsides in five-gallon buckets and brought it back to her studio in Philadelphia, where she refined it into workable clay.
"The soil is very hard when it's dry," said Shanker. "I was fortunate to find a muddy area where I could dig material that nature had already refined into small particles. Shale, I learned, makes excellent clay."
The particles became the base for the material she used to create more than 50 coffee cups, which are currently on display in Temple Gallery.
Shanker admits that the idea of making cups from radioactive material raised a few eyebrows. While she was initially concerned about her safety, after having the rocks and clay analyzed by Temple's Geology Department, learned that the relatively low levels of radiation presented little risk.
"It's safe," she said, holding up a cup. "Everything emits radiation. There's less radiation in this cup than there is in your cell phone. That's why I was interested in working with this material. It brings the debate into your personal space and makes you think about the shale dialog in a whole new way."
While the Marcellus Shale formation contains more than 500 trillion cubic feet of natural gas — an amount that could significantly impact the nation's energy demands — the process used to extract it has raised environmental concerns.
The Big Shale Teach-In brought together Temple environmental researchers, engineers, geologists, social scientists, student activists, legal experts and others to discuss the issues surrounding current and proposed drilling into the Marcellus Shale to retrieve the natural gas deposits.
The symposium, subtitled "Between Arts and Science," was organized by Temple Gallery and Temple's Center for Natural Resources and Development Protection, which has been conducting research on the Marcellus Shale.
The symposium also included a display on loan from the Drake Well Museum, which houses artifacts dating back to 1859 when Edwin L. Drake drilled the oil well that launched the modern petroleum industry.