Students win prestigious Fulbright grants to teach, study, do research abroad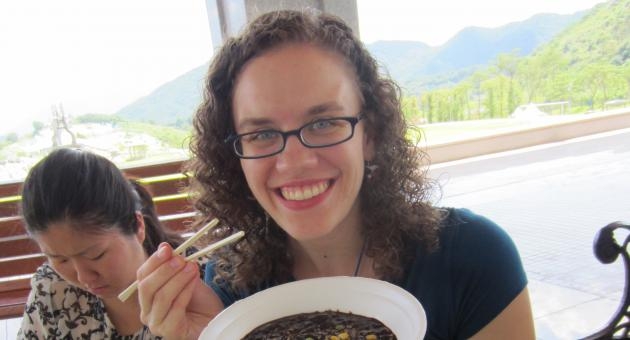 Six Temple students have won prestigious fellowships from the Fulbright U.S. Student Program to study, conduct research or teach English abroad in 2011-12. This year's cohort of Temple student Fulbright grantees is the second largest in the university's history.
The six winners for 2011-12 — five of whom earned bachelor's degrees in May — cap an unprecedented run of success for Temple applicants, with 18 students earning the intensely competitive grants in the last four years.
The Fulbright Program, the U.S. Government's flagship international exchange program, is designed to increase mutual understanding between the people of the United States and people of other countries. Winners are chosen for their academic merit and leadership potential.
Temple's 2011-12 Fulbright winners are:
Sara Fischer, a College of Education graduate (B.S.Ed., elementary education/special education) from Allentown, Pa., will travel to Spain to serve as an assistant to an English teacher in an elementary school near Valencia. She also will study Spanish special education practices and develop collaborative after-school programs. Fischer expects to put her immersive Spanish-language experience to use in an urban bilingual school in the United States. An avid soccer fan, Fischer is planning a pilgrimage to the iconic stadiums of Spain's famous clubs.
Christiana Jackson, an alumna of the College of Liberal Arts (B.A. political science and German) from Waldorf, Md., will serve as an English-language teaching assistant in a class for high-school-aged students in Ingelheim, Germany, near Frankfurt. It will be a homecoming for Jackson, who was born in Germany while her father served in the United States Air Force (her middle name is Berlin). Jackson is fascinated by German politics; she will explore differences in youth political engagement in the U.S. and Germany.
Jessica Meckler, a graduate of the College of Liberal Arts (B.A. English and Asian studies) from Newtown, Pa., is teaching English at an all-girls high school in Cheongju, the capital of South Korea's Chungcheongbuk-do province. Meckler is interested in inter-Asian and international relations; she intends to encourage her students to explore the world outside Korea. She also hopes to volunteer to work with orphans or North Korean defectors, experiences that will help her reach her career goal of working for a human rights organization.
Korin Tangtrakul, a College of Liberal Arts graduate (B.A. environmental studies and geography and urban studies) from Ringoes, N.J., will be an English-language teaching assistant at a school in Sukothai province, site of Thailand's first capital. She hopes to spread her passion for her favorite subjects — sustainability and rugby — to the children she teaches. Tangtrakul, whose father is Thai, plans to return to Philadelphia to launch a career in environmental city planning. Her goal: to "make it the greenest city in America."
Mary Wolfe, an alumna of the College of Liberal Arts (B.A. environmental studies) from Womelsdorf, Pa., will travel to the Netherlands to pursue a master's degree and conduct research at Utrecht University, one of Europe's leading research institutions. She will continue her investigation of the spatial relationship between vegetation and crime in cities using satellite imagery, cartography and statistical analysis — an area of inquiry she began to explore as an undergraduate with the help of a Creative Arts, Research and Scholarship grant from Temple.
A sixth Temple student, Tyler School of Art Ph.D. candidate Jasmine Cloud, earned a Fulbright grant to conduct research in Italy but declined it to pursue other opportunities.
To be eligible, an applicant must be a U.S. citizen who will have a bachelor's degree by the beginning date of the grant. The Fulbright Program operates in more than 135 countries worldwide and offers grants in nearly all fields and disciplines, including the sciences, professional fields and the arts. Applications for Fulbright grants for 2012-13 are due on Sept. 26, 2011. To learn more about applying for a Fulbright, visit Temple's Office of Education Abroad and Overseas Campuses online at temple.edu/studyabroad.