Temple computer recycling program recognized as national model of efficiency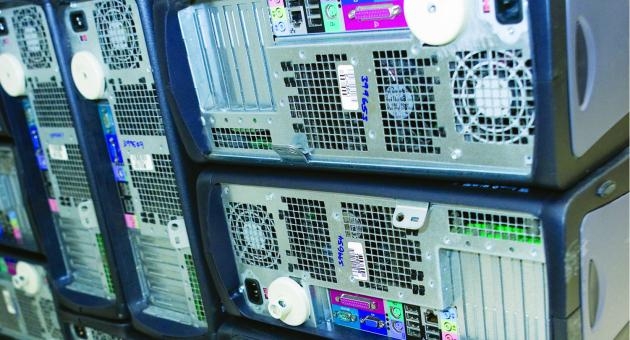 Joseph V. Labolito / Temple University
Temple is one of six colleges and universities nationwide honored as part of University Business magazine's 'Models of Efficiency' program, which recognizes campus programs that increase efficiency through technology and business process improvements.
The honor was given for the Computer Services division's Computer Recycling Center (CRC), which has refurbished nearly 12,000 computers, 11,000 monitors, and 5,800 printers, saving Temple about $300,000 since 2005.
Before the initiative, employees often dumped old computers rather than pay a fee to have them hauled away and disposed of properly. But under the recycling program, computers that can't be put back into commission are sold or donated.
"We noted very quickly that these computers were still good in a lot of cases, and with a few dollars here and a little work there, we could put them back into service," said Tim O'Rourke, vice-president for computer and financial services and chief information officer.
The program has prevented an estimated 2,600 metric tons of carbon equivalents from entering the environment as waste.
"Efficient business operations translate into better experiences for students and administrators alike, and the Models of Efficiency program aims to encourage schools to prioritize service," said Tim Goral, editor-in-chief of University Business. "Temple stands out for developing a very effective solution to a challenging situation."
This is the latest of several honors for the CRC. In 2009, the program received an Environmental Achievement Award from the Environmental Protection Agency (EPA) Mid-Atlantic Region. The center is overseen by director of Computer Business Services Bill McMaster and managed by CRC Assistant Director Jonathan Latko.
"It's a win-win situation for everybody," said O'Rourke. "It's a win for the environment, and it's a win for us financially. That's the beauty of this program."
In addition to Temple University's Computer Services office, "Models of Efficiency" honorees include Fresno Pacific University, Western Washington University, Oakland University, State University of New York at Cobleskill and University of Wisconsin-Stout. The program is sponsored by Higher One, a company that offers college technology and payment services operations.