Posted
September 15, 2011
Temple receives NSF grant to develop water treatment technologies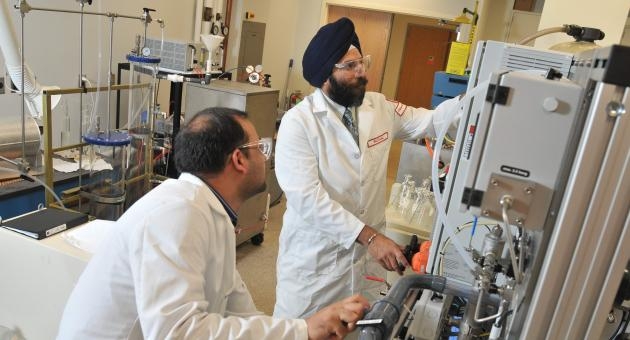 Kelly and Massa Photography
A recent grant from the National Science Foundation (NSF) will help Temple University's Water and Environmental Technology (WET) Center in its efforts to establish Greater Philadelphia as a hub for the development and commercialization of water treatment technologies.
The two-year, $1 million Accelerating Innovation Research (AIR) grant will allow the center to establish a Water Technology Innovation Ecosystem to bring water treatment innovations from the laboratory to the marketplace. The funding will be matched by $1 million from the Pennsylvania Department of Community and Economic Development and $350,000 from the WET Center's industrial partners.
The initiative will be the second of its kind nationally and the first in the Delaware Valley region. Earlier this year, the U.S. Environmental Protection Agency started a similar effort in the Ohio, Indiana and Kentucky region.
Through the ecosystem, technologies developed by the WET Center and Delaware Valley water quality and treatment companies will be evaluated and developed for commercial use, said Rominder Suri, director of the WET Center in Temple's College of Engineering.
The WET Center is collaborating with the Ben Franklin Technology Partners of Southeastern Pennsylvania, which will assist in the commercialization of the technologies.
"Ben Franklin partnered with Temple University to support this important initiative because it has the potential to impact so many aspects of our lives," said RoseAnn B. Rosenthal, president and CEO of Ben Franklin. "WET is a water treatment technology hub of global prominence in the region that promises to commercialize advanced technologies and enhance environmental protection objectives."
"Typically, the NSF has funded basic research, but now they want to promote more translational research," said Suri. "This NSF AIR grant is focused on not only helping to develop technologies, but on commercializing those technologies and getting them into the marketplace, which creates jobs and stimulates the economy."
In addition to spurring business and employment opportunities, the new technologies will assist manufacturing industries; municipal water treatment plants, equipment vendors and engineering design firms in providing solutions to water and wastewater issues, said Suri.
The WET Center, a Temple collaboration with Arizona State University and the University of Arizona that is also funded by the NSF, has more than 30 industrial partners supporting research on issues such as water quality and emerging contaminants.
Suri said that WET Center industry partners such as ITT, Purolite, Met-Pro and several pharmaceutical and defense companies have all either expressed support or commited to advancing projects within the new ecosystem.
"One of our partner companies has already sent us a pilot unit for testing," he said. "Under this grant we will be developing a pilot test facility so we can test technologies at the WET Center or at other sites nationally and internationally."
Suri, who will direct the initiative, said the new ecosystem will not only be useful for companies developing technologies, but also those seeking technology to deal with a specific problem or challenge.
"We're going to attract a lot of technology companies, and we'll also attract a lot of technology users," he said.
With the combined expertise of the WET Center, its industry partners and the Ben Franklin Technology Partnership, Suri believes the new Water Technology Innovation Ecosystem will help develop the Delaware Valley region into the "Silicon Valley of water treatment."