Temple University Engineering student is creating a greener city one tree at a time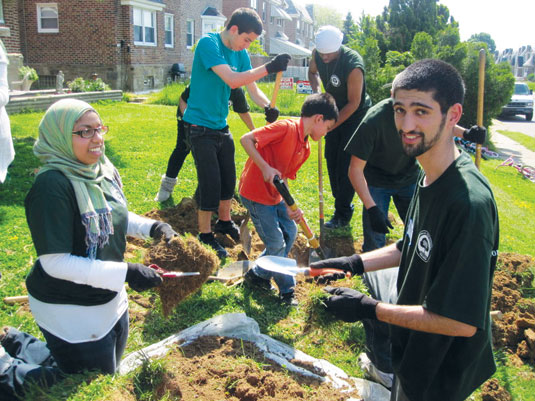 Close your eyes and picture Northeast Philadelphia. Whatever you're imagining, it's probably not a luxuriant, green canopy of trees.
Hasan Malik, a junior in Temple's College of Engineering, is on a mission to change that.
Three years ago, Malik founded Northeast Tree Tenders, a non-profit community group devoted to restoring tree cover in Northeast Philadelphia, where Malik was born and raised. Once every spring and fall, Malik and his loyal crew of trained volunteers — including a core group of fellow Temple students — dig holes (removing concrete, if necessary) and plant trees along streets and in yards at the request of homeowners throughout Northeast Philadelphia. The group's first planting was 23 trees. Now, groups of about 60 volunteers plant 50 to 70 trees at a time. Since 2007, the group has planted a total of 270 trees, offering hope for a greener, shadier and healthier future in the Northeast.
"There's too much concrete and not enough greenery in the city," Malik said. "Rather than complain about it, let's do something about it."
Why plant trees? Malik cites increased property values, reduced incidence of asthma and childhood obesity among residents, shelter from the sun and wind, a reduction of greenhouse gases, more homes for wildlife and the absorption of storm water runoff.
"Trees are a part of the urban infrastructure," said Malik, a civil engineering major. "You lose an important asset in the city without trees."
But to the volunteers of Northeast Tree Tenders, planting trees also has social benefits.
"You shouldn't only take from the community. You have to give back," said Heidar Albandar, a senior biochemistry major and one of the group's most active members. "And it's fun. Planting a tree puts a smile on your face — and on everyone from the homeowners to people just driving by."
Northeast Tree Tenders is one of 225 such groups around the city managed and trained by the Pennsylvania Horticultural Society (PHS). Of all the city's group leaders, Malik is the youngest, and after only three years, Northeast Tree Tenders ranks "in the top tier" for the number of trees they plant, according to PHS Tree Tender Project Manager Mindy Maslin.
"He's choosing to make his neighborhood better — it's an inspiration to other people," Maslin said. "Our future depends on trees, and our future depends on people like Hasan Malik who are pounding the pavement and being advocates."
The group's annual fall tree planting will take place on Saturday, Nov. 20, from 9 a.m. to 1 p.m. To sign up as a volunteer — or, if you're a Northeast Philadelphia homeowner, to request a tree — go to netreetenders.com