TSG prepares for a new year of advocacy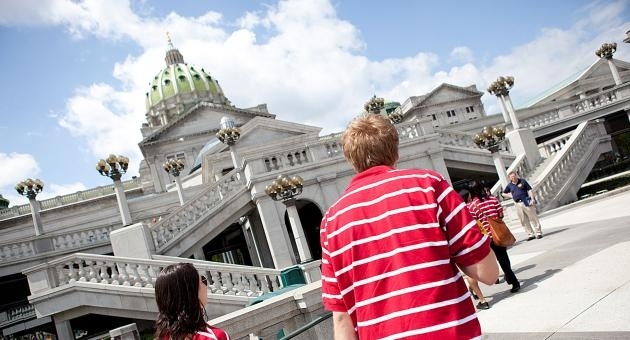 While many members of the Temple community spent their summers away from campus on vacation, working summer jobs or internships or taking classes, the new leadership of Temple Student Government (TSG) used this summer to plan a full schedule of events and campaigns designed to engage the university community in service and advocacy.
"I think last year's commonwealth budget was an eye-opener for many people, especially students," said Colin Saltry, a senior economics major and president of TSG. "They realized that as students, we need to be vocal, and we need to make it clear to our elected officials that Temple matters to all of us and our families."
Saltry is referring to initial proposals to reduce state funding for Temple by more than 50 percent and the university-wide effort to advocate against those cuts. That effort, dubbed Stand With Temple, ultimately resulted in securing more than $57 million in additional funding over the primary proposal. TSG was a crucial partner with university leaders in advocating for more funding through the Temple Advocates Legislative Outreach Network (TALON). Together, TSG and TALON organized marches on campus and in Harrisburg, met with each member of the Pennsylvania General Assembly in Harrisburg, and generated more than 10,000 letters and emails to elected officials opposing cuts in Temple and higher education funding.
"Now that the semester has started, we're going to work to ensure that we maintain the momentum that came out of last year, and that all Temple students are involved in advocating for our university," said Elliot Griffin, TSG vice president of external affairs, a senior broadcast journalism major. "We've seen first hand the power our voices can have in shaping the conversation. While the cut last year was certainly problematic, it would have been much worse if we didn't take action. I think, in some ways, the student population was energized by the effort. We're going to build on that this year."
During Welcome Week, TSG officers began their outreach programs, introducing themselves at Temple Fest and helping new students move into residence halls. New students and their parents had a chance to learn about TSG programs, and how Commonwealth funding affects all members of the Temple community. They were also asked to sign up for TALON to stay updated on events in Harrisburg and opportunities to get involved in advocating for Temple.
In the coming months, TSG will continue to connect students to TALON through events and promotions. As students take part in TSG-sponsored programs, they'll be asked to also sign up for TALON and contact their elected officials to communicate the importance of Temple to Pennsylvania.
The first of such promotions is Free Token Fridays, which will provide students with free SEPTA tokens for weekend trips throughout the city. To register for Free Token Fridays and TALON, stop by the TSG office on the second floor of the Gittis Student Center or visit temple.edu/tsg.