Bounce into spring: 13 things to do in April
April showers bring...no. Seriously, Mother Nature, do us a solid and let this month be sunny and springy and warm. We've earned it, haven't we? Other things we've earned: bouncy rides and outdoor festivals, free concerts and cheap movies, and a life-size Battleship competition that takes place in a Campus Rec pool. These are among the 13 fun things to do on this month's list of fun things to do; rain or shine, we'll be doing fun things in April.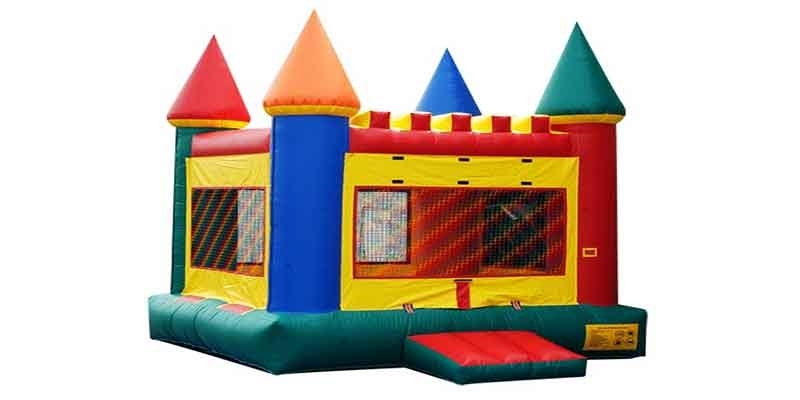 ON CAMPUS
1. Celebrate a birthday.
1991 was a big year: Seinfeld debuted on NBC. The internet was released to the public. And most importantly, Campus Recreation got its start at Temple. To celebrate 25 years of play, Campus Rec is hosting some awesome events: Assemble a team for a life-size Battleship competition, find your glowing center at a neon-light-themed yoga session or climb 25 feet on Pearson's climbing wall to win a prize.
Battleship: Tuesday, April 5, 7–10 p.m., Pool 31, Pearson Hall
Yoga Glow: Wednesday, April 27, 7–10 p.m., IBC Student Recreation Center
Climbing wall: Tuesday, April 26, 12–8 p.m., Atrium Climbing Wall, Pearson Hall
2. Eat your body weight in sweet potatoes.
It's time for the Temple Community Garden Spring Feast, a potluck of delicious food, live music, photo-booth snaps and raffle baskets. Admission is a suggested $5–$15 donation or a dish to share. There will be many healthy options, some vegan, all delicious—we're talking raw cheesecake, mashed sweet potatoes, chocolate chip banana bread, shrimp pasta...
Friday, April 8, 6:30–9 p.m., Artist's Palate, Tyler School of Art, proceeds go to the Experimental Farm Network's Roughwood Seed Collection
3. Sway to some Schwartz.
Don't let the name of this musical put you off. It may be based on the Bible, but Godspell is far from your average church sermon. Biblical parables are told through pop, rock, folk and even vaudeville music, offering a twist on classic stories. With music and lyrics by Stephen Schwartz (if you've seen Wicked or Pippin, then you know how amazing his compositions are) and masterful performances by Temple students (we applaud you, acting Owls), you are in for an entertaining night of music, performance and crazy costumes.
April 13–24, Randall Theater, $10 for students with TUid
4. Use the Force.
There's been an awakening. Have you felt it? It's you waking up from your mid-afternoon nap to go see Star Wars: The Force Awakens at the Reel. If you haven't already, go see this Academy Award–nominated flick immediately; if you've already seen it, go again. Why? Reason no. 1: It's only $2 with your TUid. Reason no. 2: The Reel has a baller concession stand. Reason no. 3: Poe Dameron. Don't understand that reference? Just go see the movie already. And may the Force be with you.
April 14–17, 7 and 10 p.m., the Reel, Howard Gittis Student Center
5. Read a book.
Books will never go out of style—they just continue to evolve and get better and better (yes, we're total book nerds). Contemporary book forms, like zines and artist books, are the focus of this month's Liber Mundi Pop Up Exhibit, where works from 13 international artists will be displayed for your viewing, and reading, pleasure. Some of the books' creators, including Christopher Kardambikis, J. Pascoe and Janine Biunno, will be on hand to give talks. RSVP to byndthepg@temple.edu.
Friday, April 15, 4 p.m., Lecture Hall, Paley Library
6. Put another dime in the jewkebox, baby.
Are you dying to listen to some live music but can't shell out the big bucks for the Formation World Tour? Secretly and anxiously awaiting the third Pitch Perfect? Just really love a capella music? Whatever the case, for a starpower-fueled musical event, head to Jewkebox A Cappella's Album Release Concert, where the group will sing tunes from its first-ever album, hold some competition sets and maybe even premier new pieces.
Monday, April 18, 7:30 p.m., Hillel at Temple, 1441 W. Norris St.
7. See war through new eyes.
How closely do you examine the news you see and read? Do you take news photos at face value? Whatever your answers, War Is Beautiful, David Shields' pictorial guide to a decade's worth of war photographs, will scare, intrigue and inspire you. The best-selling author will be on campus to discuss his latest book on the aestheticized images of war pulled from the front page of The New York Times during the invasions of Iraq and Afghanistan. Heavy stuff but worth the weight.
Thursday, April 21, 5–6:30 p.m., Atrium, Annenberg Hall
8. Celebrate your mother (Earth).
Most of us Owls are urban dwellers, and our interaction with nature pretty much extends to lazing on Beury Beach between classes. This Earth Day, we suggest hopping on the shuttle to Ambler Campus (if you're not already there) for Earthfest 2016. With more than 85 exhibitors, including the Philadelphia Zoo, Franklin Institute and Insectarium, there will be lots to do, including making a mini-terrarium, visiting the "Zoo on Wheels" and taking part in a Recycling Relay.
Friday, April 22, 9:30 a.m.–2 p.m., Student Parking Lot Fields, Ambler Campus (rain or shine)
9. Witness the future.
Pumpkin Chunkin launchers and GPS sun trackers and automated bone-lengthening devices...oh my? We don't have to tell you that Temple grads are out there conquering the world, but would you believe a whole lotta innovation is going on within our hallowed halls? Of course you would. On Senior Design Day at the College of Engineering, come check out the capstone projects of the college's graduating seniors (and the future of engineering).
Saturday, April 23; Senior Design Project Presentations: 12–3 p.m.; Senior Design Project Competition and Reception: 3–6 p.m.; Lobby, Science Education and Research Center
10. Make it bounce.
We know that on study days you usually prep for finals from dusk till dawn (right?), but we suggest taking a breather on study day numero uno to attend the Tyler Spring Carnival. This spectacular event will be held in the Tyler Courtyard, which if you're not a Tyler student you might not even know exists, let alone be aware it's large enough to host games, carnival food and music, and bouncy rides. Did we mention it's all free?
Tuesday, April 26, 1–4 p.m., Tyler Courtyard (enter through Tyler café); enter with TUid
11. Find the perfect print.
You could buy a fancy Philadelphia-themed photo for a hefty price at an Old City gallery, take your own not-half-bad iPhone pics orrrr go to the Exposure Photo exhibit, where you'll find the photography of more than 40 seriously talented camera-toting Owls. And their prints are for sale! Come for the art, stay for the free food and photo booth.
Tuesday, April 26, 2–7 p.m., Atrium, Annenberg Hall
OFF CAMPUS
12. Revisit your childhood.
We'll level with you—the main reason we're excited for The Science Behind Pixar at the Franklin Institute is the selfie-ready, life-size models of our favorite Pixar characters like Edna Mode and WALL•E. If you're looking for more than a nostalgic snap with Sully, this hands-on exhibition walks guests through the Pixar process, from storyboarding to modeling to animation, with more than 40 interactive elements. The exhibit is the perfect Pixar fix while you're waiting for Finding Dory and The Incredibles 2 to come out (and don't act like you're not).
All month, Franklin Institute, 222 N. 20th St., $19.95–$29.95
13. Visit Japan.
You know all about the cherry and the white, but are you familiar with the centuries-old Sakura Matsuri, or Cherry Blossom Festival? This celebration of Japanese culture, food, music and art features fun, and mostly free, events, including a pet parade, sushi demonstrations, ceremonial drumming and a fashion show. (They had us at pet parade.) Events take place all over Greater Philadelphia (full event calendar here); the week concludes with "Sakura Saturday," a daylong celebration under the cherry blossoms in West Fairmount Park.
April 11–17; various locations; Sakura Saturday: $10
__________________________
Related Stories
The Truck Stops Here: Nutshell Reviews the Burger Tank
7 Ways to Kickstart Your Job Search