Temple Survival Guide: 11 ways to save money that don't include ramen
If we a had a dime for every time we heard a ramen noodle joke about college, we'd be swimming in gold coins and tossing Benjamins from the top of the Bell Tower. We'd be so rich we'd build a new Bell Tower made out of dried noodles!!! Since we don't have any of those dimes, we're just going to ask everyone to ease up on the ramen humor. 'Cause there are plenty of ways to save money that don't include those mysterious chicken seasoning packets. Here are 11 ideas for being a wise college spender.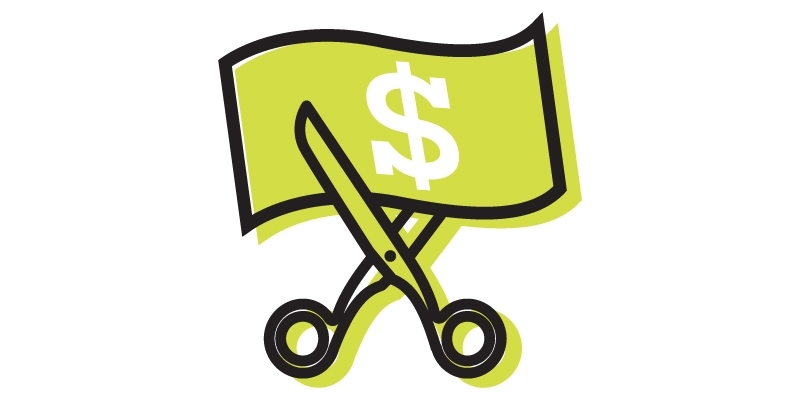 Use the right ATM.
Taking money from another bank's ATM can charge a few dollars every time. Over the course of the next four years, that's a lot of dough.

Make coffee instead of buying it.
We know you love your "venti skinny mocha vanilla caramel gingerbread latte with soy," but home-brewed coffee can save you money throughout the week.

Rent textbooks.
You can return them when you're done without a hassle.

Hit up the "free" scene.
For starters: Free Food and Fun Fridays at the Student Center. Wait, you don't know Free Food and Fun Fridays? F-R-E-E food, F-U-N… you get the picture.

Also, check out Old City's arts scene for free on the first friday every month. And visit the Philadelphia Art Museum on Wednesday nights to pay what you wish for admission (okay, not FREE free, but pretty close to it).

Strategize your fine dining.
We all like exploring Philly's dynamic food scene, but stuff your face at the right times. Like, the Center City Restaurant Week that's taking place next month. Also: lunch specials.

Limit transportation costs.
Buying transit fare in bulk just makes sense. One trip with cash = $2.25; two tokens = $3.60. So if you ride the Broad Street Line two times a day for five days, you can save $4.50 just by buying tokens. And if you're new to the subway, here's our handy guide to getting around.

Go to consignment shops.
You'll score cooler finds than at any mall and at much friendlier prices. One suggestion: Philly AIDS Thrift.

Sign up for store savings cards and rewards programs.
You don't have to sign your life away to get a store savings card. You can get better deals and save significant money, especially on weekly trips to the grocery or convenience store.

Flash that OWLcard.
All hail the student discount—take it while you can get it. Keep an eye out for savings at movie theaters, restaurants, museums and shops. Don't see one? Ask. Seriously.

Roommates.
*Not just good for borrowing clothes.* You'll almost always pay less if you're sharing space with another human.

Fly in 4.
Whether you've made the Fly in 4 agreement or not, make it a personal pledge to graduate in four years. One extra year of tuition can equate to some pretty big purchases. As in enough ramen to build a Bell Tower.
Related stories:
Temple Survival Guide
Temple Survival Guide: Getting a Taste of the food truck scene
Temple Survival Guide: Learning Temple's lingo
Temple Survival Guide: Where to use your Acres of Diamond Dollars
Temple Survival Guide: The do's and don'ts of being a good roommate
Temple Survival Guide: How to get around Philly
Temple Survival Guide: What you need to kick off the football season
Temple Survival Guide: Your College Bucket List