Get outta town: 5 weekend trip ideas for Temple students
We know there are, like, 1,549,237 things to do in Philly on the weekends, but sometimes you just gotta go. Fly the nest! Explore the seven seas! But since we have classes during the week (and since the major airlines apparently don't accept Diamond $$$), we'll settle for some closer options. Like going to the annual Harry Potter-style burning of the Phoenix in Phoenixville. Or spending a touristy holiday weekend in the concrete jungle called New York. Or entering the real jungles of Pennsylvania. Here's where to go on the weekends when you gotta go.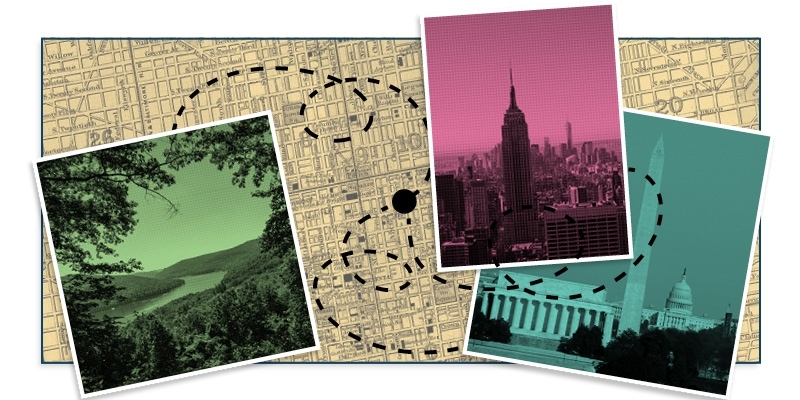 Definitely don't need a car:
To get your House of Cards on: Washington, D.C.
As the weather gets colder and we get over that initial excitement about wearing scarfs, all we want to do is be warm inside. Lucky for us, D.C. is a few hours away by bus and is the land of free museums. All the Smithsonian museums are free (including the National Zoo!), from the super specific postal museum to the African American history and culture museum. If you're interested in something, there's probs a museum for it.
 
To say you've done it: New York City
Philly will always be No. 1 in our hearts, but…New York City is, um, New York City! It's just a short and fairly cheap Megabus ride away (you can catch one right in Philly) and this time of year is the time to go. The holiday cheer is spread on pretty thick in NYC and, yes, it's touristy, but it also makes us have a lot of feelings. That huge tree and ice skating rink at Rockefeller Center should be on everyone's life bucket list. Been there, done that? Get yourself downtown to Union Square Farmers Market for a cheap snack and choice people watching.
 
To satisfy your nature craving (without going too far): Wissahickon Valley Park
We like to think that Beury Beach counts as nature, but if you want some legit tree action without having to go *too* far, the Wissahickon's got your back. It's hard to believe this green (actually orange-and-red now) wonderland is within city limits. You can reach the park by a scenic bike ride on Kelly Drive, or if you want to save all your energy for those trails (57 miles of them to be exact) there is a SEPTA Regional Rail stop right near the park entrance. Fun fact: Wissahickon is home to a kinda large population of owls (that's a parliament, remember?), so you'll be right at home.

Definitely need a car:
To get your Harry Potter on: Phoenixville, PA
DYK: The theater that's featured in The Blob* is in Phoenixville. The Colonial Theater is an American legend and worth taking a peek at during a stroll through on the town's thoroughfare, Bridge Street, which is full of artsy shops and brewpubs**. Probs the most awesome part of Phoenixville is that the town hosts the Firebird Festival every winter (Dec. 3 this year). A ginormous wooden Phoenix—yeah, like the Harry Potter phoenix—is built and then…..burned to the ground. Expect tons of music, dancing, dancing with fire and more fire.
*A super old and super famous horror flick your mom probably likes, i.e. an awesome selfie opportunity.
**You don't have to be 21 to enjoy a killer meal.
 
To release your inner camper: Hickory Run State Park
Camping is fun, but you need so much stuff that we just can't fit under our beds right now. Where do you go camping when you are broke and have no campy-things? Hickory Run State Park! The park is only a couple of hours northeast of the city and you can get a serious deal on camping cottages: $35-45 a night and sleeps five people. The park itself is packed with trails (definitely check out the 50 Shades of Grey Death trail, because how can you not?), waterfalls and the natural wonder—seriously, it's a national natural landmark—boulder field.
​Related stories:
Five projects transforming Temple you'll totally dig
Getting a taste of the food truck scene
The Truck Stops Here: Mexican Grill Stand