Join a club, wear white and be an adult: Things to do during the beginning of the semester
We've got a challenge for you: The next time Netflix asks if you are still watching, say no. JUST SAY NO. Why would we ever tell you to do such a thing? Because there is too much other stuff to do. Stuff like TempleFest, the annual white-out soccer game and adulting workshops. (It's OK, we don't know how to adult either.) When you've got a new semester in front of you and cheap coffee coursing through your veins, anything is possible! Now, close Netflix (you can do it) and read this roundup of what's going on around campus.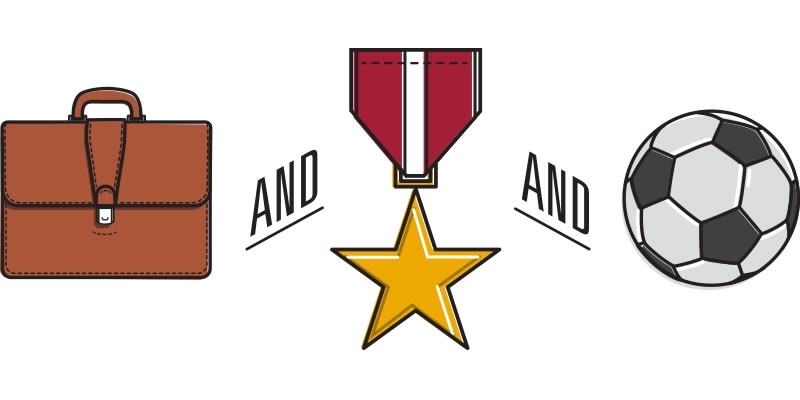 1. Check out TempleFest.
When reps from most of our student organizations and clubs are hanging out on Liacouras Walk, it makes it pretty easy to join something new. Stroll through campus and get some more information about what all of the different groups are up to this year.
Wednesday, Aug. 30, 12–4 p.m., Liacouras Walk
2. Swim through fall.
Keep that summer vibe going strong by swimming all year long at Pearson Hall Pool 30. If you're feeling really ambitious, sign up with the lifeguard on deck for Swim into Shape and win a prize when you complete 20 miles by the end of the semester. Swimming not your thing? Then check out other Campus Rec options, including group fitness classes. You'll find kickboxing, boot camp, indoor cycling, yoga, zumba, pilates and more.
3. Adult yet?
Or not. Whether you're a senior preparing to leave the nest, or a freshman trying to get through your first year, we've got you covered with this series of workshops. Get tips on everything from managing your money and career goals (Adulting 101), finding the tools and resources to take action on campus (Leadership 101), and identifying the people who can help you achieve your goals (Mentoring 101).
Leadership 101, Tuesday, Sept. 5, 3‒4 p.m. and Wednesday, Sept. 13, 2‒3 p.m., Student Center, Room 217A
Adulting 101, Tuesday, Sept. 19, 2‒3 p.m, Student Center, Room 220
Mentoring 101, Tuesday, Sept. 26, 2‒3 p.m., Student Center, Room 217A
4. Hit the streets
On the First Friday of every month, the streets of Philadelphia's Old City neighborhood fill with art lovers of all kinds who wander among the neighborhood's 40-plus galleries, most of them open from 5 to 9 p.m. And to get you there, Tyler School of Art sponsors a bus that picks up students at 13th and Diamond streets at 6 p.m. The bus leaves Old City (Arch Street between Second and Third streets near the Betsy Ross House) at 8:45 p.m. to return to campus.
But if you want a ride, you have to get there early—the bus leaves once it's full.
Friday, Sept. 1, 6-9:15 p.m., 13th and Diamond streets
5. Our team is red hot…
... your team is diddly…well, you get the idea. After winning the American Athletic Conference in dominating fashion last year, we can't wait to cheer our Owls on to another championship—this time under incoming head coach Geoff Collins. The first chance you'll get to cheer on the team is Saturday, Sept. 2, when they take on the Fighting Irish on national television. Then cheer the Owls on again the following week at the Linc when they battle Villanova.
Temple vs. Notre Dame Watch Party, Saturday, Sept. 2,  doors open at 3 p.m., game starts at 3:30 p.m., Mitten Hall
Off campus watch party: Saturday, Sept. 2, 3:30 p.m., City Tap House Logan Square
Temple vs. Villanova, Saturday, Sept. 9, 3:30 p.m., Lincoln Financial Field
6. Soccer en Blanc
Don your favorite white top or snag a free T-shirt (while supplies last) and join your fellow Owls for the annual white-out game when the women's soccer team takes on Rider University.
Temple vs. Rider, Thursday, Aug. 31, 6 p.m., Temple Sports Complex
7. Get your history on!
A new show from Temple Theaters shines a contemporary spotlight on the legacy of Stonewall. Set on June 28, 1969, the play tells the story of the historic Stonewall Riots through a number of lenses: from a young gay teen who is spending his first day in Greenwich Village to a drag queen mourning the recent death of Judy Garland.
Sept. 13‒24, Randall Theater (Tickets: $10 with TUid)
8. Get your history on! Part Deux
Temple is home to one of the nation's premier collections of books, photographs, posters, artwork, sculptures and manuscripts from the African diaspora. Life-sized wooden statues from Yorubaland, first-edition copies of John Coltrane albums and one-of-a-kind photographs by Philadelphia native John Mosley are just a few of the rare items housed in the Charles L. Blockson Afro-American Collection. Stop by to learn more about the pieces the library preserves and the man who collected them.
Open Monday through Friday, 9 a.m.‒5 p.m., Sullivan Hall
9. Don't let the last petal fall…
… before you purchase your advanced tickets to Dinner and a Movie Night at The Reel on Oct. 5,  featuring Beauty and the Beast with Hermione, ur, I mean Emma Watson. "Be our guest," as Lumière (he's the candlestick) says, for dinner at 6 p.m. at The Underground. The movie starts at 7 p.m.
Tickets are $5 with TUid.  
An additional showing will be held at 10 p.m. No dinner will be served. Tickets are $2 with TUid, $4 without.
10. Dream of fireflies
Ride along the Benjamin Franklin Parkway in pedicabs illuminated by clusters of glowing handcrafted Chinese lanterns. It's all part of the public art project Fireflies by the internationally acclaimed artist Cai Guo-Qiang. The site-specific work is intended to celebrate the centennial of the boulevard by inviting the public to experience it as a dreamscape.
Thursday through Sunday starting Sept. 15 through Oct. 8, 6‒10 p.m.