Fun Stuff Alert: Things To Do On And Off Campus
Real talk: Y'all are going to be out of here in, like, three and a half weeks. Yes, THAT soon. So, that means you have two weeks to do all the cool stuff going on in the city and on campus before you get into full-on finals mode and forget what day it is, move your entire life into Club TECH, and drink more coffee in 24 hours than you have in the last three months. What were we talking about again? Oh yeah, fun stuff. Check the list and start making plans, friends.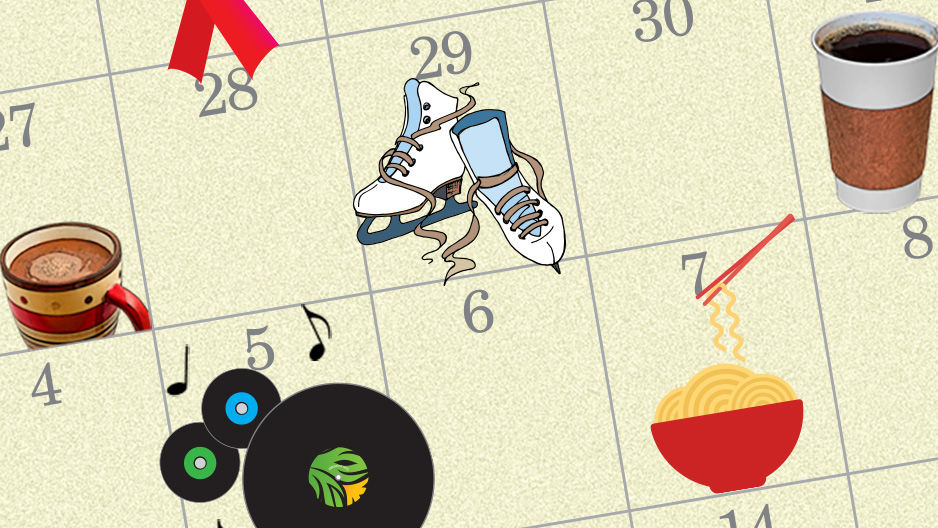 OFF CAMPUS
Challenge yourself to check out every holiday pop-up celebration around the city.
Probs the most fun challenge to accept right now, but know that Philly takes holiday time seriously with more than 20 happenings. Ice skate at Rothman Rink in Dilworth Park ($1 off with OWLcard). Buy cute stuff for yourself your friends and family at LOVE Park's shopping village. Warm up by a fire and peep the Benny Franklin bridge at Winterfest on the Delaware River. 
Various locations throughout Philadelphia
Now through Jan. 1, dates and hours vary
Stuff your face at a cool place.
There's a new food hall on the scene and it's giving us yet another reason to venture down to Old City. The Bourse—one of the most historic buildings in Philly—is packed with food from all over the world (Egyptian, Filipino and Indian to name a few), artisan shops, and plenty of places to just chill and take it all in.
111 S. Independence Mall (near the Liberty Bell)
Open seven days a week, hours vary
Be there when punks take the pier.
And when we say take the pier we mean set up one of Philly's funkiest flea markets. The R5 Punk Rock Flea Market hosts a ton of vendors selling art, crafts, records, vintage items and lot of other weird, weird stuff. Don't ask questions. Just go.
Cherry Street Pier
Dec. 8–9, 11 a.m.–5 p.m.
See Fabulous Fashion at the fabulous Philadelphia Art Museum.
Your fashion board on Pinterest will mean nothing to you after you see this exhibit of the most creative and glamorous designs from the most creative and glamourous designers.
Philadelphia Art Museum
Now through March 3, hours vary
ON CAMPUS
Kickstart your career in social media.
Figure out how you can take your scrolling-through-Instagram skills to the next level by digging into social media marketing with Blackstone LaunchPad's Launch + Learn series.
Student Center, lower level
Nov. 29, 12:30–1:30 p.m.
Pitch, Please get your groove on.
If you didn't already know that Temple has an LGBTQIA+ advocacy a cappella group, now you do. And now you know they're having a performance on campus soon.
Presser Hall, Klein Recital Hall
Dec. 8, 7:30 p.m.
Part of TU GradCountdown (programming for all those Owls about to graduate) is hosting breakfast for seniors right when it's most needed—finals week.
Morgan Hall, Conference Room D301
Dec. 11, 10:30 a.m.–12:30 p.m.
Looking for something else to do? Check Temple's event calendar often to be in the know about what's happening on campus.