The Truck Stops Here: Top Bap
When we say "bibim," you say "bap." Bibim! Bap! Bibimbap! OK … now that we got that out of our system, we have the craves for the tasty, tangy, healthy dish that is Korean bibimbap. With a side of kimchi, obvies. So, when we wanna chow down on this and other yummy Korean dishes, we head to Top Bap's food truck. Never been? Here's everything you need to know in our latest food truck review.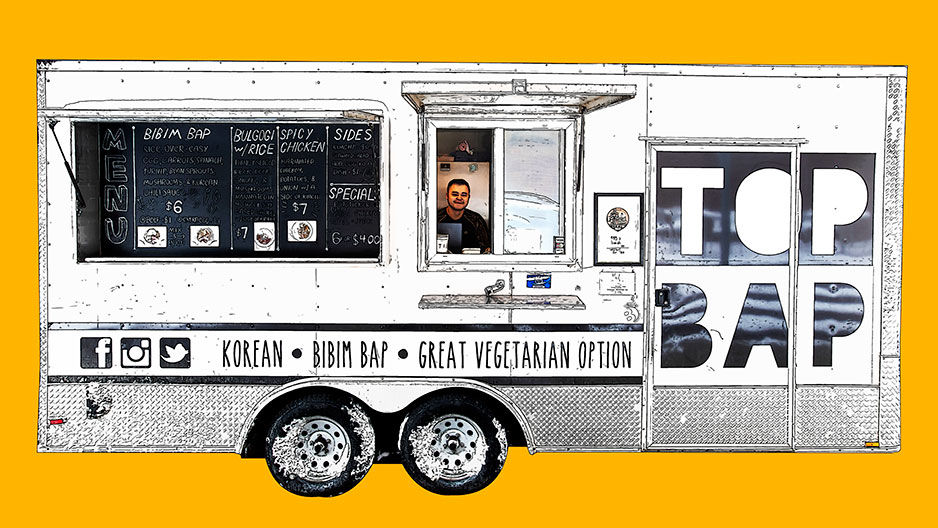 You know that feeling when you've already been to Saladworks three times this week and you don't want to go a fourth, but you still want a salad anyways? This is the perfect time to go to Top Bap and get your veggie fix.
Parked outside of Presser Hall, this truck holds its own among the cutthroat food truck competitive landscape that is Norris Street. It's a simple silver truck with a simple menu, but don't be played—the flaves are anything but simple.
What to expect: quintessential Korean rice dishes like bibimbap, bulgogi and spicy chicken. Let's start with the glorious, delicious, oh so healthy bibimbap bowl. Bibimbap means "mixed rice," so on top of the rice you'll get all the good stuff your body needs (aka vegetables) and either an egg or beef for an extra buck. What brings it all together is the gochujang, a Korean chili sauce. It's spicy. It's funky. It's the condiment of a lifetime. If you don't like spicy stuff, we would ask you to take a long look at your life and reconsider. JK, you can get it without the sauce or ask for it on the side!
Next up is bulgogi with rice, which means "fire meat with rice." For those who didn't think the previous joke about spicy food was funny, don't fret. Fire in this case doesn't mean spicy, it means grilled or stir fried over high heat. The dish comes with onions, sautéed mushrooms, a sweet, soy-based sauce and a side of kimchi. It's delish, especially on days when the temps drop to arctic levels and you just want something warm in your belly. You can also get the spicy chicken with rice, which the meat is marinated in a combo of spices and comes with potatoes and onions.
As far as specials and snackies go, you should definitely try the potstickers. Get them with beef, pork or chicken and a side of dumpling sauce for dipping or kimchi. It is a Korean truck after all, so kimchi=life. The potstickers are deep-fried, golden, crispy and taste like a slice of sweet heaven in your mouth. Or savory heaven.
Enjoy, Owls! Your tastebuds will appreciate your gusto for global cuisine.
- Jared Lowe and Samantha Krotzer