Stuff to do, more stuff to do
Someone told us one time that the best way to slay during final projects and papers is to give. Ourselves. A. Break. And with basically a million things to do on and off campus this spring, it should be easy to treat yourself to some R and R. Nutshell doesn't have time to tell you about a million things, but here are 10+ to keep you on the up and up. You're welcome!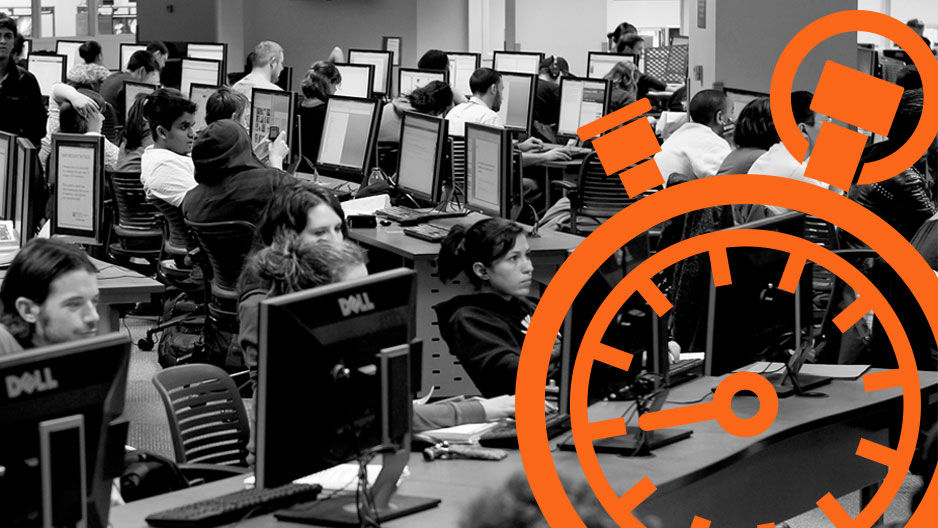 ON CAMPUS
Stories sans Snapchat 
A mystery where the Diamond Gems get abducted by aliens? Dystopian futures where Lil Uzi's inability to drop Eternal Atake sparks World War 3? An unlikely friendship blossoms between a cowboy and space ranger? The possibilities are endless with Temple's first Short Story Dispenser. Line up in the Student Center South lobby to receive your very own original short story at the push of a button—literally. The story dispenser is brought to you by Temple's creatives and writers from all around the world.
Launch Party: Temple's First Short Story Dispenser 
April 16, 3:30 p.m. 
Student Center South, first floor lobby

Sundae Night Scaries, but sweeter
There's no better time of year to be scared than right before finals. Check out a special showing of Halloween (2018) for Sundae Night Scaries at The Reel for a fix of ice cream sundaes, a loaded concession stand and, of course, scaries! Bring your friends and get tickets for $2 with your OWLcard at the box office, which go on sale April 4 at 12 p.m.
Sundae Night SCREAMS featuring Halloween (2018)
April 14, 7 p.m.
The Reel, lower level of the Student Center
Here's the jingle: HOOT
You want it? Baby, we got it at the Conwell Dance Theater. Feel free to bust a move to a juried selection of the best choreographed dancing this season from your fellow Owls. Only $5 for tickets with your OWLcard in hand. 
Student Dance Concert
April 6, 2:30 p.m.
Conwell Dance Theater, Conwell Hall, 5th floor 

Lights, Camera, Diamonds
Nail-biters, indie flicks that stir your curiosity of a walkmen's function, coming of age stories that make you reminisce about your recess buddies who you now avoid at your hometown Giant—Diamond Festival will showcase it all. Comprising provocative works of the most thoughtful storytelling this campus has to offer, Diamond Festival showcases the talent of ambitious Temple filmmakers and media artists.
Diamond Screen Media and Arts Festival
April 30–May 1, 6–10 p.m.
Temple Performing Arts Center
Success Starts Somewhere
Embody the epitome of #TempleMade at VentureFest, where 35+ businesses literally made here at Temple will gather to showcase their company and the journey that led them to success. Join these self-made professionals and gather innovative insights on how to jump-start your own startup.
VentureFest 
April 4, 3:30–5:30 p.m.
The Student Center
OFF CAMPUS
Let's shake our tail feathers.
Now that spring has sprung, The Mann Center (an indoor-outdoor venue in Fairmount Park) is perfect for checking out live shows. Scout out their event lineup, pack a blanket, find your spot on their lawn and enjoy the melodious beats from your favorite bands. This is an atmosphere that exudes an ambivalence of a music festival, minus the dehydration and $250 all access wristband. 
They even showcase symphony orchestras to accommodate the scores of your favorite movies. Battle your snake phobia with Harrison Ford in Raiders of the Lost Ark and root for Edward Cull … ugh, we mean Cedric Diggory during the triwizard tournament in Harry Potter and The Goblet Of Fire.
The Mann Center
Various dates
President Englert, I don't feel so good...
Prep for the conclusion of the global phenomenon that is Avengers: Endgame with an immersive spectacle into Marvel's vast comic book world. With more than 300 Marvel artifacts, including the most sought-after pages, costumes and props, The Franklin Institute's Marvel: Universe of Superheroes exhibition is open starting on April 13 through the fall. 
Marvel: Universe of Superheroes exhibition
April 13–Sept. 2
The Franklin Institute
Yare Yare Daze there's so much to do!
Did you know that in 1926 Japan gifted Philadelphia more than 1,000 cherry trees? And most of them are in Fairmount Park? Celebrate those springtime buds and our Japanese cultural connections during the annual Subaru Cherry Blossom Festival. From April 6 to April 14, engross yourself in this nine-day festival with origami lessons, sushi-making classes, drumming performances, and, of course, relishing in the blossoming of fragile pink petals.
The Subaru Cherry Blossom Festival
April 6–14
Fairmount Park
Eat on the StrEAT.
Manayunk's biannual StrEAT Food Festival & Restaurant is just around the corner, and our bellies are grumbling in anticipation. The neighborhood is closing traffic on Main Street on April 14 from 11 a.m. to 5 p.m. to exhibit its exceptional eateries from more than 50 of Philly's finest food trucks and gourmet food vendors. 
P.S. Manayunk is easily accessible via SEPTA Regional Rail, or you could bike there on the Schuylkill River Trail. 
StrEAT Food Festival
April 14, 11 a.m.–5 p.m.
Main Street, Manayunk
P.P.S. As if StrEAT didn't fill us up enough with savory barbeque and saccharine sweets, Manayunk is hosting its restaurant week starting the day after, April 15 through April 26. Good thing Owls have two stomachs.
Ya like Jazz? 
Unless you're a Boyer student you probably didn't know that April is Jazz Appreciation Month. Check out the link below for smooth, rhythmic joy through jazz and other musical events all around the city hosted by the Office of Arts, Culture and the Creative Economy. 
Jazz Appreciation Month
April 1–30
Various locations throughout Philadelphia
Brain Blast to the Philadelphia Science Festival.
Led by the Franklin Institute, this week long series of events strives to engage our minds through discussions, debates, and hands-on fun regarding the astronomical advancement of science and technology. And there's a free science carnival on May 4, so … may the fourth be with you.
Philadelphia Science Festival
April 26–May 4
Various locations throughout Philadelphia

—Nicholas Eiser