Your library questions answered
Charles Library is officially open. Here's what you need to know.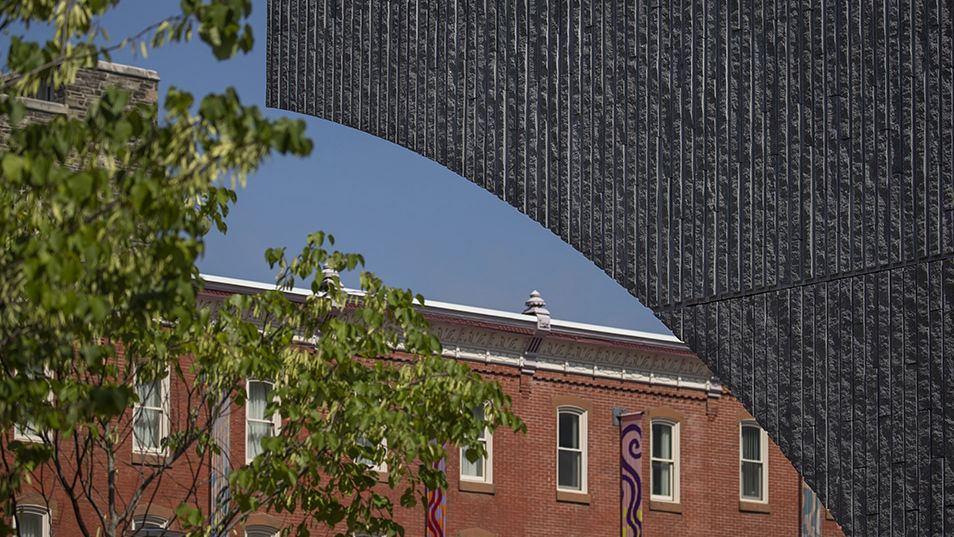 Temple's Charles Library is here and it's easy to see that it was worth the wait. We asked you, the students, what you wanted to know about our new library. From building hours to printing dos and don'ts to the size of that green roof (one of the largest in PA, we might add), here are the answers to your burning questions.
1. Where is it? 
A: It's actually pretty hard to miss, now that the protective fencing has been removed. That gorgeous, modern, geometric structure at the intersection of Polett and Liacouras walks is the eagerly-awaited Charles Library.
2. Will it be open on the first day of classes?
A: Yes. Charles Library began operations for the fall 2019 semester on Sunday, Aug. 25. Library staff are offering tours and answering questions at conveniently located information tables from 9 a.m. to 4 p.m. weekdays through Sept. 6. Be sure to stop by!
3. What will the hours be?
A: The building hours will be the same as Paley Library (which varied by day of week and time of the semester).The schedule will be posted and kept current on the Temple University Libraries website. We will also have a 24/7 space where students can study all night long. 
Keep in mind, though, that while Charles Library will be available for use during the initial weeks of the semester, there will be a substantial amount of finishing work ongoing in the building over the next several months.
4. Can I print in Charles?
A: Yes. Students wishing to print their syllabi or papers in Charles are encouraged to use OwlPrint. Before you come to the library, email your paper as an attachment to owlprint@temple.edu. More information is available on the ITS website. Alternatively, students can borrow a laptop from a laptop kiosk, locate the item they want to print and print from the laptop. Please note that fixed, hard-wired computers, similar to what was available in Paley, are not available in Charles.
6. How do we check out books? Do we just tell the robot what book we want?
A: You'll be able to request books when you look them up in our Library Search. You'll get an email when they are ready for pick up. 
7. How does the robot work? 
A: We actually call it the BookBot. Books are sorted in bins by size, and their barcode is scanned when they enter the bin so the system knows which bin each book is in. When a book is requested, the BookBot brings the bin back so library staff can go through the bins and get you the book you want. There's a special viewing area on the second floor where you can see the BookBot in action.
8. Will students have access to the green roof?
A: Policies for daily use of the rooftop terrace are still being developed, but we're already working on plans for some special events up there. Hint: You'll have an opportunity for a unique photo moment on the rooftop terrace when you join us for a celebration of Charles Library on Sept. 19, 1-5. 
9. Will there be elevators?
A: Yes. Public service areas in the building and programs offered by Temple University Libraries are accessible to people with disabilities. Please contact Richie Holland, Director of Library Administration, at richieh@temple.edu or 215-204-3455 for more information, to request an accommodation, or with questions/concerns.
10. How will the new library benefit me?
A: We want Charles to work for you, so instead of computer workstations we'll have laptops (and special battery charging stations so you can charge your devices without an outlet) on hand to borrow. And, of course, you can bring your own laptops to work! There will be a lot of good spaces in the building both for collaboration and individual studying. We'll have more break out rooms, study rooms and instruction rooms than ever before (some of which include white boards and/or digital screens with a laptophookup). 
Our Special Collections Research Center will have a new conservation lab, collections vault and dedicated instruction space. 
The Loretta C. Duckworth Scholars Studio houses forward-thinking and sophisticated equipment for 3D printing and scanning, and virtual reality.
Plus, the Student Success Center (which includes the Writing Center) will be right in the building so you'll be able to go from paper concept to printed paper in one location.
11. Is it eco-friendly? 
A. Very! Charles Library has one of the largest green roofs in Philadelphia and the building was designed with LEED certification in mind.
12. What if I get hungry?
A: In the building, you'll find Stella's cafe, which will offer coffee and snacks. 
13. What student jobs will be available? 
A: A lot! We'll still need students in the stacks, and will also need students to help us get books from the BookBot. We will also have a few specialized positions, such as those in the Duckworth Scholars Studio. We hire work study and non-work study students. Keep an eye out for our listings in the student employment section of TUPortal.
14. How many 8 oz sirloins can fit inside the library?
A: To answer this important question, rest assured that we went straight to the top and asked Dean of Libraries Joe Lucia. He says that there are  roughly 18,000,000 cubic feet of volume in the building, so assuming an 8 oz. sirloin has a cubic volume of 4 inches, then Charles Library could hold 54,000,000.