Posted
September 19, 2019
Four Temple students interned at URBN last summer.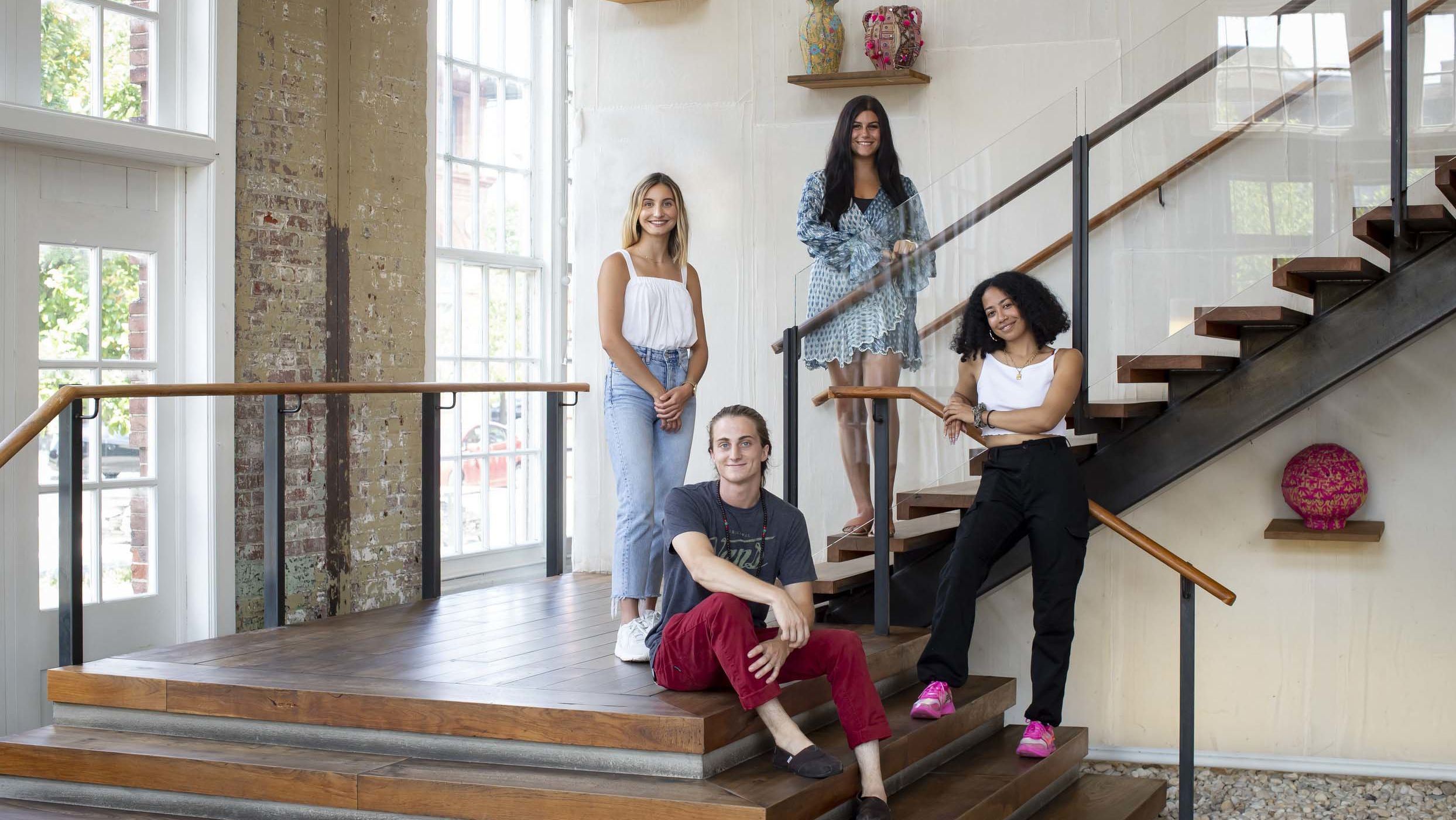 Four Temple students shipped off to Philadelphia's Navy Yard last summer for internships at URBN, where they were immersed in the wide world of retail.
The portfolio of global consumer brands comprises Urban Outfitters, Anthropologie, Free People, BHLDN, Terrain and the Vetri Family of restaurants including Pizzeria Vetri and Amis Trattoria. The company's popular internship program offers a diverse array of opportunities in areas including marketing, public relations, merchandising, buying, IT, design and other creative areas. Interns have the opportunity to work for URBN, or one of its individual brands. 
Temple Marketing and Management Information Systems major, Anastasia Postolati, landed a position with Urban Outfitters in marketing planning. 
"I have dreamt of working for a brand like Urban Outfitters since high school," Anastasia said. 
Her dream started to take shape when the URBN Talent Team came to speak to the Temple chapter of the American Marketing Association in 2017. Anastasia kept in touch with the team, and scouted opportunities on Handshake until landing her internship. 
"It's crucial to start early and work hard," Anastasia advised for securing jobs or internships. "I set time apart to develop a list of companies that I wanted to work for, applications I needed to fill out, due dates and people I could reach out to."
For Singley Risico, it was her love of fashion that directed her attention to URBN, and as an advertising major, she saw the opportunity to put teachings into practice. 
"It's about figuring out how to interact with consumers, cut through the traffic of other brands and sell them a story (or item of clothing) worth buying," she explained. 
Singley worked in the Women's Apparel Buying department at Urban Outfitters, where she focused on branded collections, researching new concepts, trends and styles.
Kate Goldinger, a public relations major at Temple, also had her sights set on an URBN internship early in her college career. She credits networking and Temple's Professional Development and PR courses for preparing her for her internship in URBN's food and beverage department, where she had a hand in social media, influencer engagement and branding for URBN's restaurants. 
In securing an opportunity like this one, Kate explained that "learning how to talk yourself up and be proud of who you are, confident in what your goals are, and optimistic about your future, is key."
Tyler School of Art and Architecture student Colin Best had the unique opportunity to work with URBN's store design team to develop sketches and models for new retail locations—a role in line with his studies as a Facilities Management major.
"It has given me a firsthand look at how projects are managed start to finish and what kind of details go into these massive projects," Colin said. 
URBN's brands have their own dedicated spaces at Philadelphia's Navy Yard campus, each boasting contemporary, open-concept workspaces, and creative, collaborative environments. Each office is designed to represent the brand it houses, featuring unique artwork, custom furniture and brand-specific decor. 
The 1,200+ acre Navy Yard campus is home to more than 150 companies and organizations. Employees and interns have access to unique offerings like rotating food trucks, a coffee shop, cafes, a dog park (yes, it's a dog-friendly campus), a gym and a shuttle service for employees commuting via public transit. 
Land your next internship.
With Handshake, internship opportunities are always at your fingertips as a Temple student. 
The deadline for URBN's Summer 2020 internship program is November 11th.  You can review and apply for their internships by using Handshake!
Story by Nicole Quaste