Five minutes with … Daphne and Erin, co-head writers for Temple SMASH
Go inside the writers' room to hear from the pair who pen Temple's sketch comedy show.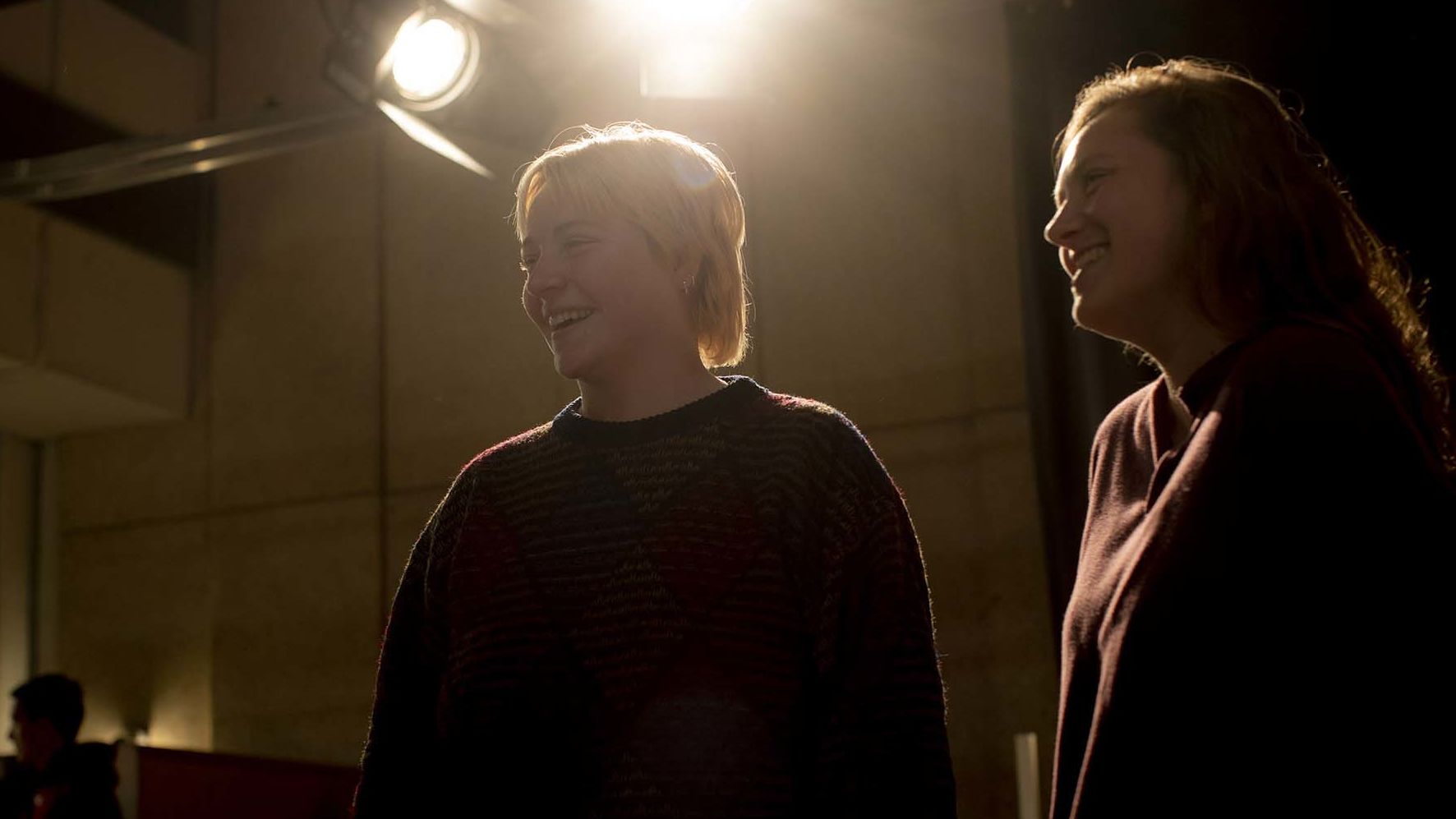 Temple SMASH is a live production of original comedy sketches akin to Saturday Night Live, performed by Temple students with a knack for reeling in a good laugh. But where would the talent be in any production without a good story to tell? 
We got a chance to spend five minutes with the head writers. Meet Daphne Bonner, a junior double majoring in film and Spanish with a theater minor, and Erin Schessleur, a senior double majoring in film and media arts and media studies and production—the comics behind the curtain. 
Catch their first show of the semester live in Studio 1 in Annenberg Hall this Thursday, Oct. 24, at 8 p.m. Due to the show's rave reviews, seats fill up quickly, so be sure to get there early. Can't make the show? No worries, it airs twice per semester, so look at for it this December. Or, better yet, watch it live on TUTV.
Nutshell: Describe your role/responsibilities on the SMASH team.
Erin: As head writers, Daphne and I wrangle the writing team. Prospective writers submit three original scripts to us, and we keep it anonymous to avoid any bias. After we form our writing team based off the best submissions, our job is to make sure everyone on the team is on the same page during the writing and pre-production process. Mostly, we make sure that—on the writing side of SMASH—we're putting together the strongest show possible.
Daphne: Other than that, it's just some boring technical stuff, like coordinating meetings and cooking seven full turkeys (one for each writer) for the traditional turkey feast we hold on the eve of each show.
Nutshell: Sounds delicious. How did you get involved with this organization?
Daphne: My brother was in SMASH when he went to Temple, so I heard about it from him. I didn't want to submit a script while he was here, so I waited until my sophomore year, and that's when I was selected as a writer. Then at the end of the year, when the heads graduated, Erin and I were picked to replace them.
Erin: I went to a general interest meeting sophomore year, signed up to be on a crew for the digital sketches, and from there I just got more and more involved with each episode.
Nutshell: What is your proudest achievement while working on the show?
Erin: Whenever a sketch I put a lot of work into performs well in front of an audience, I'm proud of that. I was nervous at first about heading up the writing department of a comedy show, but the team we put together has made it a really easy job.
Daphne: I think the fact that SMASH has two non-male head writers right now is a pretty cool achievement, and I'm proud to be a part of that with Erin. I didn't grow up with many diverse comedic role models; I just consumed the mainstream stuff like SNL and Will Ferrell movies. But since coming to college, my world has opened up a lot, and I'm glad that we have the opportunity to extend that kind of influence to SMASH.
Nutshell: What's your superpower? What's your kryptonite?
Daphne: My superpower is that I care a lot about almost everything. My kryptonite is that I care a lot about almost everything.
Erin: I can stop hiccuping on command. My kryptonite is iced coffee. I buy it too often.
Nutshell: What are you watching now?
Erin: I just finished watching Fleabag, which deserves every award it's ever received. I'm also watching the new season of Big Mouth and reruns of Drake and Josh. 
Nutshell: In general, what should we be paying attention to right now?
Daphne: Cashews. I don't trust them. We never know when they're going to make a move, we should probably be paying attention to them. As soon as we forget about them, that's when they'll uprise, plan a coup or something. Never heard anything good about cashews, email me if you have: tuh00734@temple.edu.
Nutshell: What's next for you?
Erin: Right after graduation, I want to do anything that allows me to make entertaining media. I still enjoy just about every stage of the production process at this point, so I would love to keep doing that. Ultimately, I'd like to write for long-form television. Comedy writing is something I really love doing, and if I can continue doing it professionally, that'd be amazing.
Daphne: Right now, my focus is school and SMASH. I co-wrote and co-directed a feature length movie, Chuck Lawson and the Night of the Invaders, which premiered recently. That's screening in a couple of cities and then going to Amazon Prime. But other than that I'm focusing on writing sketch and short films.
Story by Nicholas Eiser