Nine classes for your best fall ever
Plan next semester's schedule with some of the most intriguing courses offered at Temple.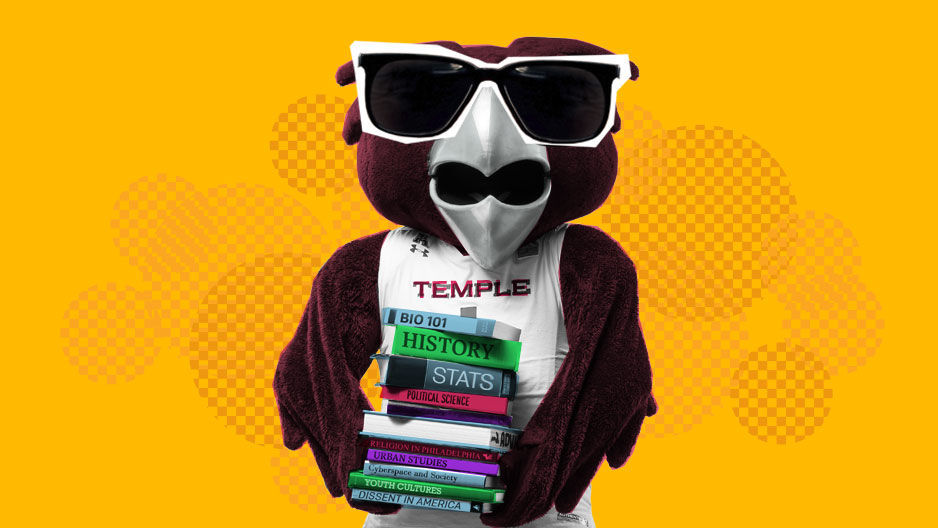 April showers bring August rosters. That's right, people. Fall 2020 registration officially begins next week. That means you have some planning to do and we're here to help with a list of some of the most fascinating courses Temple has to offer.
1. Wherefore art thou, Leo Dicaprio?
Starring in Baz Luhrmun's Romeo + Juliet, Leonardo Dicaprio plays lovesick Romeo Montague in an adaptation of one of the world's most famous theatrical productions. When you take Shakespeare in the Movies, you'll have the chance to look back at Leo's passionate performance and discover some of Shakespeare's other prominent works. In this course, be ready to compare and contrast his iconic plays with their big screen renditions.
Course: Shakespeare in the Movies (ENG 0822)
Fulfills: Arts GenEd
Credits: 3
2. But why did the butler do it?
Find your answer in Criminal Behavior, where you explore the psyche of a lawbreaker. Dozens of reasons may contribute to the commission of a crime. Causes might stem from family and peer interactions, our environmental or psychological state, and so on. When examining these factors, you will learn to discern the possible motivations behind an act of robbery, murder or even the tendency to speed on the highway … in fact, more of us may be criminals that we'd like to admit.
Course: Criminal Behavior (CJ 0812)
Fulfills: Human Behavior GenEd
Credits: 3
3. Cue to Cue
Dramatic Imagination: The Performing Arts in Society lets you enjoy enriching local art by catching some of Philadelphia's theater performances. Deepen your understanding of stage productions with in-depth discussions of the plays, their controversies and the vast array of performative methods thespians execute on stage.
Course: Dramatic Imagination: The Performing Arts in Society (THTR 0805)
Fulfills: Arts GenEd
Credits: 3
4. Coin for your piggy bank
When's the best time to invest? How do we do it? Take Investing for the Future to find out the answers to these questions and more. This is a math class with little math but a whole lot of useful tools for the real world. Thankfully, we already learned the Pythagorean theorem in high school, so we got that out of the way.
Course: Investing for the Future (ECE 0822)
Fulfills: Quantitative Literacy GenEd
Credits: 4
5. Run, Forest, Run ...
All the way to Geology of National Parks, a course where you'll explore the "science of scenery." The Grand Canyon didn't just one day appear. It took millions of years of geological evolution and extreme forces of nature to create America's most picturesque family vacation spot. You will learn about its formation, as well as topical issues surrounding national parks, and the tug of war between land development and the preservation of one of our greatest natural resources.
Course: Geology of National Parks (EES 0854)
Fulfills: Science GenEd
Credits: 3
6. So that's what it does!
Learn new and exciting things about your body and your feelings in Human Sexuality. We're quick to assume things are black and white when it comes to sex, but au contraire! Sexuality is complex and dynamic. This class will allow you to broaden your understanding of sexuality and explore your own thoughts on love, sex, heartbreak, and whatever else comes with the fascinating inner-workings of our relationships with others and ourselves.
Course: Human Sexuality (PSY 0818)
Fulfills: Human Behavior GenEd
Credits: 3
7. You Say You Want a Revolution
… Well … you know-o … Uptown Theater wants to change the world. And for North Philadelphians, this live music venue did. Uptown Theater was a hub for up-and-coming artists (like Temple's own Daryl Hall, BYR '69) to recast their regional sound and revolutionize music around the world. In Sounds of a Revolution, you'll tune into the geographical and cultural shifts coinciding with the evolving meaning of race and popular culture in post-war America, and how music changed in concert.
Course: Sounds of a Revolution (AMST), 0864
Fulfills: U.S. Society GenEd
Credits: 3
8. DIY
Do you like to tell stories? Take a course where you build yours from scratch. Literally. Artist Books, Zines and Independent Publishing allows you to bind your own books, and dabble in printmaking and alternative processes in order to create your own physical pieces.
Course: Artist Books, Zines and Independent Publishing (ART 1702)
Fulfills: Elective
Credits: 3
9. Channel your Inner Biles
Tumble into Gymnastics I and learn the ropes of the sport. In this course, you'll learn the basic skills of tumbling, trampoline, vaulting, balance beam, rings and plenty more. No prior experience is necessary, just be prepared to stretch and go upside down!
Course: Gymnastics I (KIN 1022)
Fulfills: Elective
Credits: 2
 
—Nicholas Eiser