Your guide to entrepreneurship resources at Temple
A slew of workshops, competitions, clubs and mentorship opportunities are available to our future inventors and company founders right here on campus.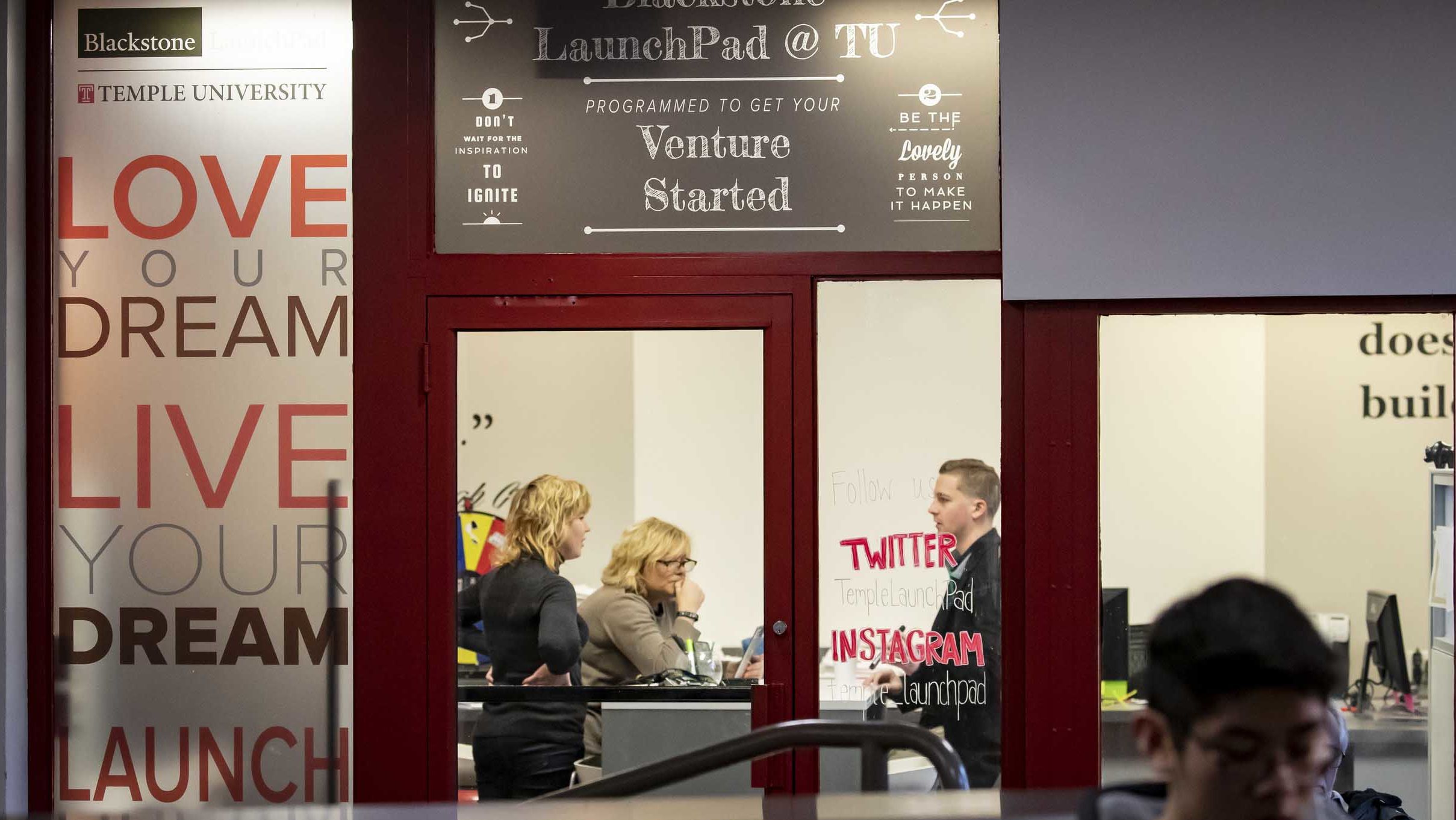 Risk takers, innovators and entrepreneurs, we're calling you. We've rounded up key entrepreneurship resources on campus in the list below. Learn about virtual networking and collaboration opportunities, and where you can jumpstart the next big thing. One condition to these tools: thank us when you sign your patent!
1. Innovation & Entrepreneurship Institute 
Housed in the Fox School of Business, the Innovation & Entrepreneurship Institute (IEI) promotes the kind of daring initiative necessary to disrupt the average business model. Offering classes, workshops, internships, conferences, mentorships, events and competitions, this space is where innovation at Temple skyrockets. 
Jake Green, FOX '19, a management information systems major, used the institute's resources to grow professionally. "IEI allowed me to develop hands-on skills in marketing and data-analysis as an employee," said Green, who also served as president of the Entrepreneurial Student Association during his time at Temple.
Upon graduation, Green joined NBCUniversal as a media-tech associate on the information technology track. "IEI has helped me pave the way for this opportunity," Green said. 
The 1810 Accelerator
This coworking space, which is part of IEI, is one of the best places for young entrepreneurs to meet peers who are eager to set their ambitions in motion. Students apply for membership, which gives access to workshops, conference room space and speaker events that help inspire revolutionary ideas.
Currently, the Accelerator is hosting workshops, speaker series and all other events online. Become a member to advance your journey as an entrepreneur and gain access to unique resources.
Competitions
As we said, IEI annually hosts multiple competitions for students, alumni, and faculty and staff with tens of thousands of dollars in prizes presented to the winners. 
Erin McShea, associate director of student engagement at IEI, keeps students in the know about Temple's entrepreneurial resources. "Competitions are the biggest part of our programming," she said. "The competitions don't require businesses to have launched in any capacity. New business, new products—whatever it may be, we encourage students across all disciplines to participate," she added.
The Be Your Own Boss Bowl (BYOBB), held each spring, is a business pitch competition. Winners will bring home a grand prize $60K. Win or lose, students who participate in the bowl benefit from free workshops and mentorship programs while also learning how to write comprehensive business plans, present their ideas to others and network with professionals. 
However, this is not the only chance for the Temple community to join in on inventive competition: The 19th Annual Innovative Idea Competition offers students another opportunity to engage in competition. Hosted by the IEI, this competition fosters the generation of new inventions, services and technologies from students, alumni, faculty, and staff. The winning entrepreneur receives a $7,000 cash prize. Although the submission deadline has passed for this year's competition, you can catch the finalist live pitch on Nov. 12. 

2. Entrepreneurial Student Association 
The Entrepreneurial Student Association (ESA) is a student-led organization, run by your fellow entrepreneurs in the making. Bring your creative mind to weekly meetings that include interactive activities, guest speakers and social events to grow your network. Sign up for the mailing list to catch their weekly Wednesday meetings from noon to 1 p.m. and stay connected through their social channels.

3. Entrepreneurship Innovation & Management Program
If your dream is to one day launch a company, or release a state-of-the-art product, the Fox School of Business offers an entire academic program to help you pursue these very aspirations. Students can choose from either a major, minor or certificate program. 
"I'm learning a lot about design thinking, and how you take and evaluate an idea and the thinking process of the audience," said Emily Madara, a junior entrepreneurship innovation and management major and ESA's director of events and programming.
"The classes are super valuable, it's not a major where you have to be worried about them [professors] testing your knowledge … they give you time to work on building new businesses and ideas" she added. 
Pave your path to invention and browse Fox's catalog of opportunities.

4. Blackstone LaunchPad
This campus-based entrepreneurial program is intended to support all ideas, regardless of your major. Since 2015, more than 20,000 Owls have engaged in this initiative, launching more than 600 businesses in a range of industries including entertainment, food and beverage, fashion, education, and e-commerce. 
Hosting nearly 30 events per year, LaunchPad offers a chance to network and collaborate with like-minded peers and discover what it takes to transform your ideas into a profitable venture.

5. The Inventor's Club
Young developers gather here to actualize their inventions. One of the newest clubs on campus, members are challenged to develop and launch a product in a matter of six months. Take computer science major Adam Gasiewski, Class of 2021, for example. He developed a universal set of penalty cards, which can be a supplementary addition to almost any game/competition.
"Individuals can come together and take real products to market through lean-startup techniques, which is a methodology to quickly get products off the ground," said Evan Kaiser, Class of 2022, an accounting and finance major and president of the Inventor's Club.
"We are looking for students across majors including art students, engineering students, technologically savvy students, business students, and everyone in between," he added.
Register for their mailing list and join this organization for weekly Zoom meetings every Friday at noon. 

6. Women's Entrepreneurship Network
The Women's Entrepreneurship Network (WEN) addresses the barriers posed by the business community that limit opportunities for women. With the intention of strengthening and diversifying the gender makeup of the entrepreneurial industry, WEN works to uplift women in the field.
"We aim to expand our network by connecting students with area entrepreneurs that promote equality and diversity in business," said Caroline O'Keefe, one of WEN's directors of programming.
"Members will acquire business development resources, learn professional skills, and exercise creativity and entrepreneurship," she added.
You can stay up to date with their virtual workshops and events through their mailing list, as well as their social channels.

7. Tyler's Entrepreneurial Studies
The Tyler School of Art and Architecture partners with the Fox School of Business to merge entrepreneurial skills with the study of art in a certificate program that complements the student's degree.
"Our art students are looking to make their art into their careers; we want to equip them with the skills to do that," McShea said. Whether it be launching an art gallery or a freelance venture, students can learn how to start their own businesses in their chosen discipline, from ceramics to painting to graphic design and more.

8. Entrepreneurs & Innovators Living Learning Community
Want to room beside creative minds? The Entrepreneurs & Innovators LLC is awaiting. Located in Morgan North, up-and-coming inventors and business owners live side by side, sharing common spaces and bouncing novel ideas off of one another, uplifting each other as they pursue their goals. Learn more about the living learning community.
—Nick Eiser