As the semester comes to an end, pay tribute to some of your favorite places and traditions on campus.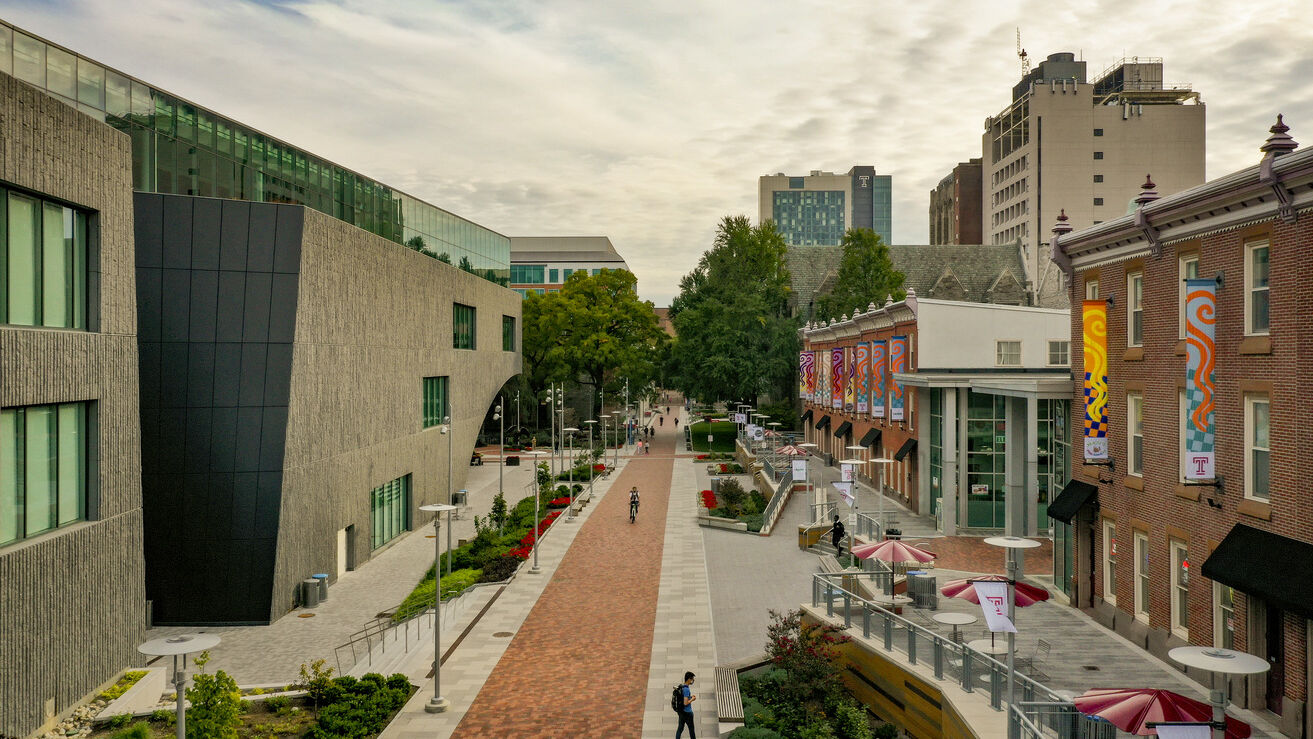 This story was updated on May 3, 2023.
Dear Owls,

It's hard to believe that the clock to graduation is about to strike midnight. After four years of countless late night study sessions at the TECH (and later adding Charles Library to your list of 24-hour venues following its unveiling), dining hall runs to refuel (or trying to survive solely off of iced coffee), people watching at the Bell Tower, and more, the time has finally come to enter the real world. 
But before you go, let's take a step back to revisit some of the places on campus that drew you to Temple in the very beginning and some newer spots that became meaningful during your journey. We encourage you to visit these iconic locations one last time before donning your cap and gown, and pay tribute to some of Temple's most hallowed traditions.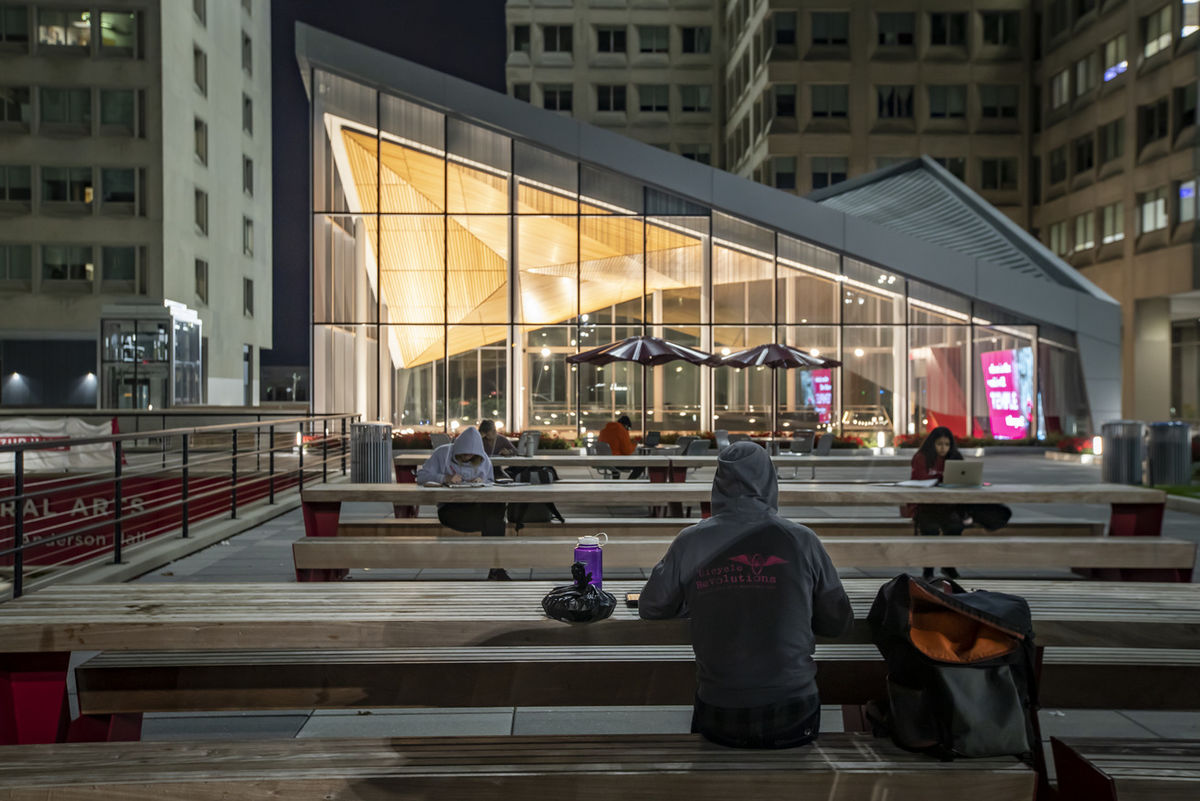 The newly renovated and newly named Mazur Hall offers students a place to study outside on its rooftop terrace. (Photo by Ryan S. Brandenberg)
The rooftop terrace at Mazur Hall
One of the newest developments on campus, the rooftop terrace at Mazur Hall quickly became a favorite spot for enjoying the outdoors. And, it's one of your first stops when you travel to Temple on the Regional Rail. Mazur (formerly Anderson) and Gladfelter have been undergoing myriad changes for the past couple of years, so take a moment to appreciate how far these Brutalist beauties have come.
The outdoor wall of food vendors next to the TECH Center will always be a popular lunch spot. (Photo by Ryan S. Brandenberg)
The Wall
Close your eyes for a second and think where you would be right now without grabbing breakfast sandwiches, pho, pizza or falafels in between classes. "The Wall" (aka the food wall) is a staple among visitors and students alike. Now's your chance to show your support for your favorite vendors before you go by sipping one last cup of coffee at Richie's or snagging a spring roll at Thai's Vietnamese Food. 
The TECH Center is one of the largest university computer centers in the nation. (Photo by Joseph V. Labolito)
The TECH Center
It goes without saying that the TECH Center is a quintessential part of your Temple experience. Love it or hate it, the TECH Center has been there during some tough times and provided you with unwavering support. Whether you were team yellow section or team red, the TECH center will always hold a special place in your heart.
This enduring Temple icon serves as a gathering place and event hub. (Photo by Ryan S. Brandenberg)
The Bell Tower
The Bell Tower is undoubtedly one of the pieces of architecture that captivated you the first time you walked through the heart of campus. Whether you're sitting beneath it on Beury Beach on a nice day or simply admiring it on your way to class, you truly feel a sense of place when you look up at the Bell Tower. You'll definitely want to snap a photo of one last sunset here to look back on later (and an added bonus if you do a photo op in your cap and gown!). 

An imposing bronze owl oversees the hustle and bustle of campus life. (Photo by Joseph V. Labolito)
Founder's Garden & O'Connor Plaza
As a freshman, you probably took one of your first pictures in front of the Owl statue at the O'Connor Plaza, still nervous and wondering what college was going to be like, if you were going to make friends or figure out exactly how the subway works. After the past four years, though, you've mastered being an Owl and made new connections along the way. And you likely know all of the stops on the Broad Street line by heart now, too.  
An architectural marvel, the library can be found at the heart of Main Campus. (Photo by Betsy Manning)
Charles Library
Although Charles Library has only been here since 2019, it's already become a go-to spot for those late-night study sessions and a place of relaxation, with the tables outside to soak up the sun in the heart of Main Campus. Stella's Café was always amazing for a morning (or afternoon… or evening…) pick-me-up.
A classic collegiate building and home to the Office of the President. (Photo by Betsy Manning)
Entrance to Sullivan Hall
Walking past the entrance to Sullivan Hall is like walking through a college pamphlet in real life. The entrance always looks picturesque—in the fall, the orange and red leaves always represent the change of seasons and in the spring the flowers are blooming. With the huge Temple flag flying out front, it's hard not to feel a burst of Temple pride every time you pass by.
The historic gate on Polett Walk serves as a campus entrance on Broad Street. (Photo by Betsy Manning)
Polett Walk Gate
Last, but not least, we have Polett Walk. Walking through the Polett Walk gate always feels like a symbolic gesture. It's where you were welcomed with a huge Temple banner during orientation that read: "Temple University welcomes you and your family." Now, after years of hard work and dedication, you can leave through Polett Walk gate one last time. This time, though, you're not just going to Broad Street—you're also flying out into your future.

Discover these spots by navigating the map below. 
Sincerely,
Temple

P.S. Share your best graduation photos, campus memories and your next stop after graduation by tagging us on Instagram or Twitter at @TempleUniv and using the hashtag #TUGrad23. We'll miss you, Owls!