The Halloween scoop: Temple's freakiest connections
Our founder's ghost, a collection of teeth, horror franchises and creepy comedies.
Updated Oct. 20, 2022.
At 138 years old, Temple definitely has its fair share of spooky history. Here's our list of creepy Temple connections.
The spirit of Russell Conwell
Temple's founder Russell Conwell is buried on campus—you've probably seen the large bust marking his grave keeping a watchful eye over Founder's Garden. Many suspect his ghost might still be hanging around Temple's campus, and there may even be proof.
The Temple Performing Arts Center used to be the Baptist Temple, and it's the oldest building on campus. Russell Conwell held services in the basement, and it is believed that his spirit remains in the building. A few years ago, Temple's now-defunct Hoot Paranormal Society conducted an electronic voice phenomena recording on the center's stage. It asked for a knock and, 15 seconds later, it got one on its recording.
Creepy coincidence or a sign of ghostly activity? That's for you to decide.
Creepy content from Temple grads
Our university boasts several alum who have worked on horror movies and TV series. Gary Dauberman, TFM '02, has written scary scripts including Annabelle, Annabelle: Creation and the screenplays for both It movies. 
Monica Suriyage, TFM '14, has been commended for her debut short film, Black In Red Out, leading to her being featured in the documentary Horror Noire alongside renowned horror director Jordan Peele. Her horror short, La Ciguapa Siempre, premiered at the 2021 Los Angeles Latino International Film Festival and earned a 2023 Oscar award consideration after winning Best Narrative Short at the 2021 Reel Sisters of the Diaspora Film Festival.
Daniel Trachtenberg, TFM '03, directed the horror-thriller film 10 Cloverfield Lane in which he was nominated for a Directors Guild of America Award for Outstanding Directing, First Feature Film. He has directed for the small screen as well, including episodes of Netflix's Black Mirror, Amazon Prime's The Boys and Peacock's The Lost Symbol, in which he also serves as an executive producer.
In addition to recently working on three episodes of Stranger Things, Benjamin Semanoff, TFM '01, has been behind the camera of several films and TV shows such as Creed, Collateral Beauty, The Outsider and The Affair. He's even been nominated for Camera Operator of the Year for The Night Of and for an Emmy for Outstanding Directing in a Drama Series for directing the "Su Casa Es Mi Casa" episode of Ozark.
Philly's own creepy film director featured at first-ever thought leadership event
Acclaimed director, screenwriter and producer M. Night Shyamalan visited campus during President Jason Wingard's inauguration for the first edition of his new thought leadership event series, Talks@Temple. Shyamalan is well-known for working on creepy movies and series such as The Sixth Sense, Unbreakable, Split, Glass and, most recently, the Apple TV+ show Servant, all of which were filmed at various spots around Philadelphia. In his conversation with President Wingard, Shyamalan expressed a bold, contrarian perspective on the rise of streaming and discussed the future of film and TV, advocating for students to pursue careers in the entertainment industry.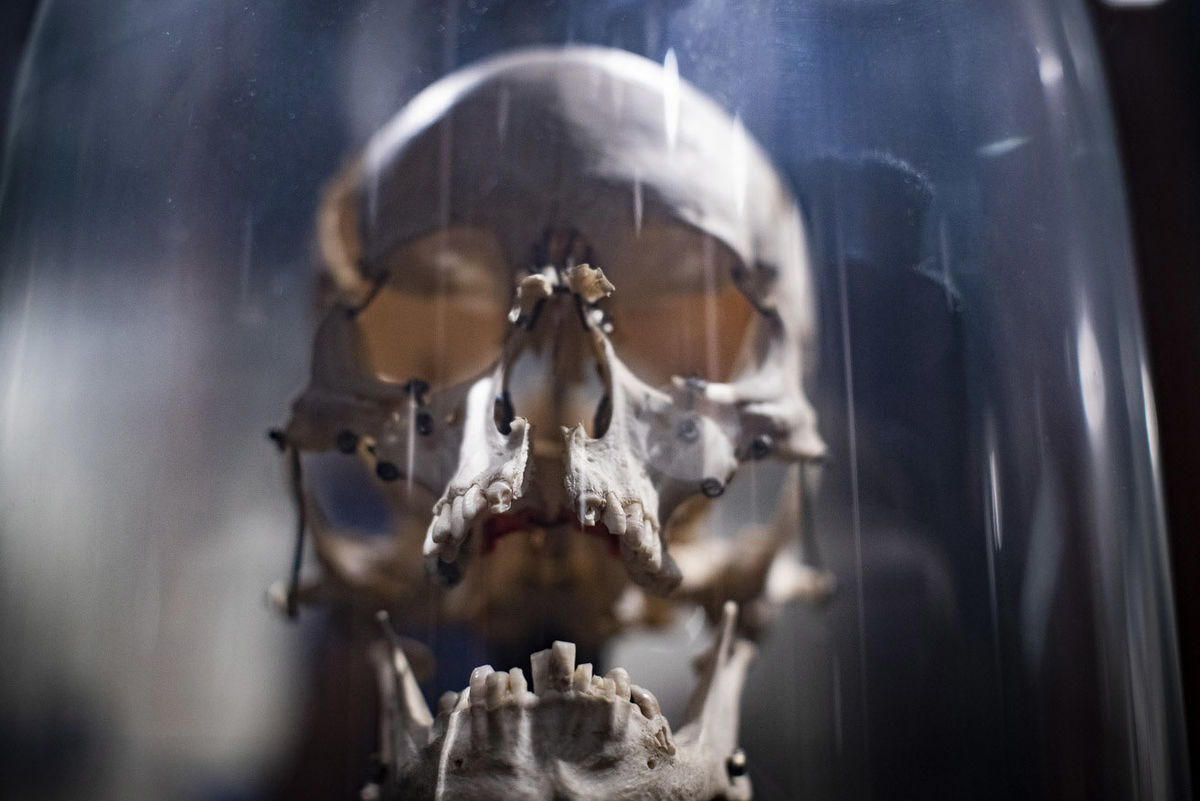 Temple's very own teeth museum
What's creepier than old medical equipment and a bucket of teeth? The Historical Dental Museum Collection on the third floor of the Kornberg School of Dentistry was founded in 1938 and holds equipment and dental specimens dating back to the 1800s, complete with a recreation of a 19th-century Victorian dental office. Who knows, there could be some ghostly entities searching for their missing molars.
The Scranton Strangler's ties to Temple?
Did you know that Toby Flenderson from The Office is an Owl? During season seven, he attended Temple University and holds a master's degree in social work. You may have seen the spooky Scranton Strangler storyline. And Toby is not without involvement, as he was a part of the jury that convicted the Strangler. However, there is a fan theory that Toby was, in fact, the real Strangler all along. Did the Scranton Strangler once roam this very campus?
Alumni on Ghosts and Only Murders in the Building
Danielle Pinnock, who received her bachelor's degree from Temple in communications and theater, now stars on the hit TV comedy Ghosts. Adapted from the U.K. series, it chronicles a young couple who moves into a home riddled with the ghosts of previous residents. Pinnock plays Alberta, a bold Prohibition-era lounge singer who makes the most of her afterlife.
Tony nominee Da'Vine Joy Randolph is a Philadelphia native who graduated from Temple with a degree in vocal performance. She guest stars on Hulu's Only Murders in the Building, a comedic murder mystery series created by Steve Martin and John Hoffman and featuring Selena Gomez.
Know about any other spooky stuff connected to Temple? Let us know at nutshell@temple.edu. 
—Maria Klecko and Corinna Boeck