Reading, Writing, Relationships
A book hub in North Philadelphia promotes reading and builds community.
Photography By:
Ryan S. Brandenberg, CLA '14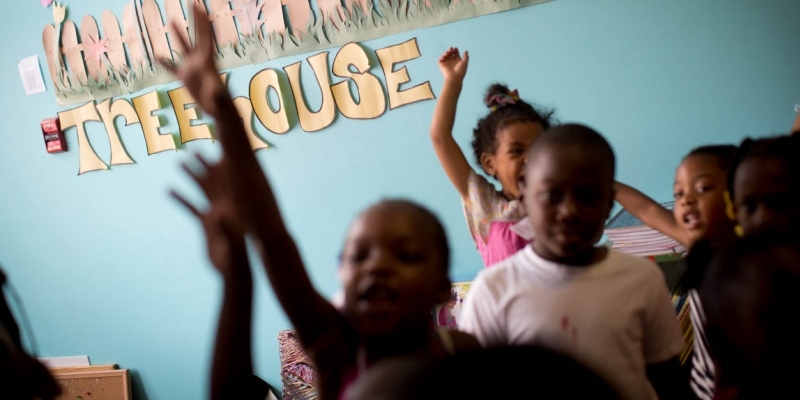 It's midday, and the predicted high of 99 degrees has yet to settle  to a comfortable temperature. The few trees that exist on Susquehanna Avenue, just north of Temple's Main Campus between Broad and 15th streets, remain still in the windless summer heat. The humidity rises from the concrete as children run after an ice cream truck. Near the western corner of the block,  a group of young men  play a pickup basketball game on a blacktop court. A few yards away, a woman in a white  dress stands outside a storefront church, cooling herself with a handmade fan while handing out fliers about Sunday service.
The block is fairly quiet until a group of small children spill onto the sidewalk from the entrance of Tree House  Books. Their laughter and squeals travel up the street as they form a crooked, yet organized, line.
Once their summer camp leader confirms that everyone has a partner, the group pro- ceeds toward campus, where they will spend some  time playing on Beury Beach,  the grassy incline just north of the Bell Tower.
Tree House  Books, an independent non-profit  literacy center housed in two North Philadelphia storefronts, fills a big need in the lives of local students.
Video Production:
Gina Benigno, SMC '12
Throughout the year, children attend the Tree House  Book Camp, an after-school and summer reading program that  helps students develop literacy skills. Younger students between the ages of 4 and 6 years old receive special instruction through Tree House Sprouts, and young readers and their parents have year-round access  to the Giving Library, a pay-what-you-wish bookstore. For children
who can't readily get to the space, the Words on Wheels  program delivers books  directly to their doorsteps.
A little more than a decade ago, Kiana Bland,  Class of 2017, was one of those students. Bland grew up a few blocks away from Susquehanna Avenue. As a child,  she had to travel downtown to the Free Library of Philadelphia's Parkway Central Branch to find her favorite authors—until she found Tree House.
"The bus used  to drop me off right there," she recalls, pointing to a curb across the street from Tree House Books. "Every day, because my mom worked in the evening, I'd get off the bus,  cross the street and go
straight to Tree House."
The literacy center quickly  became one of Bland's favorite neighborhood hangouts. A self-proclaimed "book nerd" with a love for drama and science fiction,  Bland found an abundance of books, new friends, and mentors who helped her ace book reports, discover new authors and study for tests.
"Everyone here—the teachers and directors—were always, consistently helpful," Bland says. "I made a lot of friends here and still run into friends I met through Tree House."
Though she is busy working toward her bachelor's degree in psychology, she frequently makes time to stop  by the literacy hub  to catch up with Lauren Macaluso Popp, SMC '11, a former volunteer who is now program director at Tree House Books. Bland and Popp forged a friendship when the two of them were both new to Tree House. Popp was a student volunteer looking for a way to learn more about the community in which she lived, and  Bland was in grade school.
"Every day, because my mom worked in the evenings, I'd get off the bus, cross the street and go straight to Tree House."
-- Kiana Bland, Class of 2017
"Connecting with Tree House  gave me a chance to break out of the monotony of classes and homework and really do work that I was interested in," says Popp. "Being on campus can be a bit isolating at times. Coming to Tree House  showed me what  it means to be part of the neighborhood I lived in."
Today, as peers, Popp and Bland carry on the work begun by the founders of Tree House  more than a decade ago.
A 24-HOUR CHECK-CASHING FACILITY, A DRY CLEANER  AND A BOOKSTORE
Twelve years ago an economic analysis sponsored by the North Philadelphia-based Advocate Community Development Corp. suggested that in order to bring business traffic back to Susquehanna Avenue, developers should consider establishing a specific set of businesses.
"The report came  back and  it said we should consider a 24-hour check-cashing facility, a dry cleaner or a bookstore," says John Weiss, owner of TempleTown Realty, a provider of off-campus student housing in the Temple University area. "I thought about it, and  we almost chose to go with a retail  storefront."
Despite the possible profitability of the other choices, he decided that  a used  book- store would be the best choice for
Susquehanna Avenue.
"At the end  of the day, it made sense," he says. "The neighbors wanted a place  where children could come  after school, a place that  would be connected to and  supported by the community."
When  Weiss and his team entered the then-dilapidated building to renovate, there was an Ailanthus pushing its way up through the wooden floor. A stubborn tree native to China,  the Ailanthus is known for being difficult to uproot. It's prevalent in North America because it resprouts soon  after being cut.
The Ailanthus promptly became a kind of mascot for the project, and Weiss decided to name the space in honor of the tree that grew against the odds. Today there's a mural to commemorate the tree on the wall near where it once grew. The long branches are painted adjacent to a loft where children in need of a quiet space can climb up and away from their peers to read, write, think and create.
When  the doors to Tree House  opened, word quickly  spread to Temple.
CAMPUS COLLABORATIONS
While transitioning between classes, Eli Goldblatt, EDU '82, a professor of English in the College of Liberal Arts, was stopped by one of his students and told of the new bookstore and literacy center on Susquehanna.
It was a perfect opportunity for Goldblatt, who had developed New City Writing, the outreach arm of the First-Year Writing program at Temple. Through New City Writing, Temple students and faculty work to support a literary culture—one marked by creative community projects, family emphasis on reading and writing, and the availability of free or low-cost  books—in neighborhoods near the university.
"I immediately went over to meet the proprietor," Goldblatt says. "One of the problems they faced was that they had a lot of children coming in and out,  but there was no programming." Goldblatt, who serves on Tree House's board of directors, got to work helping the center get off the ground. He began by garnering support for the project from alumna Suzanne Wieseneck, CLA '64, and her husband, Robert, whose donations to the program have helped fund staffing at Tree House over the past four years.
Wieseneck, who also contributes to university scholarships that  help  low-income Temple students cover tuition costs,  has always had a love for the written word. Through her contributions to Tree House, she hopes that young people in North Philadelphia will have an opportunity to develop a similar passion for reading.
"Just to be alone and read was so important to me as a child," says Wieseneck. "It makes me happy to know that children who attend Tree House can have that experience."
After establishing financial support, Goldblatt hired graduate students to develop curricula and enlisted the help of undergraduates to work with the different age groups that attended Tree House after school.
"A lot of college students appreciate being able to connect with young people and feel like they're not the only ones in a learning role," says Goldblatt. "Learning needs to be challenged by teaching and vice versa: Tree House gives the Temple students a chance to complete the circuit of learning and teaching."
CULTIVATING A COMMUNITY OF READERS
Nyseem Smith has been a member of the Tree House  community since he was 13 years old. He heard about Tree House  from friends and decided to visit to get help  with a homework assignment. When he arrived, he found more than just rows of books.
"When I walked in, the director was playing chess with one of the students," says Smith.  "I knew  then that  I liked Tree House and would be back often."
Now 20, Smith works as a part-time program manager at Tree House.
"I think of Tree House  as a womb," says Smith.  "You get nurtured, fed and carried along.  You get simple tools—reading, writing, building relationships—so that  you can go out into the world equipped with the basics that will help  you thrive." ■