There's No Place Like Home
Six friends. Eight businesses. One house.
Story by:
Christopher A. Vito, SMC '07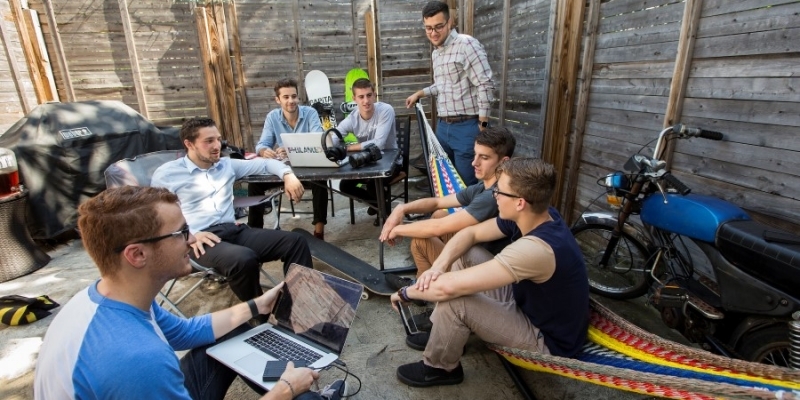 A pot of coffee is percolating on the stove as the housemates congregate in the living room. One resident is eating homemade parfait out of a Tupperware container, while another texts feverishly from the edge of the couch. Two more are gathered at the kitchen table discussing their company, through which their friendship and careers intersect.
In all, six 20-somethings from Temple University inhabit a house near Main Campus at 19th and Diamond streets in North Philadelphia. Five currently live there. The sixth, who used to call the two-story townhouse his home, reports there daily for work.
The housemates refer to the residence constantly by its street number. It's where eight businesses are operated by these six Owls—three with Temple degrees and three more  set to graduate within the next two years.
A number of those businesses are thriving and profitable. Others are either designated as not-for-profit or simply too new to turn a profit—for now.
"Money isn't the priority at the moment," says Jesse DiLaura, Class of 2016. "We've prioritized community, learning and supporting one another over solidified careers." 
DiLaura would know that better than his housemates. He's a senior who switched majors in the Fox School of Business, from risk management, which boasts a 100 percent jobplacement rate for its graduating students, to entrepreneurship. He did so as a mechanism for learning how to turn his hobby, cell phone repair, into a business. Along the way, he's learned the intricacies of launching a business, branding and much more.
"We are all radically different people, and we embrace that any comment or piece of feedback is coming from a place of positivity. That's why it's very easy to be inspired by one another."
-- Sean Hawkins, Class 2018
The Princeton Review and Entrepreneur magazine rank Temple's undergraduate- and graduate-level degree programs in entrepreneurship among the top 10 nationally. And though the number of students pursuing that degree has increased steadily since 2010, career paths for budding entrepreneurs aren't easily defined. That's why the housemates cull from their cumulative expertise to make their dreams a reality.
ON THE HOUSE
"If we need photography for a website, a social-media campaign or Kickstarter, we have somebody for that," says Justin Swallow, TFM '16. "If we need a videographer, a graphic designer, someone with experience writing business plans or working to secure seed funding, chances are someone in the house has done it already and can help you out."
DiLaura and Swallow are two of the original residents. They moved in more than two years ago with Beau Rosario, TFM '14, who, with the help of his brother, Clint, Swallow and others, operates a successful multimedia business out of the basement. Swallow helped bring in Brandon Study, Class of 2017, whom he knew from high school in Dilsburg, Pennsylvania. Tim Mounsey, FOX '16, who met Study through a mentorship program in Temple's Innovation and Entrepreneurship Institute, followed less than a year later. And Sean Hawkins, Class of 2018, the most recent addition, moved in when Rosario moved out after getting married.
Over the summer, Study and DiLaura attended a Philadelphia-based pitch competition, where DiLaura won $500 and received personal congratulations from FUBU clothingline founder Daymond John, one of the billionaire investors who appears on the ABC business-pitch reality series Shark Tank. At the event, John fielded Twitter questions, one of which came from Study. The latter tossed a shirt from his fledgling clothing line onto the stage, where John picked it up and gave his approval for the design and concept.
From time to time, a roommate will develop a business model, then formally gather the others to share his idea as if he's pitching to John and the rest of the Shark Tank panel. But more often than not, they discuss their ventures informally: over lunch, while squeezing in a video-game break to cut the tension from work, or on after-hours longboard rides through their neighborhood.
The group doesn't allow friendship to get in the way of candor.
"We are all radically different people and we embrace that any comment or piece of feedback is coming from a place of positivity," Hawkins says. "That's why it's very easy to be inspired by one another." Mounsey credits his housemates as the direct inspiration for his founding of Templewide innovation festival What IF, which held its inaugural events in April. He did so as a means of bringing together innovators, creators and entrepreneurs from all of Temple's schools and colleges.
"Every design, marketing flyer and video script was created in collaboration with at least two to three of the house's members," Mounsey says. "It was the perfect opportunity to combine our expertise."
LOVE AND MONEY
A stroll through the home offers a glimpse of the residents' closeness and creativity. The living-room walls are covered with photographs of friends, cropped to extreme closeups; poster boards of business-plan events they have either hatched, competed in or won; and discarded Philadelphia street signs rigged with lightbulbs and converted into impromptu light fixtures.
"It's safe to assume we talk a lot about our work, but we talk about our lives, too," Study adds. "It's not just about developing our businesses; mit's about developing our friendships."
Ideas can flourish when they are presented within an entrepreneurial collaborative space, says Ellen Weber, executive director of Temple's Innovation and Entrepreneurship Institute. "When entrepreneurs occupy collaborative, co-working spaces, they push one another, share ideas and make one another better," Weber says. "And for these specific students, they not only eat, sleep and breathe entrepreneurship; they're living it, too. It's 24/7 for them, and it's pretty remarkable."
DOUGHNUTS TO DOLLARS
Like the diversity of the majors pursued by the house's residents, the business ventures they have developed vary.
DiLaura, set to graduate in January, founded RepairU. The company offers iPhone and iPad repair services for college students, by college students, at discounted rates.
Film and media arts major Rosario got his start as a provider of wedding photography, videography and DJ services. He turned Beau Rosario Photography into Philamedia, a commercial media provider. His brother, Clint, who lived at the house during his breaks from Eastern University, is the company's sound engineer, while fellow film and media arts graduate Swallow serves as Philamedia's commercial videographer.
"We've grown from getting free furniture for doing a photoshoot at Kardon/Atlantic [Apartments at Temple] to generating ads for SEPTA Silverliner, the Mann Center, the Philly Pops and many others," Beau Rosario says.
Though Swallow is employed by Philamedia, he supports his housemates' ventures by providing graphic input and print and digital communication materials for "pretty much every business that's ever come through here," DiLaura says. In 2015, Study started the nonprofit Into The Nations, to help artisans in developing countries create sustainable business models. Last July, he launched a Kickstarter campaign for Understand Your Brand, an apparel company that utilizes all-natural dyes and an ethically responsible, no-waste factory in Cambodia that pays its employees more than the country's living wage.
"We were learning about the state of the apparel business in this class at Fox, and I wondered, 'Why is no one else panicking about this like me?'" Study says. "It started as a social-awareness campaign for the class, and it's become so much more than that."
By day, entrepreneurship alumnus Mounsey is a business development analyst with LLR Partners, a Philadelphia-based private equity firm. In 2015, Mounsey and Study developed Cycle Clothing Co., a zerowaste
lifestyle apparel company that became the foundation for Study's Understand Your Brand Kickstarter. Their venture placed third in the social-impact track of Temple's Be Your Own Boss Bowl, one of the nation's most
lucrative college business-plan competitions, according to Entrepreneur magazine.
Hawkins is pursuing a degree in communication studies from the School of Media and Communication. His branding company, Big Boi Studios, is presently in its pilot phase.
"If you would have asked me years ago about my college experience, I never would have envisioned it would look anything like this," Rosario says, "and I hope I'm still doing something like this, with these same guys, in 10 or 20 years." ■