Amy J. Goldberg named interim dean at Temple's Lewis Katz School of Medicine
The celebrated clinician scholar, gun violence prevention advocate and longtime faculty member brings her dedication and renown to the role.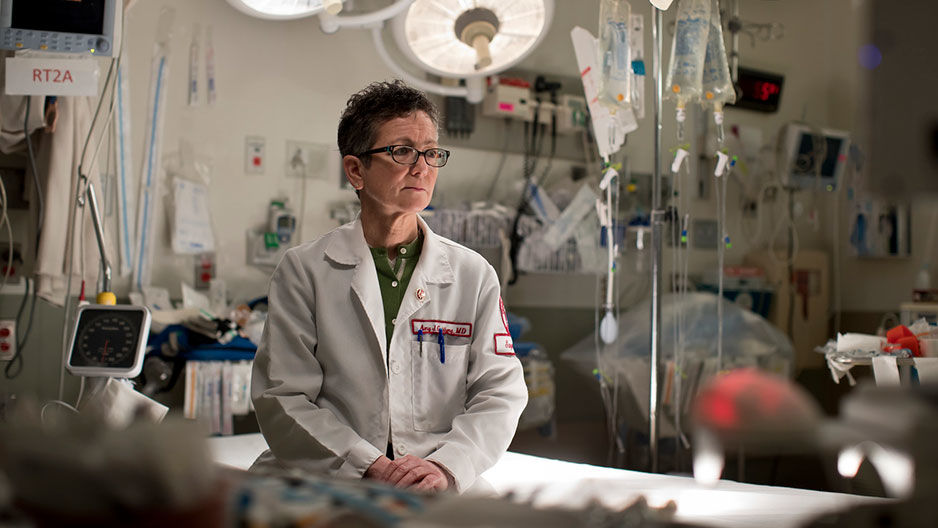 Renowned Temple trauma surgeon and gun violence prevention advocate Amy J. Goldberg has been named interim dean of the Lewis Katz School of Medicine by Temple President Richard M. Englert and Executive Vice President and Provost JoAnne Epps.
"For more than 30 years, Dr. Goldberg has dedicated her life to the victims of gun violence and the healthcare needs of the underserved. Her compassion and reputation for patient care will serve her well in this role," said President Englert.
Goldberg has been frequently honored for her work, most recently with the prized Philadelphia Award for 2019. She accepted it on behalf of "people who can't necessarily speak for themselves."
Goldberg, the George S. Peters, MD and Louise C. Peters Chair and professor of surgery at the School of Medicine and surgeon-in-chief of Temple University Health System, takes over from the late John M. Daly, who died suddenly in late March.
"Amy Goldberg is a natural leader and commands respect from all who have known and worked with her. Filling John's shoes will not be easy, but we have faith that Amy Goldberg can successfully lead the School of Medicine in its mission," said Provost Epps.
 
Goldberg joined the surgical faculty of Temple University in 1993 and served in earlier roles as chief of the Trauma/Surgical Critical Care Division and medical director of the Trauma Program as well as the director of the General Surgery Residency Program for over a decade. 
 
In addition to her work with gun violence, Goldberg's passion is surgical education. Her work as a superb educator has been recognized through several teaching awards including the Great Teacher Award in 2018—Temple University's highest teaching honor—as well as the Lindback Award and multiple Golden Apple Awards.
 
Her contributions to academic medicine have earned numerous accolades throughout her career—the Philadelphia Business Journal Humanitarian of the Year Award, the KYW News Radio Woman's Achievement Award, the Philadelphia Business Journal Woman of Distinction Award, and the College of Physicians of Philadelphia Exemplar of Humanism Award. In 2018 Temple University Hospital chose Goldberg as its Diamond Award recipient for her exceptional social responsibility in service to the Temple University Hospital and the North Philadelphia community.
After earning her undergraduate degree in psychology from the University of Pennsylvania, Goldberg earned her medical degree from the Mount Sinai School of Medicine. She completed her general surgery residency at Temple University Hospital in 1987.
"I am humbled and honored to be selected as the Lewis Katz School of Medicine interim dean.  Since arriving on North Broad Street over thirty years ago," said Goldberg. "I have been committed to our students, residents, fellows, faculty, LKSOM community and our North Philadelphia community. We can honor Dr. Daly by doing our very best to carry out the initiatives that meant so much to him."
She is a nationally celebrated clinician scholar with a robust portfolio of highly regarded publications and presentations and is the winner of multiple awards for her contributions to academic medicine and education. She is also a director of the American Board of Surgery.
Goldberg's specific insights and expertise on gun violence were highlighted in an article in the Huffington Post: What Bullets Do to Bodies. In that article the author wrote, "If you think of Broad as the city's spinal column, the hospital is about level with the heart". Goldberg said she will bring "her heart and her expertise" to the Lewis Katz School of Medicine as interim dean.