Temple Made for … her dream job
After starting out as a journalism major, Rachel Edwards, Class of 2022, found her fit in the Fox School of Business. Now she's headed to the big apple as a postgraduate intern at Ralph Lauren.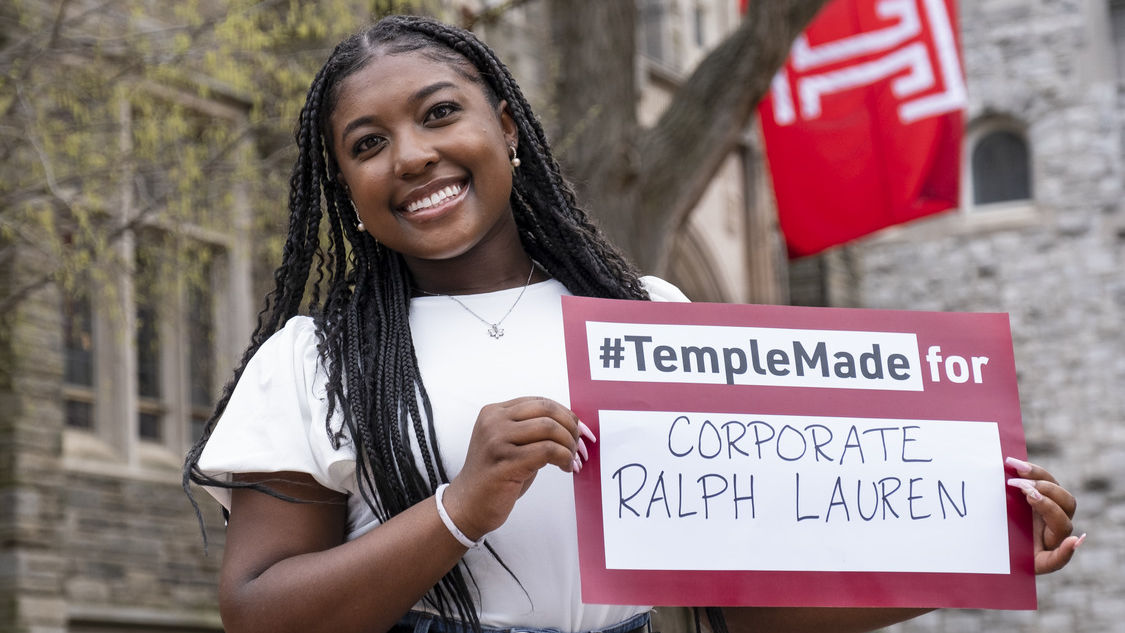 Name: Rachel Edwards
Hometown: Medford, New York
Major: Marketing 
Temple Made moment: "My Consumer & Buyer Behavior class with Professor Michele Salomon. It was an online class and we didn't meet very often, yet she took a lot of time for me. I went to her office hours a lot because she was always willing to listen when I struggled. She'd reassure me of my work and say that I have a bright future."

When Rachel Edwards, Class of 2022, first visited Temple as a prospective student, she thought the university's main draw for her would be its renowned journalism school. But, what really made her feel at home, she said, was the people she saw all around campus.
"I came here and saw people who looked like me," she remembered. "My hometown is not diverse in the way people look and think."
As a first-year student, Edwards loved living on campus and immersed herself in college life. She delved into her classes, became an Honors ambassador and got involved with Temple Diamond Dogs, volunteering at local animal shelters when she could. Also, after some consideration, Edwards decided she didn't actually want to major in journalism, and began to explore other options. 
"I'm creative and can't do anything with math, so I figured marketing was the best fit because it's a blend of business and creativity!" she said. 
She began taking classes at the Fox School of Business, and found that marketing spoke to her love of storytelling and her competitive spirit. At first, she focused on marketing research, then social media marketing, finally landing on public relations as her concentration. 
"I like someone saying, 'This is what we need,' and then I can come up with ideas to solve the problem. PR, event planning and marketing allows me to use what I know to do that." 
Edwards was able to put her creativity and skills to the test in the summer of 2021, when she was accepted to a prestigious internship program at iconic fashion designer Ralph Lauren's headquarters in New York City. She was placed in the brand's hospitality department.
"I didn't know if I'd want to do hospitality, but I was surprisingly really into it!" she said. "I was running around NYC putting events together, and it helped me narrow down what industry I want to be in."
Edwards' story is a bit unique in that she is graduating in three years. She came to Temple with a semester's worth of AP credits, and worked hard to take enough credits each semester to graduate early.
"I wanted to make sure that since my parents made a sacrifice to let me come here, that I'd do everything I can to ease the financial burden for them," she said. 
To help offset housing costs, Edwards has also been a resident assistant for the last two years, where she's also able to apply her creativity in the form of elaborate bulletin boards and glittery 3D paper owl door signs for her residents.
Although graduating in three years feels "a bit daunting," Edwards is all set to dive back into the public relations field in July, with a return to Ralph Lauren for the second part of her internship. She'll rotate through different departments of the company, and whichever she likes best is where she'll begin a full-time position.  
"I love that I won't be confined to an office building, and I'll get to go around meeting new people and traveling to different countries," she said. "Right now I'm on track to my dream job."
-Emily Kovach