Temple plans to repurpose former beloved campus bar into an upscale casual dining space
The new restaurant will serve the Temple community and its guests.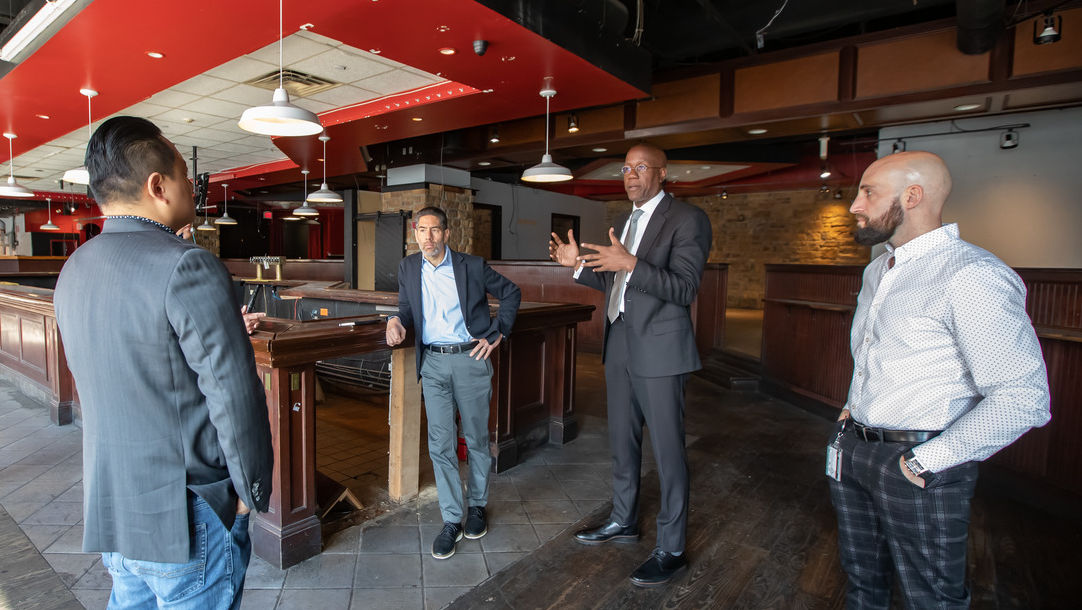 A former campus sports bar is being upgraded to enhance dining at Temple and further bolster the community.

The Draught Horse—which closed in 2021—will be repurposed into an upscale casual restaurant in a collaborative effort from both campus and external partners. Currently, designers and architects are working on the space, which aims to open late fall 2022.

As part of this initiative, the president's office has sought expertise and guidance from the School of Sport, Tourism and Hospitality Management and Glu Hospitality.

President Jason Wingard recently toured the space to learn more about Glu Hospitality's vision for the repurposing and share insights.
"This is a wonderful opportunity for us to gather and build relationships with our community and guests right here on Main Campus," said President Wingard.

This new space—which will be called the Peabody in an homage to the now-closed dormitory Peabody Hall—is meant to be a hub for Temple and the North Philadelphia community where guests can congregate for events and other occasions such as Commencement, Move-in Day, athletic games and concerts. It will offer both a great ambience and great food.

After researching the area, Glu Hospitality found several fast casual options like Wendy's, Chipotle and Honeygrow but realized that the neighborhood needed an upscale casual restaurant, which is what Temple intends to provide through the Peabody.

This upscale casual concept aims to attract a large clientele—including Temple students, faculty, staff, alumni and families as well as the community—by providing a large menu offering, with both more affordable items like salads and sandwiches and more expensive entrees. It will also fill a need on campus for more eateries that provide table service and allow for a sit-down meal as well as private dining.

Another goal of the repurposed facility is for it to eventually become an educational and career development tool for the School of Sport, Tourism and Hospitality Management so that students can learn through hands-on food and beverage courses and internships.

"We're excited about working closely with Temple's School of Sport, Tourism and Hospitality Management," said Derek Gibbons, managing partner and chief operating officer for Glu Hospitality. "We want to educate and employ these students and get them excited about working in the hospitality industry. Having a full-service restaurant on campus will be good for them to learn from and be part of."

Assistant Professor of Tourism Lu Lu, who is advising on the repurposing, is also enthusiastic about the partnership and potential of the Peabody.

"We can see the excitement from everyone involved," said Lu. "We want this to be a great place for all and hope that once the project is complete our community will come to support this new space. It's Temple Made."