Temple President Jason Wingard and Board Chair Mitchell Morgan gave football players a talk on winning strategies
 Temple's executives shared their keys to success in life and business.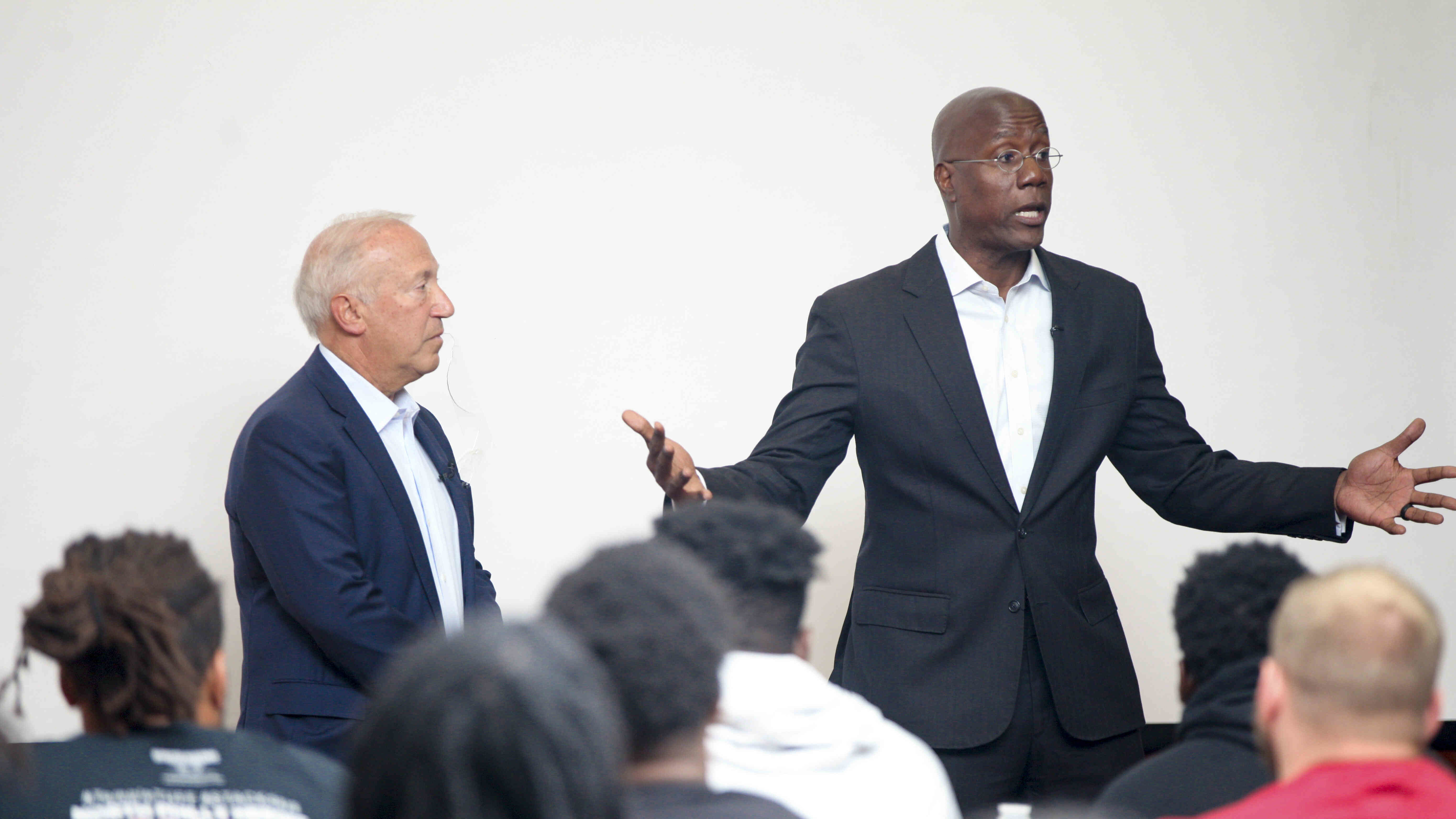 Temple University President Jason Wingard and Board of Trustees Chair Mitchell L. Morgan recently gave a pep talk to 90 football players and coaches, highlighting their personal paths to becoming successful businessmen. 

During their June 24 chat, Morgan recalled how he graduated from Temple with little money, but then worked tirelessly to build Morgan Properties into a national real estate investment and management company with properties in 15 states. 

"Education is the great equalizer," Morgan said. "In this country, you can be anything … I would never be where I am if it weren't for Temple University. If you walk away from the university with a college degree and education, you can do anything in life." 

President Wingard, a former football player at Stanford University, introduced the Owls to the board chair to offer the student-athletes ways to mentally prepare for the upcoming football season.

"Organization is the key to success, so structure your time accordingly. I want this football team to show effort and preparedness, to show that Temple University is committed to excellence," Wingard said.

Wingard described what Temple excellence means, and how the football team should strive to embody that value. "Excellence means you're preparing to succeed in the classroom, because academics come first. It means you are getting good careers, and leveraging the Temple network to your advantage," Wingard said.

Morgan and Wingard want the players to win off the field, more than they do on it. "As football players, you are ambassadors for Temple University. This means your character matters, and you're expected to strive for excellence," Wingard said.
While speaking to the team, Wingard stressed the importance of each player making an effort to align their mind, body and spirit. One player asked Wingard about his own daily routines to prepare himself for excellence.

"I follow a routine. Every day I pray, meditate, exercise and eat something healthy. I spend time organizing and planning how I will go about my day. Lastly, I spend time with my family and prepare for the next day," Wingard said.
President Wingard also left the players with some advice for the real world. "When you meet people, stand with confidence, introduce yourself and speak clearly. These habits will allow you to be excellent not just on the field, but in the workforce as well."
Morgan described humble beginnings working as a shoe salesman for his father. The chair described how he learned from his dad's mistakes as a business owner, spurring him to learn more about financial management. "My father went bankrupt twice. He'd often make budgeting mistakes and order too many shoes, which ultimately cost him," Morgan said.
Watching this real-life lesson inspired Morgan to study accounting at Temple's Fox School of Business from 1972 to 1976. He also worked as an accountant for local firms until he received his law degree from Temple in 1980. "Temple accounting taught me the numbers, and law school taught me how to think," Morgan said.
The president noted how valuable the Temple network can be in assisting the careers of graduates.

"How many billionaires can you name? Most people would mention Oprah, Jeff Bezos or Bill Gates," Wingard said. "I wanted you to meet a billionaire, and more importantly a billionaire with Temple roots. Mitch is a real person, ask him questions. I want you to believe that excellence can lead to the type of success Mitch has had, but only if you're prepared and network," Wingard said.

Morgan told the team that, in 1985, he learned how to finance apartments on a tax-exempt basis. Today, Morgan Properties is the third-largest owner of apartments in the country.

Players who listened to the chat described the pillars of their team's philosophy and principles for winning. "We're based on four pillars: trust, unselfishness, family and finishing," said Xach Gill, a junior defensive lineman.
Morgan advised the students to reach out to business leaders as they navigated their future employment and to get feedback on their goals.

"People really want to talk to students. They want to help students that are curious to learn how they became successful. Oftentimes, it's just a matter of picking up the phone and showing initiative. People want to help," Morgan said. 
 
The chair has a diverse background in accounting, law and real estate, but credits his experience at Temple for his success. "You need to have an education to navigate through the rest of your life. Getting a degree from Temple University literally changed my life," said Morgan. 
 
The president and chair, who also answered questions from the players, said student-athletes should pursue opportunities to connect with business leaders and to leverage their network. There are currently 17 Temple students employed by Morgan Properties.
 
"For students who want to get into the real estate business, I'll often take their call and meet with them. People really are more approachable than you think they are," said Morgan. 
 
Wingard emphasized the importance of winning both on and off the field. "I'm asking you to prepare and leave it all out on the field, but your first priority is succeeding in the classroom," Wingard said.
- Jordan Greene