Temple excels in diverse leadership of collegiate athletics
Temple is the only Football Bowl Subdivision school to have a Black president, a Black athletic director, and Black head coaches in the sports of football and men's and women's basketball.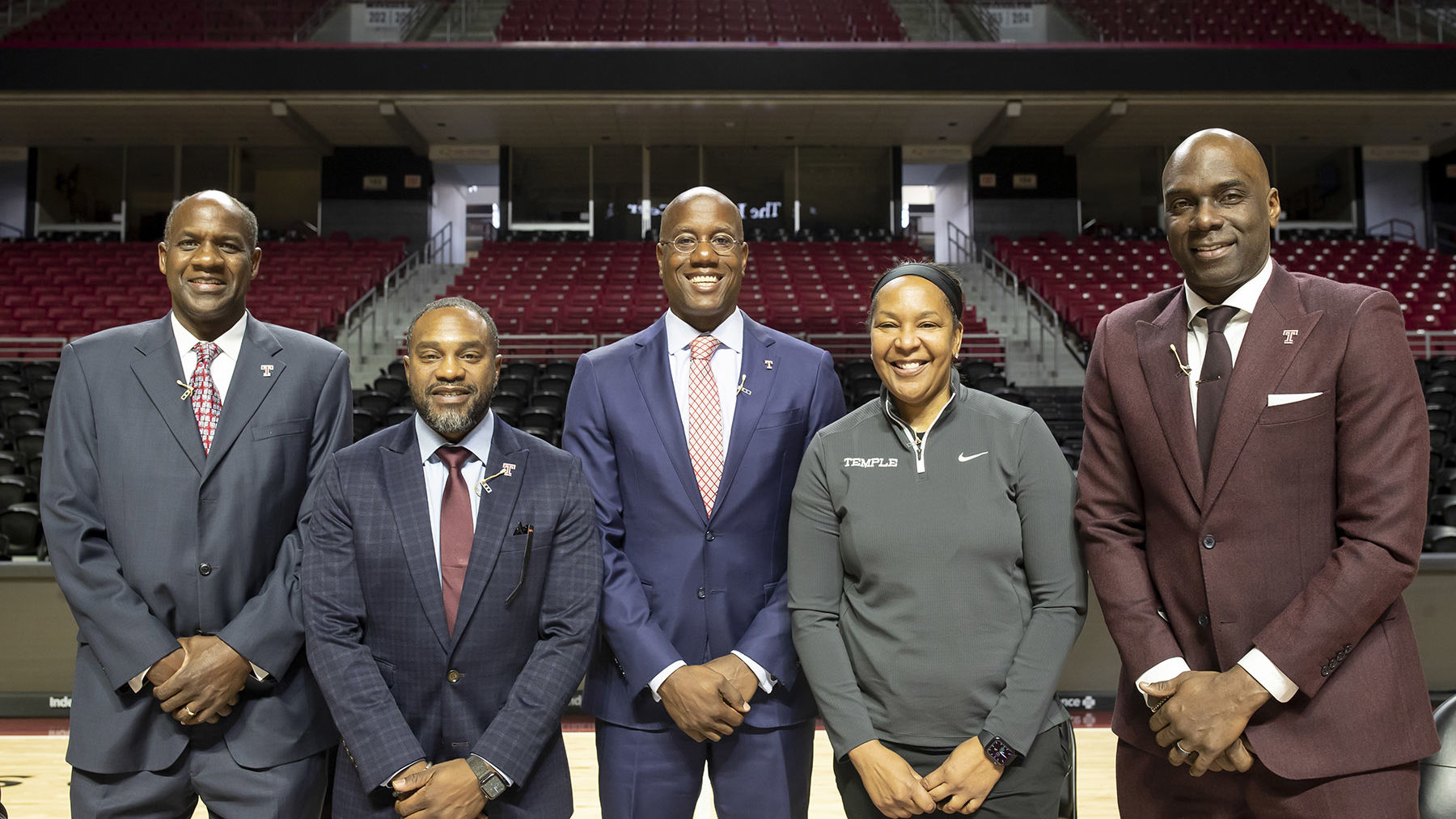 Temple University's athletics teams are offering an excellent model for diversity in coaching. In the fall, Temple University President Dr. Jason Wingard appointed Arthur Johnson as the university's vice president and director of athletics. Then, two months later, Wingard played a key role in the hiring of Stan Drayton as Temple's new head football coach.
While there is always reason to celebrate the appointments of a new athletic director and football coach, the hirings of Johnson and Drayton were especially significant. Together, they cemented Temple's distinction as the only Football Bowl Subdivision (FBS) school to have a Black president, a Black athletic director, and Black head coaches in the sports of football and men's (Aaron McKie) and women's basketball (Tonya Cardoza).
"Throughout my career, I have remained steadfast in championing diversity, equity and inclusion as a fundamental organizational imperative, and it is one of the key pillars of my vision for Temple University," Wingard said. "Diversity is a critical driver for value and competitive advantage, and success emanates from sponsorship and intentional action. When you model it, it happens. We're immensely proud to be the only NCAA FBS school in the nation to have Black leaders in these key positions, but it is my hope and expectation that our modeling influences broader representation amongst our peers in the years to come."
Wingard recently discussed how diverse representation in coaching requires diverse representation in leadership in the op-ed, "Want Black coaches? Get more Black managers," which was published in the New York Daily News on Feb. 15.
Together with the city of Philadelphia, Temple University also recently hosted a Black Excellence in Leadership panel discussion, which was led by David W. Brown, diversity advisor to the Office of the Dean at Klein College of Media and Communication. During the event, Wingard, Johnson, Drayton, McKie, Cardoza, Philadelphia Mayor Jim Kenney and the city's Chief Diversity, Equity and Inclusion Officer Nefertiri Sickout discussed Temple's commitment to the North Philadelphia community. 
According to Wingard, for Temple to truly be committed to North Philadelphia, which is predominantly comprised of Black and brown people, Temple's leadership must reflect that community.
"Temple's mission is rooted in access. We have a responsibility, to our broader educational community, to ensure that a best-in-class learning experience is supported by a foundation of diverse students, faculty, staff and partners," said Wingard. "We need to be a resource for whoever wants to learn, provide excellence in the delivery of relevant pedagogy, and then propel those who attend this school to be prepared to meet the needs of the workforce. It's just important that we demonstrate, here in the city of Philadelphia, and at Temple University, that diversity in higher education matters."
In addition to diverse university leadership, the university welcomed its most diverse class in 25 years this fall. Nearly 45% of Temple's Class of 2025 are students of color. Temple also experienced a 23% increase over last year in first-year Black students, with 831 enrolling, and a 4% increase in Hispanic/Latinx/Latine students, with 458 enrolling. Both increases mark the largest Black and Hispanic/Latinx/Latine first-year student communities that Temple has welcomed in at least two and a half decades.
With Temple's commitment to diversity, the university's diverse coaches are having plenty of success in their respective sports.
Stan Drayton, for instance, has already secured a highly touted recruiting class, headlined by Elijah Warner, son of NFL Hall of Fame quarterback Kurt Warner. Aaron McKie and the men's basketball team (15-9 overall record and 8-5 conference record mark) are currently in the thick of the American Athletic Conference title race while Cardoza is the winningest coach in Temple women's basketball history.
"Can diversity, as a strategic priority, enhance excellence? My answer is yes," Wingard said during the panel. "I believe that I am excellent. I believe that our athletic director, and our coaches, are excellent. Yes, we happen to be African-American and yes, we have colleagues who are white, who are Indian, who are Latino, who come from every race, culture, ethnicity, religion that you can speak of, and we are all excellent together. It's important for us to remember that you do not have to sacrifice excellence in order to be diverse and satisfy your strategic priorities."