Arthur Johnson named vice president and director of athletics at Temple University
Former University of Texas senior administrator to lead Owls' athletic program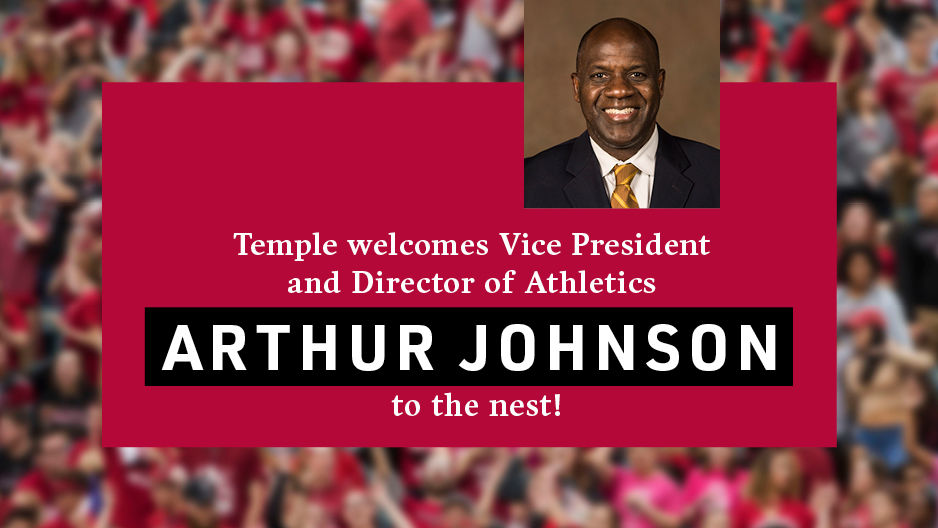 Arthur Johnson, a veteran administrator who has served the last seven years on the athletics senior leadership team at the University of Texas, has been named the vice president and director of Athletics at Temple University, announced President Jason Wingard.
Johnson's hiring is the next step in filling out the senior team that will enable Temple to become even stronger and a true leader in higher education, the community and the nation. "I am proud that each of my current cabinet member appointees have served in leadership roles at Temple for many years—demonstrating consistency of institutional knowledge and experience," Wingard said. 
"Arthur Johnson exemplifies a transformative addition to the leadership team that optimizes our core capacity to implement an aggressive, new vision. During a remarkable 25-year career, he's been instrumental in raising the competitive profiles of three storied athletic programs—the University of Texas, the University of Georgia and Arizona State University—and he's uniquely prepared to lead and elevate Temple to a similar championship status," added Wingard. "After an extensive search that yielded intense interest from industry-leading candidates across the nation, Arthur emerged as best exemplifying the proud tradition, and expected future, of excellence in academics and athletics that Temple represents."  
Johnson, in his role of senior associate athletics director for administration and operations at Texas since 2014, has been responsible for the internal management of the Longhorns athletics department. He played a major role on the senior leadership team that helped Texas capture its first-ever IMG Learfield Division I College Director's Cup in 2020-21, snapping a string of 25 straight first-place finishes by Stanford.   
"My family and I are excited to join President Wingard's leadership team to serve Temple University and to make a difference in the lives of the student-athletes and the Philadelphia community," Johnson said. "What makes athletics so special is that it has the ability to bring everyone together, and that's exactly what we hope to accomplish here at Temple. Trust me when I say that students, faculty, staff, alumni and the entire North Philadelphia community will be proud to cheer on our Owls." 
"With its Philadelphia location, top-tier academic programs and its commitment to diversity, equity, inclusion and access, all of the necessary ingredients are in place for Temple to be a force in Division I Athletics while developing great citizens who will make a positive impact on the world," Johnson added. "I believe the best is yet to come and I cannot wait to get started."
At Texas, Johnson had direct oversight of a $35 million administration and operations budget while also serving as the varsity sport administrator for baseball, men's basketball, men's and women's golf, men's and women's tennis and men's swimming and diving with the programs combining to win six NCAA Championships during his tenure.
Johnson was also charged with implementing the university's first comprehensive athletics facilities plan, which encompassed capital projects valued at over $750 million. These projects included the new $400 million Moody Center, scheduled to open in 2022, with the arena not only hosting Longhorn athletics teams but also benefiting the Austin community. He also directed the $175 million renovation to modernize the Texas football complex as well as the $10 million construction of the Dan Brown Baseball Development area.
Externally, Johnson was involved in the negotiations that led to the 2015 record-breaking apparel deal with Nike, a $250 million, 15-year agreement that was the biggest in the history of collegiate sports at the time.
A true believer in putting the student-athletes first, Johnson helped in the development of the 4Ever Texas program, designed to educate, equip and prepare Longhorn student-athletes for lifelong success.  The program's prongs include Texas Tailored (Career and Professional Development), UTransform (Character and Personal Development) and Agents of Change (Community Service & Civic Engagement). The key program components center on name, image and likeness (NIL), to equip student-athletes with the knowledge and tools necessary to maximize their brand and platform.
Johnson was also part of the Texas athletics leadership team that worked hard to ensure the Longhorns student-athletes' success in the classroom. This is evidenced by the 2019-20 academic year where over 750 Texas student-athletes earned spots on the Big 12 Commissioner's Honor Roll (3.0 GPA) and a conference-leading 217 earned Academic All-Big 12 honors with 157 named to the first team.
Prior to his current position at Texas, Johnson served as the school's senior associate athletics director for football operations for three years (2011-14).  In this role, he oversaw the non-coaching operational and administrative leadership for the program. It was his second stint at the university as he had served in a similar capacity from 1999 through 2005 as the assistant athletics director for football operations/special assistant to the head football coach.
In between his time at Texas, Johnson served six years (2005-11) on the athletics staff of his alma mater, the University of Georgia, as the Bulldogs associate athletics director for Internal Operations. At Georgia he served as the sport administrator for men's basketball while also providing strategic leadership on facility and capital planning with construction budgets exceeding $100 million.
 A two-time Georgia graduate, earning his bachelor's degree in 1992 and master's degree in 1994, Johnson also had served as the administrative assistant for football operations at the University of North Carolina (1999) and the manager of football operations at Arizona State University (1996-99).
A native of Thomasville, Georgia, Johnson and his wife T'Leatha have a nine-year-old son, Aaron.