President Jason Wingard meets with the media
Temple's president chats with 6ABC, the Philadelphia Tribune and WURD during one-week, mini media tour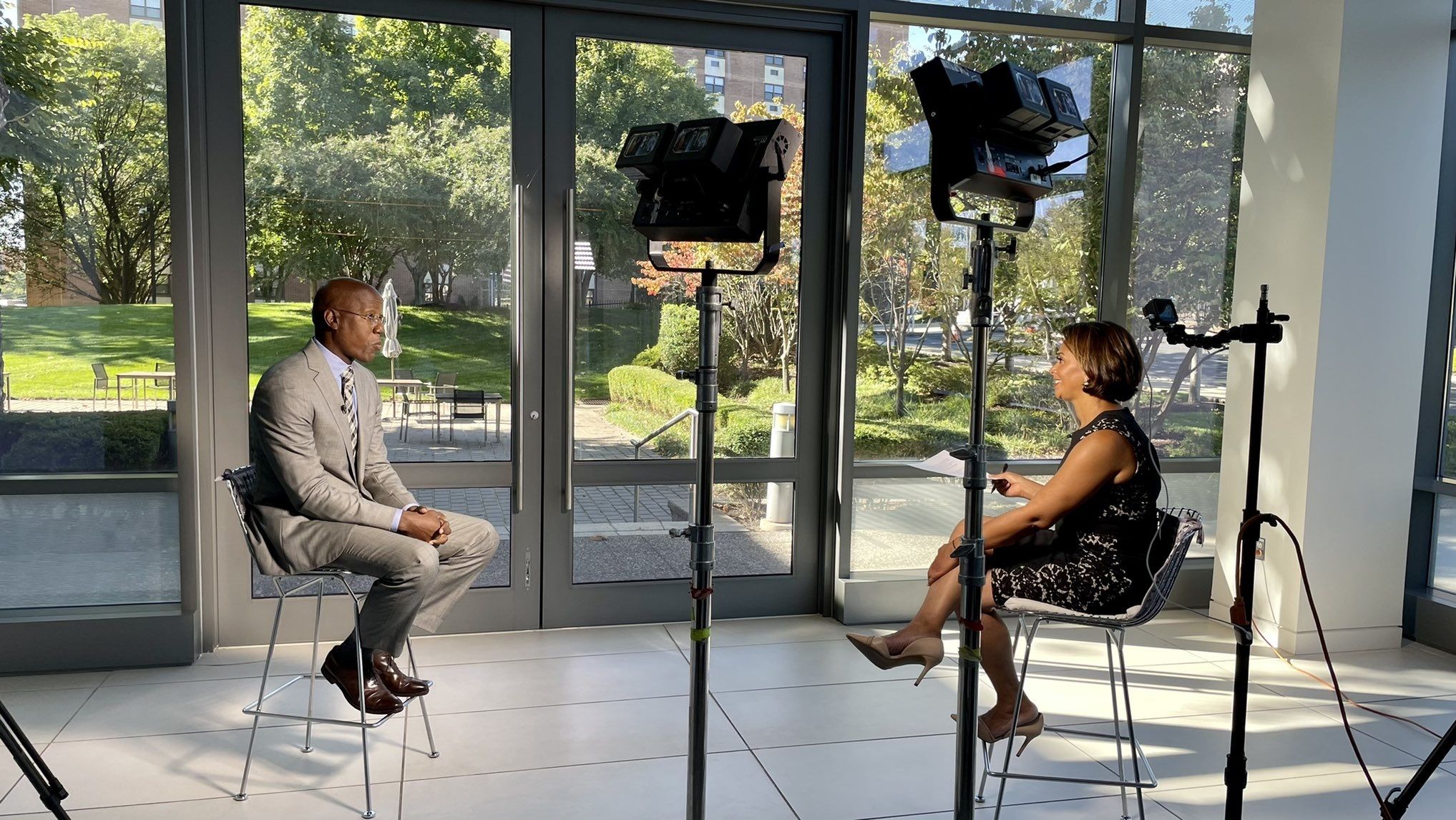 This past summer, Jason Wingard made history when he was announced as Temple University's 12th president and the first Black president in the university's 137-year history.
Since then, Wingard has begun to outline his vision for how Temple can become even stronger and a true leader in higher education, the community and the nation. That new vision has now begun to catch the attention of media outlets as well.
Last week, Wingard took part in several interviews with various outlets as part of a mini media tour. He discussed a number of topics, including the future of higher education and the responsibility that comes with being Temple's first Black president.
Here's a recap of some of those conversations.
President Wingard joins Solomon Jones on WURD
President Wingard's first stop was an appearance on WURD's morning show Wake Up With WURD, a news and entertainment talk show hosted by Solomon Jones, KLN '98. During the interview, which was held on Thursday, Sept. 30, Wingard touched on how his first three months serving as Temple's president have gone and also discussed his vision for the future. Listen here.
A meeting with the Philadelphia Tribune's editorial board
Later that same day, President Wingard headed to the offices of the Philadelphia Tribune where he met with members of the publication's editorial board. During the meeting, he discussed at length the role that Temple plays in the Philadelphia community, especially North Philadelphia. He detailed how under his presidency, Temple will work to further its community engagement efforts and hopes to rebuild trust with the university's neighbors through these efforts. He also outlined how important it is to ensure that the pipeline from the School District of Philadelphia to Temple continues to grow. Read highlights from the conversation here.
A one-on-one conversation with an old friend from Stanford
The week's media tour was rounded out with a one-on-one discussion with Tamala Edwards, host of 6ABC's Inside Story. Wingard and Edwards were actually classmates at Stanford University. During their talk, Temple's president discussed the future of work and how it relates to higher education, which is one of his research specialties. He also outlined how Temple is doing its part to ensure that students are well equipped to thrive in this ever-changing workplace. Watch the interview here.