Want Black coaches? Get more Black managers
President Wingard believes that diverse representation in coaching requires diverse representation in leadership in order to establish and advance a culture of inclusion.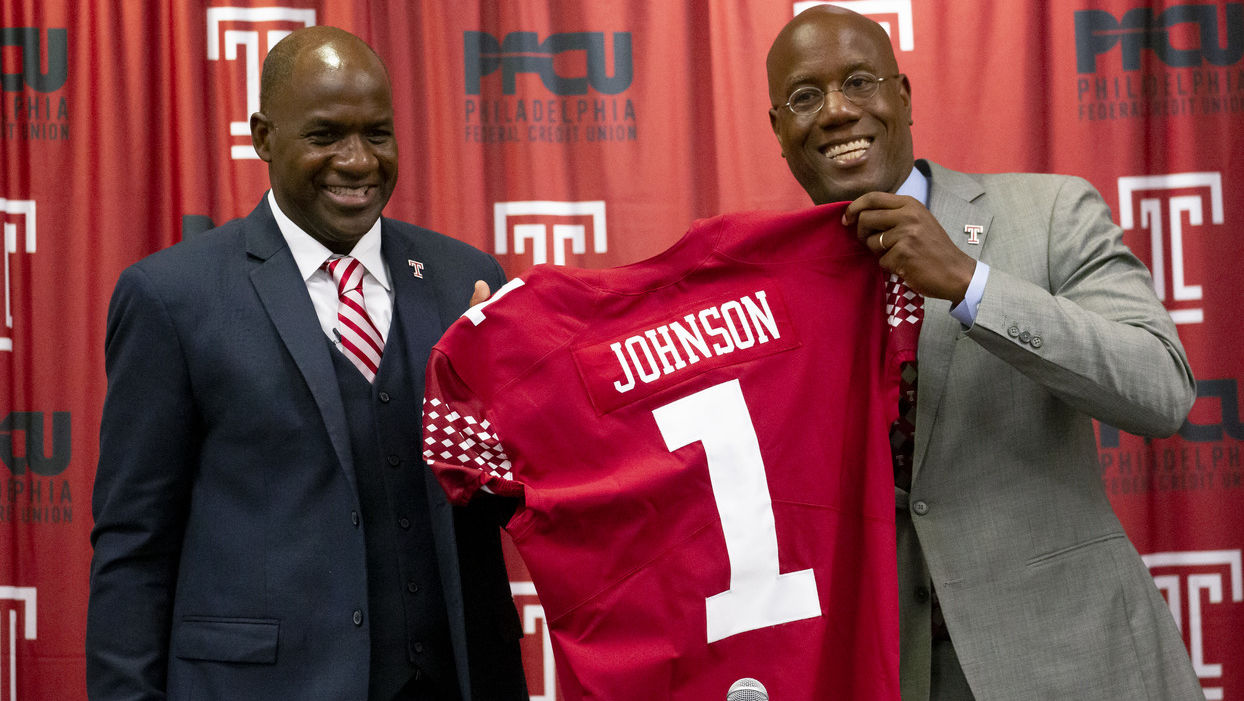 Originally published in the New York Daily News on Feb. 15, 2022.
Black History Month began with explosive allegations about racism and egregiously discriminatory hiring practices at the top coaching level of the National Football League. Recently fired Miami Dolphins head coach, Brian Flores, filed a lawsuit that recounted an abysmal track record of the NFL's efforts to hire and to retain Black coaches, even when they achieved winning records.
The coaching carousel that excludes and eliminates Black leaders from a league in which 71% of players are persons of color can be fixed. But, change must be initiated at the top—first from Commissioner Roger Goodell, and then across team owners—before it can cascade through revitalized hiring practices at the 32 clubs.
Diversity in coaching leadership was recently demonstrated here at Temple University, where we represent the only Football Bowl Subdivision school in the country to have a Black president, a Black athletic director, and Black head coaches in the sports of football and men's and women's basketball. We're not perfect at Temple, and we still have work to do. But as a Black man and as a Black leader, I recognize the role of inclusion as an organizational imperative.
The NFL's challenge is this: Diverse representation in coaching requires diverse representation in leadership in order to establish and advance a culture of inclusion. Unfortunately, the numbers speak for themselves:
Thirty-two owners. Zero Black owners. Thirty-two team presidents. One Black team president.
This contemptible record leads to expected results. For instance, following the recent hiring of Lovie Smith as coach of the Houston Texans, the NFL can now count two Black men (including Mike Tomlin in Pittsburgh) as the lone representatives among its cohort of 32 head coaches. In other words, one hire increased the league's percentage of Black coaches by 100%.
The NFL's response to the Flores lawsuit has been predictable.
First, there was the obligatory diversity, equity and inclusion statement: "The NFL and our clubs are deeply committed to ensuring equitable employment practices and continue to make progress in providing equitable opportunities throughout our organizations. Diversity is core to everything we do, and there are few issues on which our clubs and our internal leadership team spend more time."
Then, they decided to actually read the room, and Goodell sent a memo to all 32 teams calling the league's lack of diversity among its coaches "unacceptable" and noting that the league would "reevaluate" its current DEI policies. The commissioner has also already met with some civil rights leaders to discuss the Rooney Rule, which requires teams to interview candidates of color for head coaching and senior football operation positions.
Despite the lack of representation among its coaches and some blunders here and there, it is hard to argue with the exceptional business growth being shepherded by Goodell. The league made nearly $10 billion last year in national revenue, with 32 teams receiving a record $309 million each, and its television ratings seem to be immune to the rise of streaming. The NFL and Goodell are good at business.
But do you know what also is good for business? Diversity. And do you know what's not good for business? Lawsuits from aggrieved coaches due to a fundamental failure to commit to DEI.
While the NFL and Goodell may be excellent when it comes to lining owners' pockets, remember that this is the same man who chose to ignore Colin Kaepernick and player protests for several years until the issue reached a boiling point in the wake of the tragic murder of George Floyd. Only then did Goodell backtrack and admit that he should have listened to Kaepernick and players' reasoning for kneeling earlier.
The water might not yet be boiling again, but it's close. It's not likely to cool down soon, either.
Increasing diversity is not easy, but it does not have to be so hard. As I wrote last year, if a company truly wants to make an impact on the lives of Black America, you need to turn the lens on yourself: How many Black employees, executives and board members do you have? We already went over those numbers for the NFL.
Since becoming Temple's president last year, I helped lead the search for Director of Athletics Arthur Johnson and Head Football Coach Stan Drayton. These are two Black men who had never before held such prominent positions, and I can promise you that it was not for their lack of qualifications or experience.
The NFL may have the very best of intentions. Goodell could even be truly earnest when he writes that "real and tangible results will be achieved."
At the end of the day, however, Goodell is just one man. He's one white man surrounded by another 30 white men and women. Until that changes, it is hard to envision this coaching carousel changing either.
—President Jason Wingard