President Wingard discusses his top priorities for Temple
President Wingard joined the School of Theater, Film and Media Arts' Kimmika Williams-Witherspoon for a discussion of his plans for advancing Temple forward. Williams-Witherspoon was also joined by Molefi Kete Asante, chair of the Department of Africology and African American Studies, and Timothy Welbeck, director of Temple's new Center for Anti-racism Research.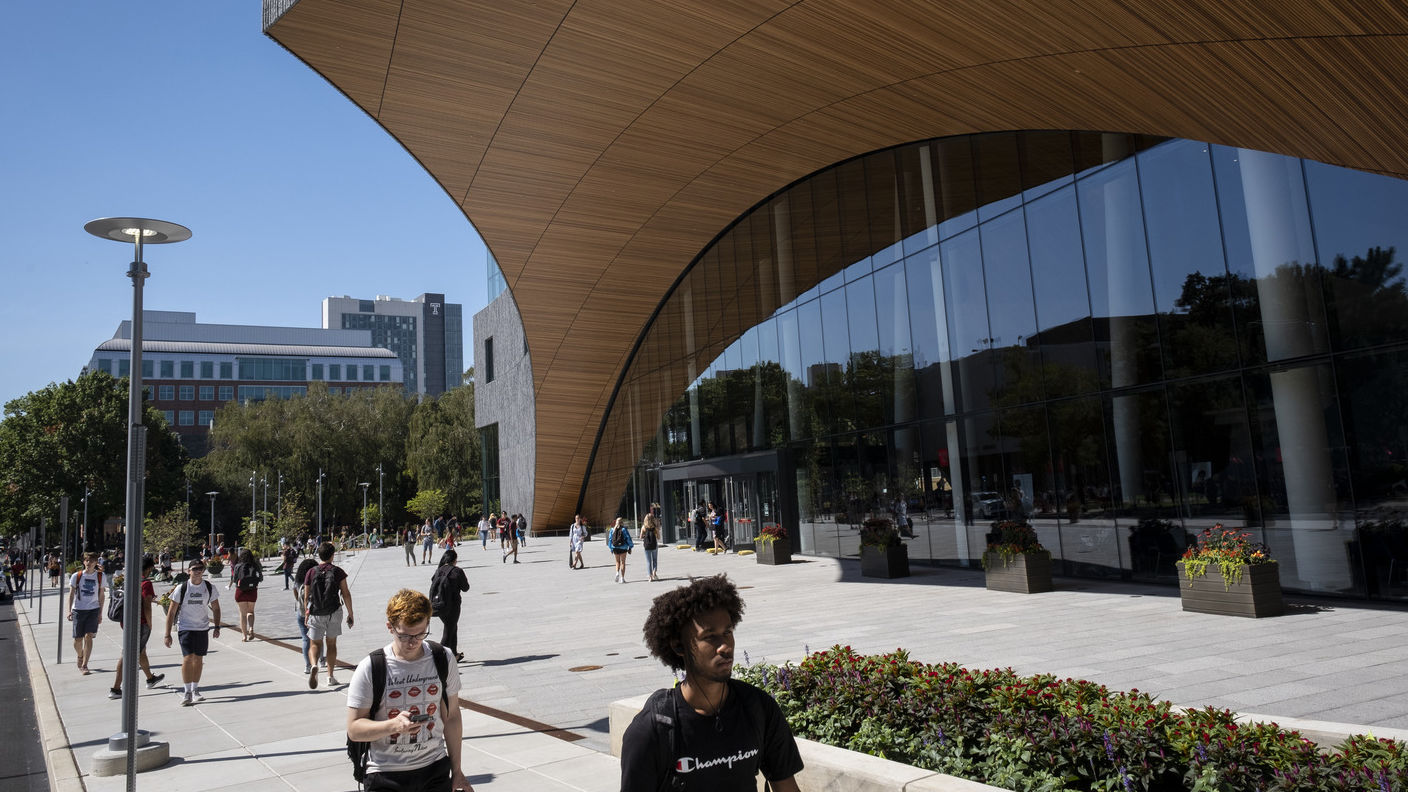 President Jason Wingard headlined a recent installment of Temple University Libraries' long-running Chat in the Stacks discussion series. Also participating in the conversation was Molefi Kete Asante, chair of the Department of Africology and African American Studies, and Timothy Welbeck, director of Temple's new Center for Anti-racism Research. 
For 14 years and counting, the series—sponsored by the Faculty Senate Committee on the Status of Faculty of Color—has explored contemporary topics in politics and education, with a particular focus on key issues that impact communities of color.
The Nov. 4 event was moderated by longtime Chat in the Stacks collaborator Kimmika Williams-Witherspoon, associate professor of theater studies and playwriting in the School of Theater, Film and Media Arts.
Williams-Witherspoon kicked off the afternoon's discussion by asking President Wingard—who hails from West Chester, Pennsylvania, and spent time on Temple's Main Campus as a youth when his father attended graduate school here—to share what stands out most in his childhood memories of Temple.
"I was impressionable then as a young person and what still makes an impression on me today, now, even as president, is that Temple University is a tight-knit community: We love each other, we work hard, we have grit, we have substance," said Wingard. "But we're also integrated with the community and all those same attributes are found in the surrounding community as well—hardworking, engaged, authentic, wanting to lift each other up in spirit and in action to be the best of who we are.
"We are not Temple without our North Philadelphia residential neighbors, and in turn North Philadelphia benefits from Temple University, and that symbiotic relationship is really special to me," he added.
Williams-Witherspoon asked Wingard if he would call keeping that relationship with the community one of his major areas of focus as we move forward. 
Wingard responded, "Absolutely," stating that it is one of his top three priorities. 
The first, explained Wingard, is making sure our students are prepared for the future of work.  
"That's a phrase that has been tossed around and what it means is that technology is advancing, globalization is actually happening, the business cycles are evolving in complex ways, and so, how does our curriculum across all of our schools and all of our disciplines actually make it valuable enough to come to Temple," said Wingard.
"If you spend the time here and earn your degree from Temple, you'll be able to get a job and be able to keep that job and move up the ranks throughout your career. That's our value proposition."
Of his second priority, engaging with the community, Wingard said, "We cannot be Temple, we cannot advance the way we need to as a university, as a healthcare system, without the community that supports us, engages with us, works with us and attends school with us.
"We already have a strong connection with the community that is providing substantive impact but there's more we can do," he added.
His third priority brings one and two together to move the university forward. "I'm committed to enhancing the reputation and brand of our great institution," he said. 
"We need to do a better job of talking about all of our great successes: who are our faculty who are world class; where do our students come from and why are they so special; what are all the programs and treatments carried out by the health system; what are the key success factors of our athletics program," he said. "We need to talk about these things more because there is pride there, and I want everyone to have the swagger about Temple that I have."
Next, Williams-Witherspoon turned to Asante, referring to him as a mentor and underscoring his significant reputation as one of the most influential scholars of Africology and African American studies in the world. 
At Temple, Asante created the first PhD program in African American studies in the nation in 1988, and he has directed more than 140 PhD dissertations, making him the top producer of doctorates among African Americans scholars. As well, Asante is the originator of the theory of Afrocentricity.
As Temple celebrates 35 years of doctoral studies in African American studies, Asante looked back at the formative moments in his department's history. 
The first, said Asante, was his interview with former Temple President Peter Liacouras, who recruited him to Temple. "He [Liacouras] said two things to me: No. 1—'there is no reason why Temple University in the middle of an African American community should not have the best department of Africology and African American studies in the nation,'" recalled Asante. "And then he [Liacouras] said, 'If Temple had more African American students, then we should not assume that, by having more African American students, that the quality of the university will go down; why shouldn't it go up?'"
The second formative moment Asante described was writing to former President Englert in 2020, asking that the university respond to the killing of George Floyd. "And he [Englert] recognized the importance of the moment and the need for university leadership at that time and he stepped up, and it was a very positive, dynamic move, not just for us here at Temple, but nationally for Africology and African American studies," Asante explained.
"And, so now we have the same commitment from Dr. Jason Wingard, recognizing our national influence as a center of excellence, and I'm so happy that he is here at Temple—someone who,  coincidentally, is influenced by two of our PhD graduates: Ibram Kendi, CLA '07, author of the New York Times best seller How to be an Anti-Racist and winner of a 2021 MacArthur Genius Award, and Val Harrison, CLA '07, vice president for public affairs at Temple.
Asante's referencing of the influence of Africology and African American studies served as a perfect segue to a conversation with Timothy Welbeck, professor of instruction in the department and a civil rights attorney by training, who described his vision as director for Temple's new Center for Anti-Racism Research.
"I'm excited about the launch of our physical space in the spring and to see our work going forward in a couple of phases," said Welbeck. "The initial phase will be traditional scholarship to help shape the direction of discourse in the field and help define what we're talking about when we're talking about anti-racism research."
"From there, the second phase, we want to do concentrated work to ensure that the public understands precisely what it is that we're talking about," Welbeck continued. "There's a temptation at times in academia, to speak about things in abstract, theoretical terms, and we want to ensure our work is digestible."
Finally, the third phase for Welbeck directly relates to what President Wingard spoke about earlier in this discussion: "We want to connect with the people of North Philadelphia, and to meet their tangible needs."