New Cecil B. Moore Scholars Program to cultivate leaders from North Philadelphia, provide support and scholarships
Part of Temple's anti-racism initiative, the program will create an academic pipeline for students in the Philadelphia School District who live in Temple's neighboring North Philadelphia ZIP codes.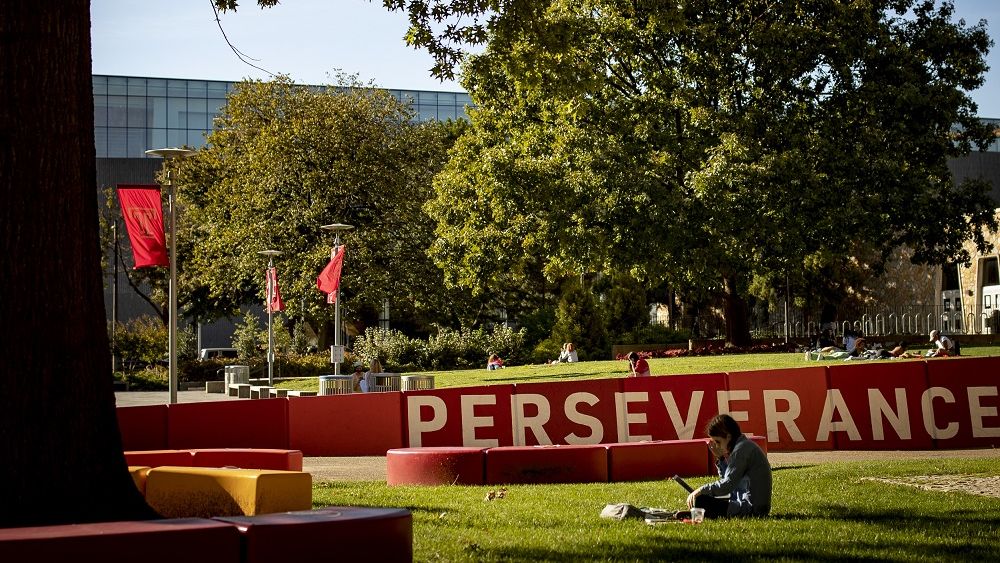 "We have been vocal about systemic racism that has led to educational disparities and inferior educational opportunities for Black children," said Valerie Harrison. 
She's the senior advisor to President Richard M. Englert for Equity, Diversity and Inclusion. Harrison is leading the charge for the universitywide effort, announced in September, to commit more than $1 million to combat racism not only at Temple, but also in Philadelphia and beyond. 
The efforts include reinvesting in anti-racism education by expanding the full-time faculty in the Africology and American Studies department, creating a Center for Anti-Racism Research, building upon the existing assets and programs, such as the Charles L. Blockson Afro-American Collection and the Lenfest North Philadelphia Workforce Initiative, and more. 
Another critical part of the new anti-racism initiatives Harrison is working on includes the Cecil B. Moore Scholars Program, a bridge program for North Philadelphia youth that will create an academic pathway for students in the Philadelphia School District who live in Temple's neighboring North Philadelphia ZIP codes—19121, 19122, 19123, 19125, 19130, 19132, 19133 and 19140. 

"For decades, Temple has been standing in the gap for children who attend under-resourced public schools," said Harrison. "This initiative includes a new academic enrichment program, pipeline to college and access to scholarships for students in North Philadelphia." 
The Cecil B. Moore Scholars program, named after the Temple alumnus and renowned civil rights activist, will identify and cultivate transformative leaders from North Philadelphia. It will be the pillar of Temple's commitment to increase the number of North Philadelphians enrolled at the university; develop focused partnerships with K-8 and secondary schools in North Philadelphia; and create success-based advising and enrichment initiatives to support low-income and BIPOC (Black, Indigenous and people of color) student retention and academic achievement on campus. 
Students selected for the program will have pre-college support, such as tutoring and career exploration, offered by Temple and Steppingstone Scholars, an educational nonprofit that has more than twenty years experience working with low-income students in Philadelphia to create pathways to college and the workforce. The university will offer a dual enrollment course, which is a free Temple class that students will take during their senior year of high school. 

"A long-standing obstacle for underserved and underrepresented students is that college courses are rarely introduced to them while still in high school," said President of Steppingstone Scholars Sean Vereen. "We believe dual enrollment is key in improving academic readiness and reducing the costs of completing a college degree for students across the city.  We are pleased to partner with Temple in creating this critical new pathway for students in North Philadelphia."
The Cecil B. Moore scholars will be selected from the students enrolled in the free course at Temple, which means they will receive targeted scholarships covering at least base tuition for their entire four years of undergraduate coursework. 
To cover the base tuition rate, the program will pull from a combination of scholarships and grants that Temple offers, such as the Broad Street Finish Line Scholarship, the Fly in 4 need-based grants and more. 
"Temple's schools and colleges have offered academic enrichment programs for students in the neighboring community for many, many years," said Harrison. "We're building on that strength." 
Harrison explained that Temple students and alumni have asked for a summer bridge program, something that Temple previously offered years ago. Now, each Cecil B. Moore cohort will participate in a summer bridge program that involves University Studies seminars focused on math, writing and more; community service experiences; and community building within the cohort. 
Once enrolled full time at Temple, the Cecil B. Moore Scholars will continue to receive advising and support from the staff dedicated to this program, with additional support from Steppingstone and other nonprofit partners. This includes frequent check-ins and access to work-study and paid internship opportunities. 
"As an educational institution, much of our racial equity work is geared toward providing educational opportunities to communities that have been historically and disproportionately denied a quality education because of race," said Harrison. "We're partnering with students, schools, families and communities to provide North Philadelphia students with academic enrichment, counseling and mentoring for college access and then providing scholarships and continuing support for college success." 
To apply to the program, high school seniors should complete a Common Application by the extended Early Action deadline of Nov. 15. A group of 50 students who have been accepted to Temple will be selected to participate in the dual enrollment free Temple course by Jan. 10. Then, the inaugural cohort of Cecil B. Moore Scholars will be selected by April 1 to participate in the summer bridge program before their first full-time semester at Temple next fall. Learn more about the program and how students can apply.