Two TUJ students are taking the lead in raising awareness about racism in Japan
Over the summer, two Owls organized and led protesters in a march through Tokyo.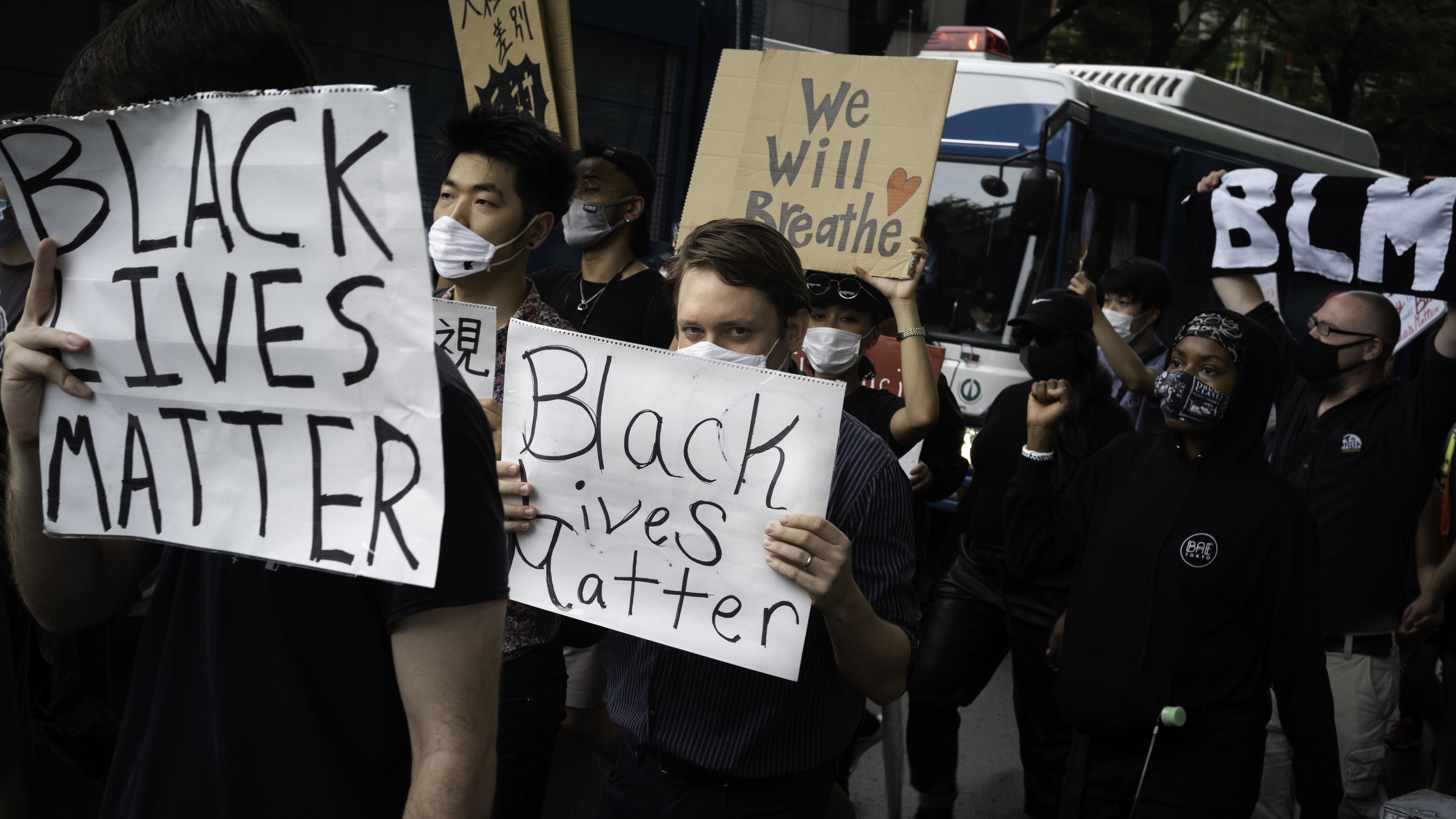 In June, as protests were erupting around the world in response to George Floyd's murder by police, Temple University Japan student Sierra Todd, Class of 2022, wanted to find a way to show support for protesters in America and spread awareness about racial discrimination in Japan. 
The art major from Atlanta did that and more.
"I was frustrated about not being able to participate in what was happening in the U.S.," said Todd. "One day I decided to go out and make a small attempt at spreading information, and invited anyone to come along who wanted to join me—there were maybe eight of us total." 
With that small success under her belt, Todd decided to try to organize something bigger. She created a Facebook group and invited those interested to join her in a march. Her hope was to draw around 100 people.
Three days later, the facebook group had reached 1,000 members. "I realized this wasn't going to be something I could do by myself in any capacity, so I got many people to help me with various aspects of the march planning as quickly as I could," explained Todd. 
More than 3,500 protesters joined Todd on June 14 for a march starting from Yoyogi Park. The march passed through the Shibuya Crossing—a popular intersection often featured in movies and television shows that take place in Tokyo—before looping back to Yoyogi.
One of those protesters was fellow TUJ student Jun Alexander, Class of 2021. The psychology major and U.S. military veteran from New Orleans learned about the march from a 3 a.m. Instagram post of Todd's. In the post, Todd described her feelings related to Floyd's killing. Alexander met up with Todd for the march later that day.
"Once I saw Sierra's Instagram story, I was motivated," said Alexander. "I thought this was my chance to finally join the fight with at least one other Black person who wasn't afraid to speak up in a country that doesn't know anything about Black people other than negative rumors and stereotypes." 
We caught up with Todd and Alexander to learn more about their experiences and find out what's next for them.
Temple Now: To see your movement have so much success in Tokyo must feel really good. Can you describe that feeling?
Sierra Todd: It's a mixed feeling of pride and pressure. It's great to see how quickly it's taken off, but at the same time it is a little overwhelming.
Jun Alexander: It was quite surreal to see us grow from a small group of eight, to an army—for lack of a better word—of 3,500 in Tokyo alone. Sierra's quick decision to take action was a call to every Black person in Japan to be brave and voice their opinion as well as to Japanese people and other ethnicities to show their support for Black people in Japan and around the world. 
Temple Now: Which moment(s) during the protests over the summer stand out in your mind the most and why? 
ST: When we started lining people up for the beginning of the march and I looked out and saw just how long the line stretched. I couldn't believe how many people had shown up, especially given the gloomy weather of the day. But also, as far as the protests in the U.S. go, rather than a particular moment what's stood out to me is the longevity. Seeing the protests continue over weeks and draw huge numbers of participants was incredible to see.
JA: At the end of the march, a Japanese man approached and he was angry because he thought we hadn't let Japanese people speak. It stands out in my mind because in no way did we try to control who could or could not speak at the march. I personally believe that the majority of the non-Black people who were there came to learn more about the Black struggle of America's past and present and to look internally at how that same struggle is mirrored here in Japan to a milder degree. 
Temple Now: What's next for you?
ST: The most immediate upcoming goal is to properly structure the group for greater efficiency. We want to keep the momentum going. The issues we face, legal structures and processes we have to work with, and the culture we're surrounded by here are very different from those of the U.S. It's important that we tailor our approach to work with the environment we're in if we want to be heard.
Since the march we have had our first webinar in a series entitled "Real Talk." Both Jun and I were panelists in this event, which discussed the basics of the Black Lives Matter movement in English and Japanese to a live audience of over 250 viewers. This webinar was also recorded for those who could not watch live.
JA: This movement has to be done in steps, especially when trying to get a country to care about such a small group of people in comparison to the majority. With the completion of the march, we opened the door for curiosity and communication. Now is the time for education, or should I say re-education, of how Japanese people think of Black people. It's a chance to promote a better image of us in this country. I will continue to feed people's requests for knowledge by participating in seminars, webinars, interviews, and having one-on-one talks with anyone who is curious enough to ask me about BLM or just Black-American culture in general.